Thousands gather to honour 50 years of dedication and service by Monsignor Tim Corcoran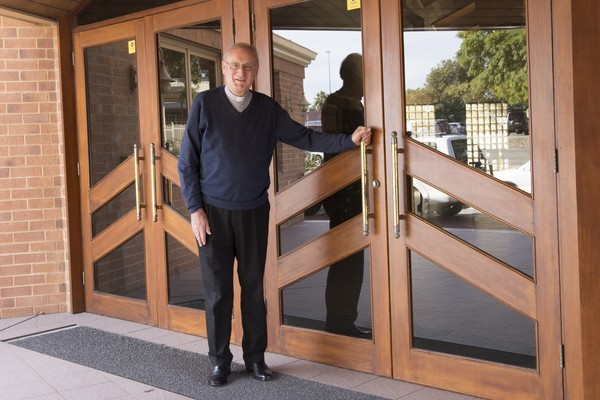 Thornlie Parish Priest Monsignor Timothy Corcoran celebrated his 50th anniversary of ordination on 11 June 2017. Photo: Caroline Smith
By Caroline Smith
A packed church and a stream of honours greeted Thornlie Parish Priest Monsignor Timothy Corcoran as he celebrated his 50th anniversary of ordination on Sunday 11 June with a Mass and community lunch.
The Mass, which was held at Sacred Heart Church and brought more than 1000 people, was celebrated by Monsignor Corcoran himself and presided over by Perth Auxiliary Bishop Don Sproxton.
Concelebrating with Mgr Corcoran were Assistant Parish Priest Father Thomas Zureich, his brother Fr Jim Corcoran in addition to Frs Henry Byrne, Nino Vinciguerra, Patrick Lim, Jean-Noel Marie, Vincent Glynn, Geoff Aldous and Tom Smith. Rector of St Charles Seminary Fr Phillip Fleay was also in attendance.
Speaking to The eRecord about his life in the priesthood, Monsignor Corcoran said that growing up in a pious community in Ireland had inspired his decision to enter the seminary.
"I was born in Tipperary in Ireland and was number seven of eight. Our family was Catholic as was the whole neighbourhood," he said.
"In those days, Mass was part of life, everyone went to Mass. And there were a lot of religious in our family; my father had two uncles that were priests and a sister who was a religious sister, and I think four first cousins were also religious sisters.
"My mother had three sisters that were religious sisters and about five first cousins that were religious.
"So it was a kind of natural progression for me. Sometimes I'll meet with ministers from other Churches and when they're talking about their faith journey, you'll find most of them had something spectacular happen in their lives. My faith journey is a bit more grounded."
Monsignor Corcoran said it had been difficult being posted to faraway Australia shortly after his ordination on 11 June 1967 but he was supported by his brother Jim, who had joined the priesthood four years earlier.
"We were a very close-knit family, so there were enough tears shed when I was leaving home. It wasn't just the family but the relations turned up too, and the fellow priests from the parish," he said.
"The seminary I went to catered for English speaking countries outside of Ireland. A lot of them in those days were going to America and I was actually the last one ever to be ordained in the seminary that went to Australia.
"I was lucky that I had a brother who was here for four years. He had a lot of contacts, so that helped me settle in. They put me at the (St Mary's) Cathedral for two months when I arrived, and he was there as well."
Upon arrival in Western Australia, Monsignor Corcoran became actively involved across the Archdiocese, firstly as Assistant Parish Priest at St Mary's Cathedral for two months then Leederville, Kalgoorlie and Mirrabooka parish, then as Parish Priest in Wongan Hills, Kalgoorlie, Whitford and finally Thornlie.
He was also rector at St Charles Seminary from 1997 to 2005, an appointment where he provided great support and guidance for seminarians, said Bishop Don Sproxton.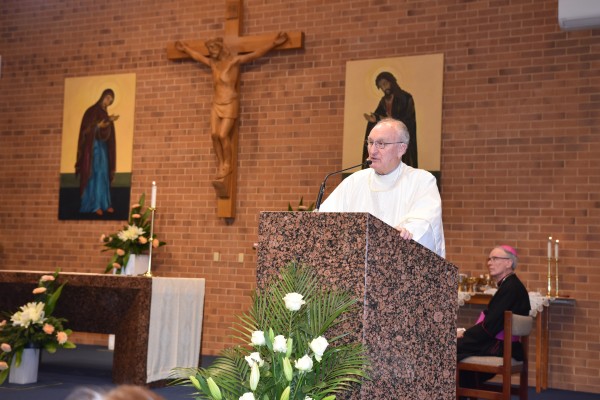 Monsignor Timothy Corcoran speaking at his 50th anniversary Mass on 11 June 2017, held at Thornlie's Sacred Heart Church. Photo: Caroline Smith.
"(Monsignor Corcoran) might wonder why it was that (Emeritus) Archbishop Hickey appointed him to be the Rector. I think it was because Mgr Tim is a man of great patience, and also a man of great humility, and a man of great perception," Bishop Sproxton told attendees at the anniversary Mass.
"I think these experiences, as well as having been a parish priest, equipped him well for this work, not only guiding the young men in the seminary during the years that he was there, but encouraging and helping them.
"He said that this was the call that God had given them. But it was also I think these aspects of his character that enabled him to be a father-figure to them."
Monsignor Corcoran said that he had enjoyed the role but also had a great appreciation for parish work and the people it had brought him in contact with.
"I've always found that parish life is what I like. I've always found people to be very supportive. Whatever parish I've been in, I try to be the same to all people," he said.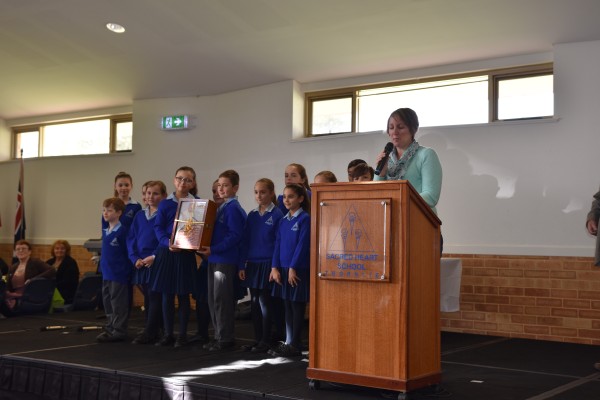 Students from Sacred Heart Primary School together with Principal Miranda Swann gifted Monsignor Corcoran with a beautiful wooden memory box in his honour. The gift was made with wood from the school, and had been made by former staff member Colin Stilwell. Photo: Caroline Smith.
Parishioners and former-parishioners from across Western Australia attended the Mass in honour of Monsignor Corcoran, with several giving speeches at the following luncheon, including Tony Notte from Kalgoorlie, Whitford parishioner Paul Rafferty and Thornlie parishioner Russell Ring.
Commemorative gifts were presented by members of the Sacred Heart Church community, including Peter McGuire and Barbara Chapman, Youth Choir member Marissa Figredo, Catechist Group student Lucas Vernie, and Sacred Heart Primary School Principal Miranda Swann. A 'wishing well' was also presented by Sacred Heart parishioner Tom O'Donnell.
The parish also gave Monsignor Corcoran a raw silk chasuble and stole, embroidered with shamrocks and created by parishioner Judith Harvey.
He also received a Waterford crystal clock - engraved, symbolising the unforgettable, precious time that he has spent at Thornlie Parish, as well as a Papal Blessing and a hand painted portrait.
Gifts representing Monsignor Corcoran's heritage and work were also presented during the Mass by Thornlie Acolyte Brian Keith, parishioners Eric Maddison, Graham and Ryan Harvey, Frank Gassira, plus Tipperary-born parishioner Sean O'Hara, former Sacristan Michael Raphael, and current seminarian Jason Yeap (who is also a member of Thornlie Parish).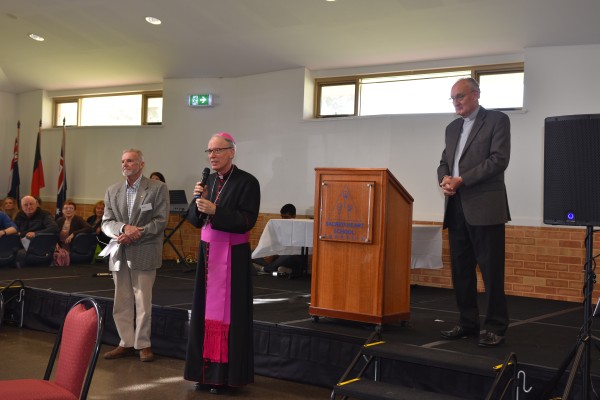 Bishop Don Sproxton at the celebrations after Mass said that Monsignor Corcoran is a man of great patience, and also a man of great humility, and a man of great perception. Photo: Caroline Smith.