2017 RITE OF ELECTION: Called to walk together in the footsteps of the Good Shepherd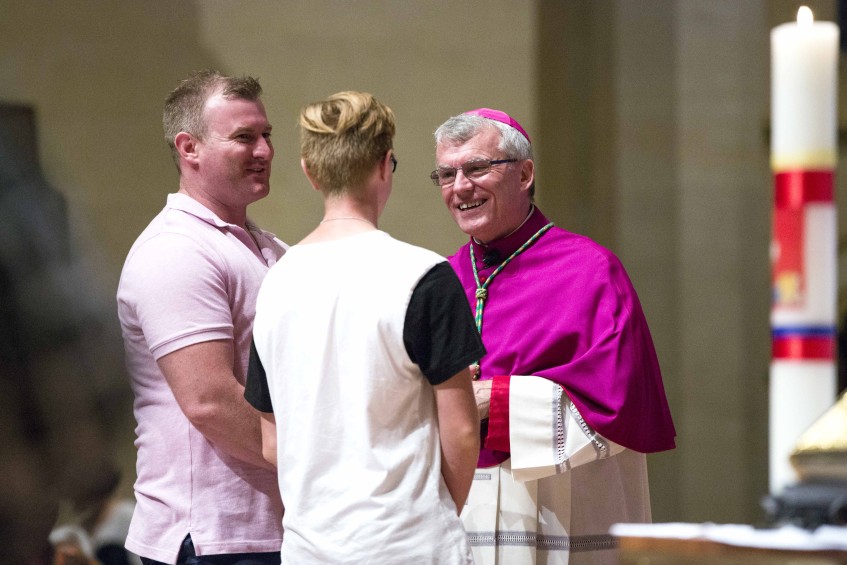 The Rite of Election of Catechumens and Formal Recognition of Candidates ceremony saw some 150 people presented alongside their sponsors, to become full members of the Catholic faith. Photo: Ron Tan
By Josh Low
Being called by God to walk together in the footsteps of the Good Shepherd, encouraging and strengthening each other by the example of our lived faith, was the message by Archbishop Timothy Costelloe SDB at the Rite of Election ceremony last week Thursday 9 March.
Held at St Mary's Cathedral, the ceremony saw some 150 people presented alongside their sponsors to become full members of the Catholic faith.
The Rite of Election of Catechumens and Formal Recognition of Candidates is an annual Lenten ceremony which marks an important step in the conversion journey of both the catechumens (those unbaptised) and the candidates (those baptised in other Christian denominations).
This year's ceremony was celebrated by Archbishop Timothy Costelloe and concelebrated by Auxiliary Bishop Don Sproxton, Vicar General the Very Rev Father Peter Whitely, Cathedral Dean, Monsignor Michael Keating and assisted by Deacon John Kiely.
The names of the catechumens and candidates were presented on scrolls to Archbishop Costelloe, to be inscribed into the Book of Elect and the Book of Recognition respectively.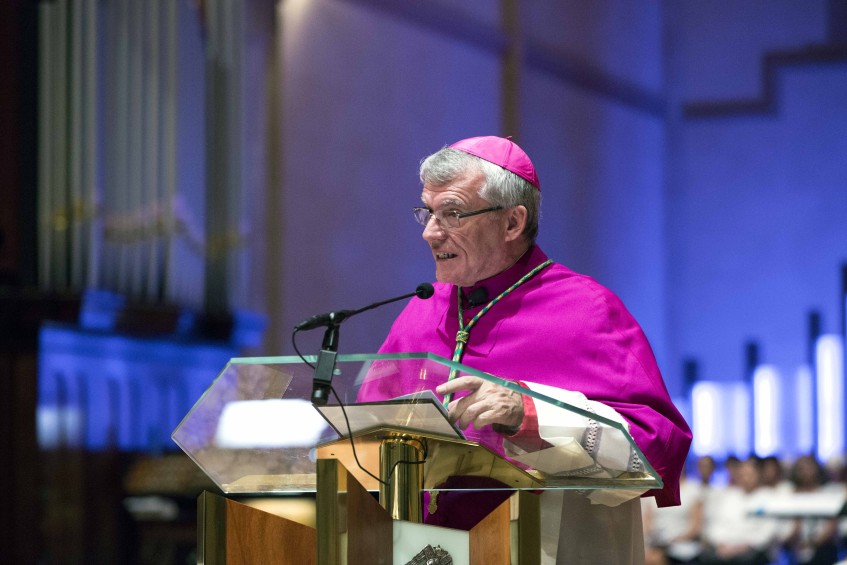 Archbishop Costelloe called for catechumens and candidates to be examples of the Catholic faith and a living sign that Jesus is with us, wanting to reach out to the world. Photo: Ron Tan
In his homily, Archbishop Costelloe called for all present to be examples of the Catholic faith and a living sign that Jesus is with us, wanting to reach out to the world.
"Through us, living now in communion with him, the Lord can reach into the lives and hearts of all the people we encounter – our families, our friends, our colleagues, our neighbours, and all those others who are a part of the fabric of our lives," Archbishop Costelloe said.
"Each one of us of course will do that in our own circumstances and according to our own gifts and possibilities.
"But as a community of faith we know that we will not do it alone; we will do it in communion with our brothers and sisters," he said.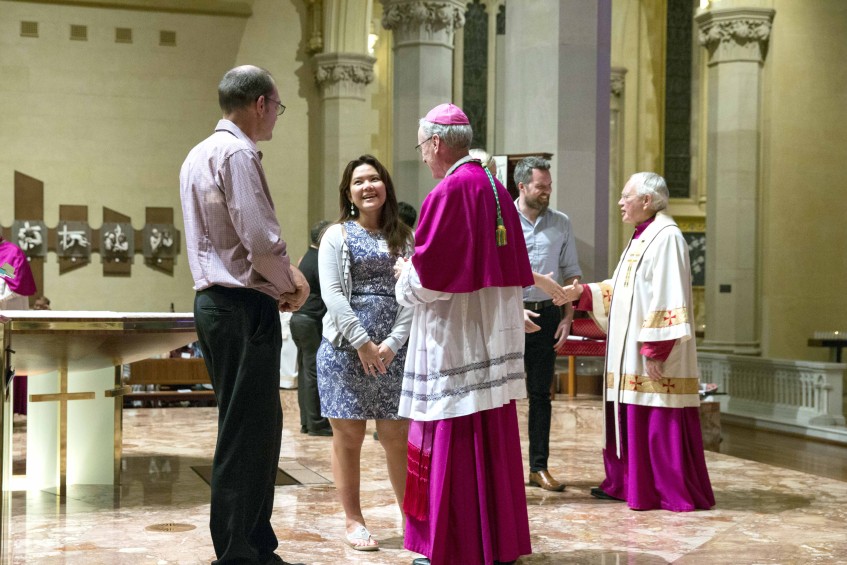 The Archbishop's delegates, Auxiliary Bishop Don Sproxton, Vicar General Fr Peter Whitely and Mgr Michael Keating were also on hand to greet the catechumens and candidates being presented. Photo: Ron Tan
Archbishop Costelloe emphasised that the gift of faith is always 'a gift given not just for ourselves but for others,' and called for candidates and the Elect to follow the example of the Virgin Mary in responding to God's call.
"While the Church honours her because she was the mother of the Saviour, we honour her much more because of her faith, her fidelity and her love for Jesus.
"We cannot imitate her in her motherhood of the Saviour, but we can imitate her in her faith and in her discipleship," Archbishop Costelloe said.
"All of you, candidates and members of the Elect, are doing precisely that. So let me say to you, this evening, blessed are you who have heard the word of God in your lives and are putting that word into practice by your presence here this evening and by the commitments you will make at Easter.
"May we all be, like Mary, people who hear the Word of God and then put it into practice," he concluded.