Attadale Parish laying foundations for the future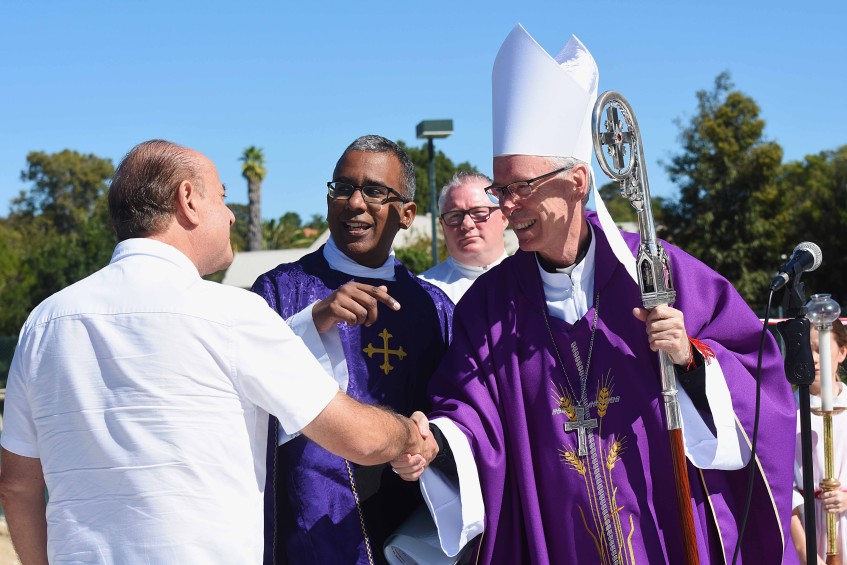 Auxiliary Bishop Don Sproxton meets with manager of the Parish building project, John Abrusci. Photo: Josh Low
By Josh Low
Auxiliary Bishop Don Sproxton has last weekend, Sunday 19 March, celebrated Mass and blessed the site where the new Church building for the Attadale Parish will be built.
Parish Priest Fr Sean Fernandez, said the current building was only meant to used as a Church temporarily.
Constructed some 60 years ago, the Church was the first in Australia to be dedicated to Jesuit Saint, Joseph Pignatelli SJ.
The new building will be constructed thanks to long-time parishioner Douglas King, who bequest more than a million dollars to the Parish some eight years ago, with a proviso that the funds only be used for a new Church building.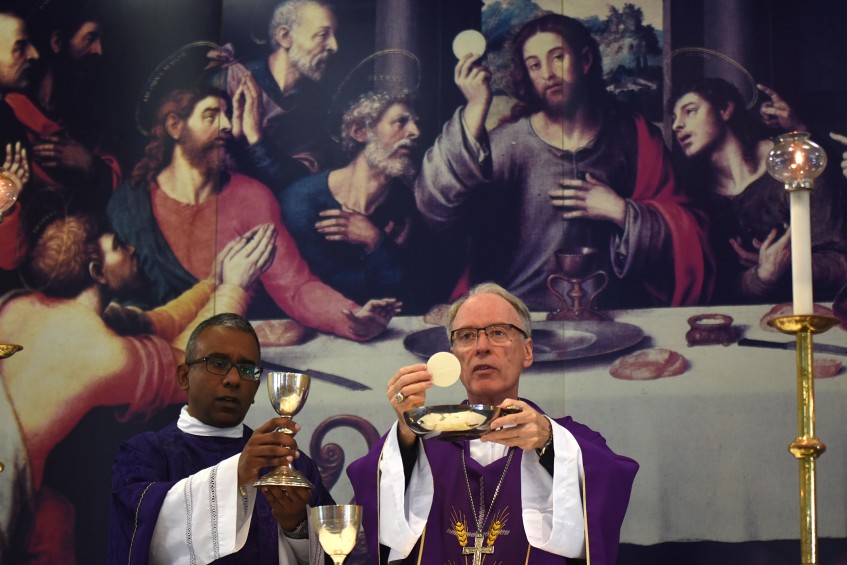 Mass was celebrated by Auxiliary Bishop the Most Rev. Donald Sproxton and con celebrated by Attadale Parish Priest Fr Sean Fernandez. Photo: Josh Low
Fr Fernandez said he was doubtful a new building could be constructed upon initially hearing about the bequest.
"In some ways we see the construction of the new Church as a completion of the original vision," he said.
With the building permit for the new Church issued by the City of Melville late last year, construction commenced with the laying of the concrete slab in January this year.
Fr Fernandez said that the process has moved very quickly in the past couple of years, with construction due to be completed by the end of 2017.
"The builders say they will finish construction around mid-November unless there are some delays.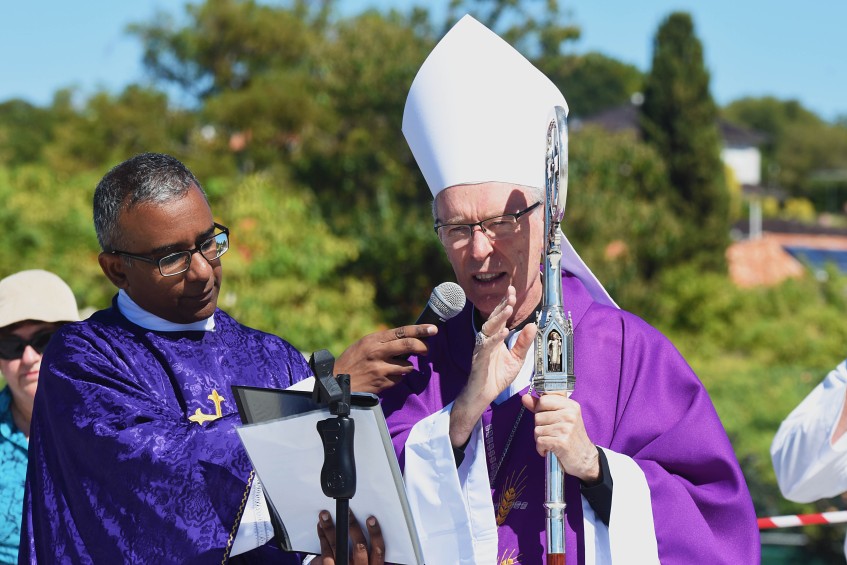 Bishop Sproxton blessed the new Church site after Mass and imparted a blessing for all those present. Photo: Josh Low.
"We look forward to celebrating Christmas in the new Church," he said.
Fr Fernandez said he also hopes that the new Church building will help foster a greater sense of community.
"It's a vibrant parish; we have great relations with the schools in the area (Mel Maria Catholic Primary School and Santa Maria College), so our hope is that the new Church will bring a new focus for parish life and will draw more people into the parish," he concluded.