Fr Kevin Cummins celebrates a decade of service in Mental Health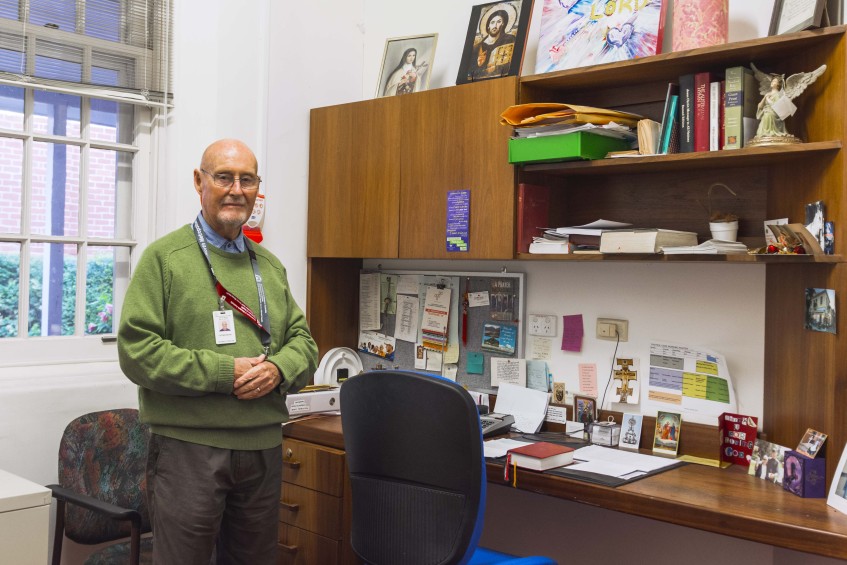 For people living with serious mental illness, the presence of God can become a source of hope, according to Archdiocesan mental health chaplain Father Kevin Cummins, who celebrated a decade since his ordination to the priesthood on 29 April 2017. Photo: Caroline Smith.
By Caroline Smith
For people living with serious mental illness, the presence of God can become a source of hope, according to Archdiocesan Mental Health Chaplain, Father Kevin Cummins.
Fr Cummins, who is based at Graylands Hospital in Mount Claremont, celebrated his ten-year anniversary of ordination on 29 April and recently reflected on his role supporting people at the hospital with prayer, Mass and spiritual guidance.
He said his initial appointment to the chaplaincy position back in 2007 was intended to be short-term, but eventually extended to a decade-long post.
"Then Archbishop Hickey asked me to come here for five weeks, and then five weeks turned into ten years," he said.
"Until recently, there was an Anglican chaplain here too, just the two of us but he retired and they did not replace him, so it's just me working in the hospital."
The daily role of chaplain involves a lot of listening, visiting wards, speaking to people and celebrating Mass and sacraments as needed. Fr Kevin said he offered such support to all patients regardless of faith.
"There are some Catholics here but most are non-practising and I try not to make any distinction. I serve all those people because they're sick, they're ill, need support and because God loves them, so I offer them whatever I can," he said.
"One thing I've learned down the years here is that many people may not belong to a particular church but they are very spiritual.
"Sometimes their illness brings out that – they long to be embraced by God."
Fr Cummins, who is married and hails originally from Dublin, Ireland, is bi-ritual, which means he can celebrate Mass under the Latin and Melkite Rites, said he had first become active in mental health work while living in England and Greece.
"I lived in England for many years and got involved with Mind, a big organisation there which supports mental health," he said.
"So nearly 50 years ago, I received training to work with people with mental health issues."
Later on, while living and teaching in Greece, he also became involved in helping refugees who had fled there from Iraq, many of them people who were also psychologically vulnerable.
"I met my wife in Greece and our children were born there. I developed a great interest in the Greek Catholic Church, Byzantine Rite, and I suppose the idea of priesthood was then fostered, as Eastern Rite Catholic priests can be married." Fr Cummins said.
"Even though I work for the Roman Catholic Church, with the approval of both the Roman and Melkite bishops, as a bi-ritual, I am able to celebrate Liturgy in both traditions."
In Greece, his local Greek-Catholic Bishop suggested that he train first as a Deacon and then for the priesthood and this eventually led to him coming to Australia.
"I got a call from Sydney and the Melkite Greek Catholic Bishop asked me to come to Australia to be ordained as a priest, and to work in Perth. That's how, in a nutshell, we came here," Fr Cummins said.
This connection to both the Roman and Eastern Rite Churches is reflected in his daily routine, working as a chaplain for the Archdiocese of Perth but although his work as mental health chaplain is through the Archdiocese of Perth, Fr Cummins is also an assistant priest at Our Lady of the Annunciation Melkite Church in Mt Lawley, which is part of the Melkite Archdiocese of Australia.
"Our parishioners are mainly Arabic-speaking people from the Middle East, including recent refugees from Syria," he said.