Mater Dei College hits a quarter of a century
Archbishop Costelloe with concelebrants Fr Michael Leek, Fr Lawrence Murphy, and Fr John Daly, during the consecration at the Mass celebrating the Silver Anniversary of Mater Dei College on 23 March. Photo: Supplied.
By Matthew Lau
Archbishop Timothy Costelloe SDB has last month praised the traditions that Mater Dei College has exemplified over the past 25 years.
Archbishop Costelloe led the Silver Anniversary Mass on 23 March at the school with concelebrants Fr John Daly (current College Chaplain), Fr Lawrence Murphy (College Chaplain from 1995 to 2001), and Fr Michael Leek (who was involved with the school from 2002 to 2007).
"You are all aware that the land on which your college stands was donated by the Sisters of Mercy," Archbishop Costelloe said.
"You may also know that the Mercy Sisters represented the face of the Church in these northern suburbs of Perth for many years."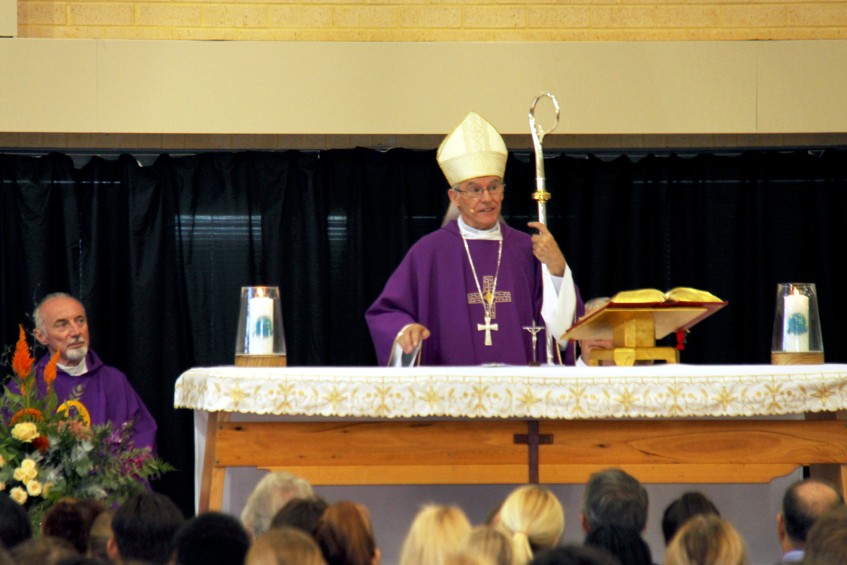 Archbishop Timothy Costelloe speaks to the Mater Dei College school community during the Mass celebrating the school's 25 anniversary on 23 March. Photo: Supplied.
Being willing to act on our compassion for those who are struggling is an essential part of being affiliated to a good Catholic school, he said.
"Let us pray together that the story of Mater Dei College so far – a story of mercy, compassion, generosity and trusting faith in God – will continue to be the story of this college into the future, and let's make up our minds to be an active part of this continuing story in whatever way we can," the Archbishop concluded.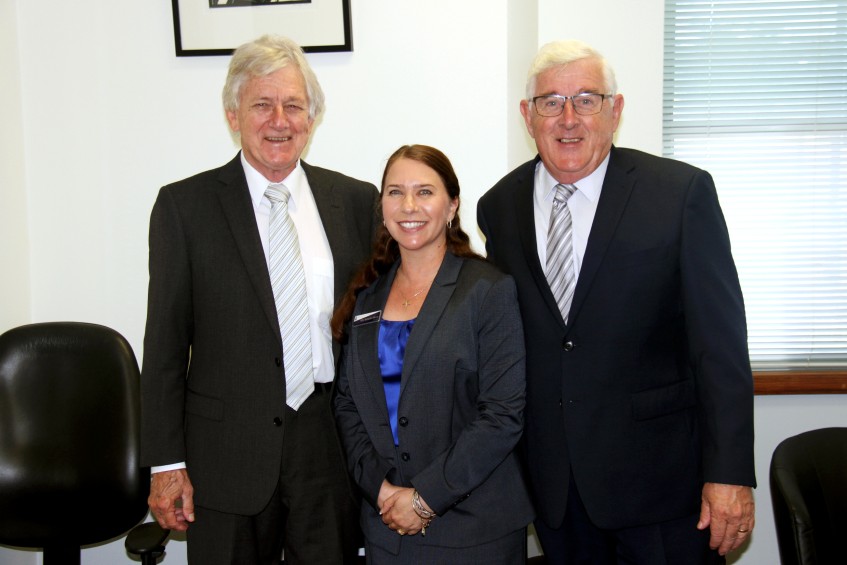 The trio of past and present Mater Dei College Principals together at the school's 25th anniversary celebration. Clem Mulcahy (left), Annette Morey and Bernie Boss. Photo: Supplied.
Mater Dei Principal Annette Morey joined the school as a teacher in 1994, before leaving in 2006 as Deputy Principal. She returned to Mater Dei last July, after several years as Principal of St Norbert College, Queens Park.
She said being part of this historic occasion was an "amazing experience", and paid homage to the "sense of community" upheld by students and staff alike.
"I am incredibly proud of being Principal at Mater Dei. The community has been very welcoming to me; the students are very friendly and respectful. This was something that drove me to return to the school," she added.
"My plan for the next 25 years is to enhance the community engagement in the local area, to drive academic endeavour, and to continue to strengthen pastoral care."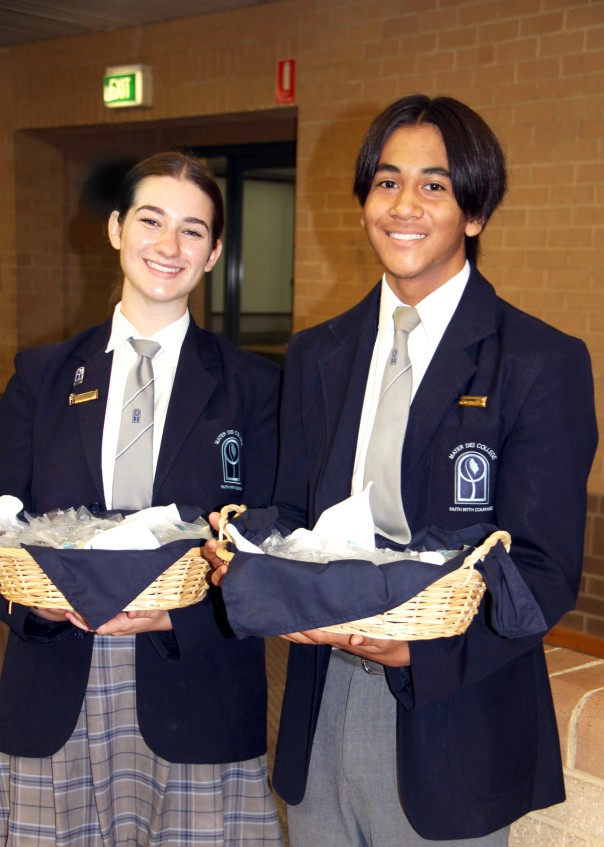 Mater Dei College Head Girl Emma Pryce and Head Boy Aiden Boonnark. Photo: Supplied.
Foundation Principal Bernie Boss was at the helm from 1992 to 1999, which included the Edgewater-based school's official opening in 1993.
"The first two years were particularly wonderful. It was a great privilege to be on the foundation staff to establish the school," he expressed.
"We had an enthusiastic, hard-working group of students in the beginning years. The staff had to work closely with the students and parents to build a tight school community."
He said his term as Principal was a fulfilling one, both professionally and personally.
"On the basis was the spiritual aspect of the school – the spirit of Mary. Courage encapsulates Mary's life, who had great faith in God.
"We emphasised with each other and for students to live out Mary's faith and courage."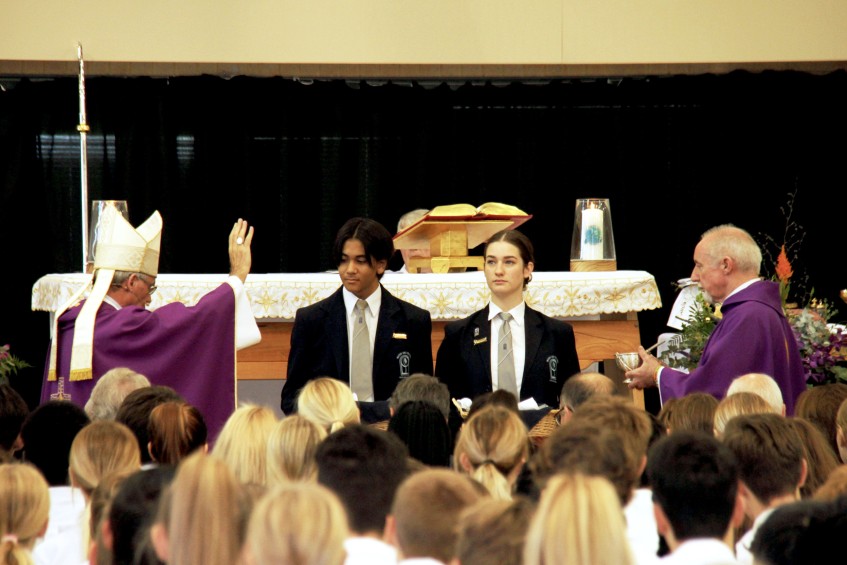 Archbishop Costelloe blesses two baskets of 25th anniversary pins which were handed out to the school's staff and students as a memento for the landmark year. Photo: Supplied.
He retired in 2015, with his last role as Principal of Newman College.
Clem Mulcahy was Mater Dei's Principal from 1999 to 2009.
He, like Boss, reflected back on his tenure at the school with fond memories, and echoed Morey's sentiments that the school has "a great sense of community".