SPECIAL REPORT: Fr Sean relishes new chapter of his priesthood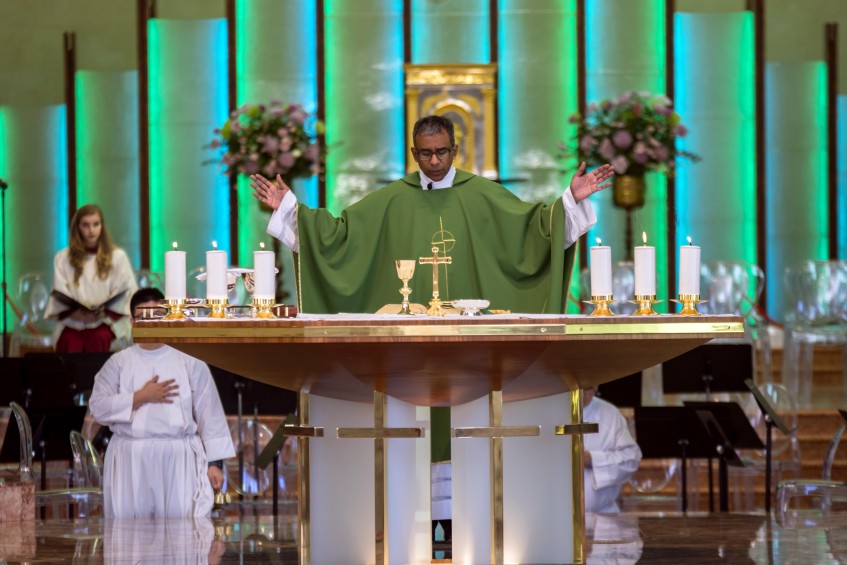 Rev Dr Sean Fernandez was Attadale Parish Priest for 12 years; he began his new role as Cathedral Dean and Administrator on Wednesday 25 July 2018. Photo: Matthew Lau.
By Matthew Lau
Father Sean Fernandez commenced his new role as the ninth Dean and Administrator of St Mary's Cathedral last week.
Life as a priest has come full-circle for the former Attadale Parish Priest, who was ordained at St Mary's Cathedral in 1994 by Emeritus Archbishop Barry Hickey.
"The Cathedral is a very different place to what it was when I was ordained with all the renovations and refurbishments," he said.
Fr Fernandez celebrated Mass at his new home for the first time as Dean on Saturday 28 July, introducing himself to parishioners across all Masses that weekend.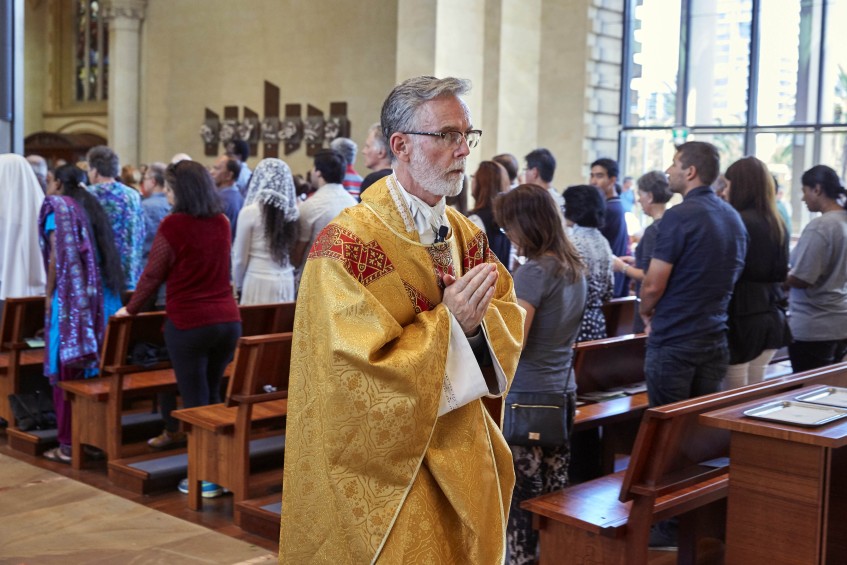 Fr Donald Kettle has been the Acting Dean since Monsignor Michael Keating retired in January of this year, and commenced his new position as Attadale Parish Priest on 25 July. Photo: Ron Tan.
He switched places with Fr Donald Kettle, who will take on the mantle of Fr Fernandez's previous role as Attadale Parish Priest.
Fr Fernandez played an integral role in the development of the new St Joseph Pignatelli Church, Attadale Parish, where he was Parish Priest for 12 years.
He told The eRecord of his delight in his new appointment.
"It's the Archbishop's Cathedral, so a lot of my over-arching plans will depend on him.
"Archbishop Costelloe has been very supportive and we're having regular conversations about the Cathedral and the community," Fr Fernandez added.
There is a distinctive aura about worshipping God at the iconic St Mary's Cathedral, he said.
"Celebrating Mass at the Cathedral is somewhat overwhelming. There is a great sense of solemnity that I am here to minister as any priest would in this parish.
"The Cathedral community, staff, and other priests have been very welcoming and supportive."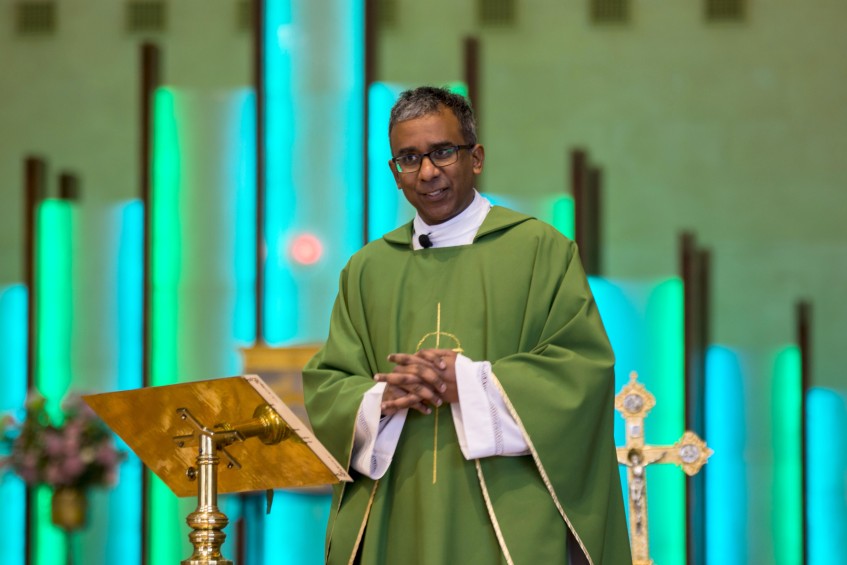 Cathedral Dean Fr Sean Fernandez addresses his new parish community at the start of Mass on 29 July. Photo: Matthew Lau.
The 48-year-old Dean, whose family migrated from Singapore when he was 14, said his vocational urges began early in life.
"I traced my first sense of what I wanted to do when I was 5. I spoke to my parents and my family at the time, so it has been a constant," he said.
Fr Fernandez entered St Francis Xavier Seminary in Adelaide in 1988, and was there for six years.
His first placement was as Assistant Priest at Whitford Parish for three years under the guidance of Mgr Tim Corcoran and later with Fr Geoff Aldous.
He then went on to serve at Floreat-Wembley and City Beach parishes.
With the Archbishop's blessing, Fr Fernandez left for Rome in 1999 to complete his Licence in Fundamental Theology and Doctorate in Dogmatic Theology on the Trinity, while teaching at the Pontifical Gregorian University.
Upon his return to Perth, Fr Fernandez was made Attadale Parish Priest at St Joseph Pignatelli Church, while continuing to lecture at the University of Notre Dame Fremantle Campus.
"It was my first posting as Parish Priest; I really felt part of the community in Attadale for all of those 12 years."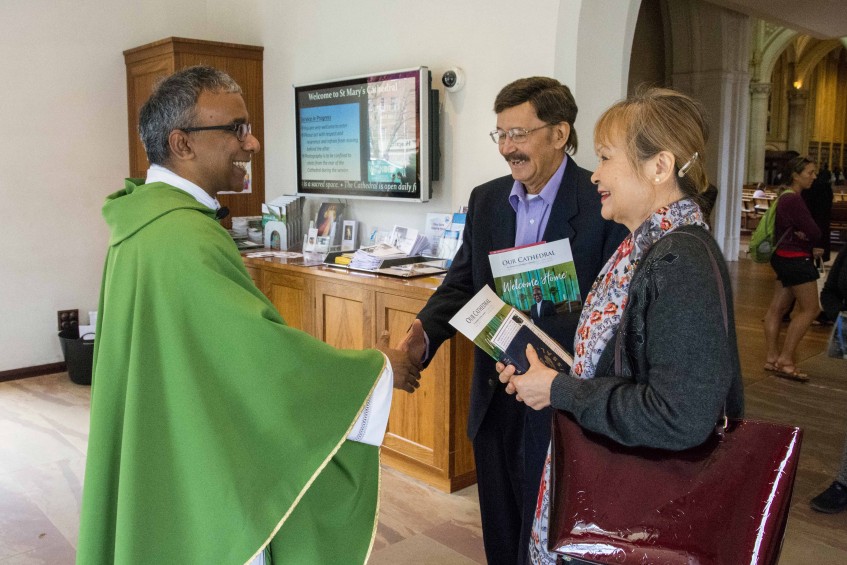 The ninth Dean of the Perth Cathedral, Fr Sean Fernandez, greets parishioners after Mass on Sunday 29 July. Photo: Matthew Lau.
Fr Fernandez fondly recalls the welcoming and support from parishioners and Santa Maria College students alike, the school he ministered in as Chaplain.
"Part of the whole community in many ways taught me what it is to be a Parish Priest. We learn what it is to be a priest from the people.
"It was a small community, so I got to know people a fair bit," he expressed.
"I celebrated the sacraments for many of them; some of them from their Baptism to their Confirmation, I've accompanied people as they've aged, so there's been all sorts of connections with members of the community in their high points and their low points. I'll miss that."