Incentive for Catholic youth to voice their feelings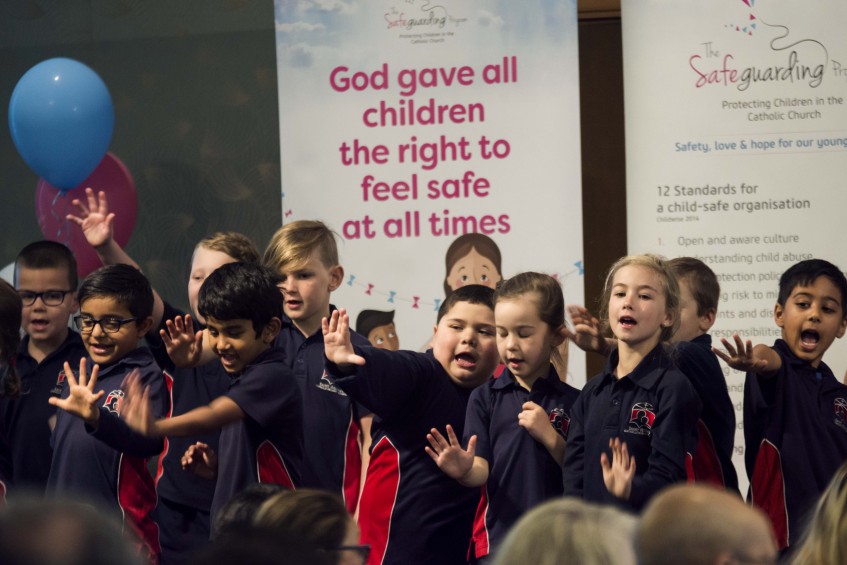 Pupils of St Helena's Catholic Primary School at the 2017 Child Protection breakfast. Photo: Josh Low.
By Matthew Lau
Archbishop of Perth Timothy Costelloe SDB will judge a writing competition that encourages young people to express how safe they feel in church.
The competition is being spearheaded by the Safeguarding Program and the contest overall winner will be awarded a $500 gift voucher by Archbishop Costelloe at the Child Protection Week breakfast on 4 September.
The three age group categories are: Kindergarten to Year 3, Years 4 to 6, and Secondary Schoolers. Minor prizes will also be awarded to all three categories.
Listening to the voice of children is one of the standards developed by the Safeguarding Office and more recently by Catholic Professional Standards Limited.
The questions asked of young people in the contest are: "What does it mean to feel safe?", "Why is it important for you to feel safe in church?" and "What do you think God is asking of you at this time?".
The latter of which ties-in with the build up to Plenary Council 2020.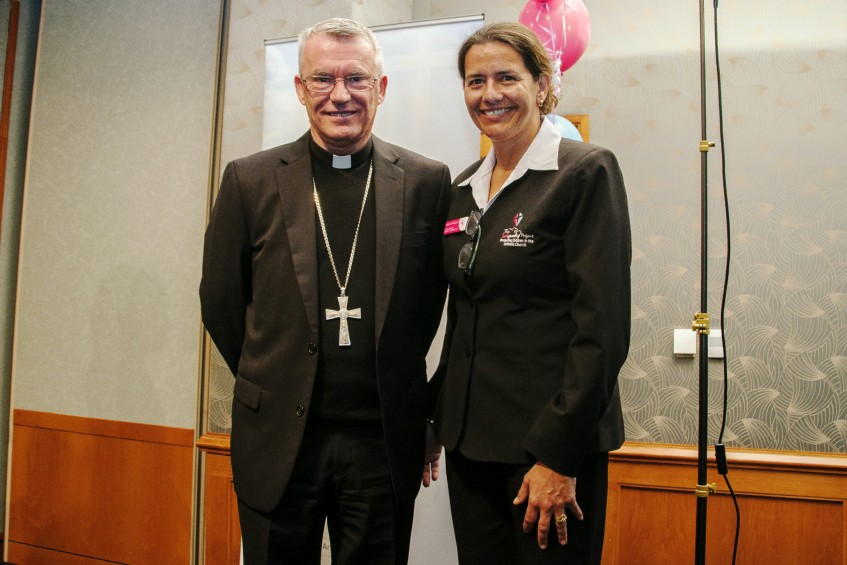 Perth Archbishop Timothy Costelloe with Archdiocesan Safeguarding Program Director Andrea Musulin at the 2016 Child Protection breakfast. Photo: Jamie O'Brien.
Safeguarding Program Director Andrea Musulin urges parents, guardians, and school teachers to get their young people involved.
"We are very fortunate to have someone like Archbishop Costelloe lead our archdiocese; because he, as a Salesian, is a huge advocate for the safety and care of our young people," she added.
Mrs Musulin remains adamant that the Safeguarding Program has led the way as one of the finest examples of how churches and institutions can play their part in protecting children.
The Archdiocese of Perth made a bold statement in July 2015 by launching a world-first Safeguarding Project, to which Archbishop Costelloe has historically been explicit in lamenting the Church's deplorable history of child sexual abuse.
"As I have in the past, I once again express our profound sorrow and apology for this shocking failure on our part and for the pain it has caused to so many. As a Church we are committed to doing everything we can to ensure that this evil is eradicated from our midst," he wrote in a Pastoral Letter last year.
Competition entries must be submitted to a Parish Priest or a Safeguarding Officer by Sunday 19 August.
The entry form can be found by Clicking Here
The 2018 Year of Youth Child Protection Week breakfast will be held at the Duxton Hotel Ballroom on Tuesday 4 September from 7.30 to 9am and is open to the public at $49 per head.
Child Protection Week is proudly sponsored by The eRecord online Catholic newspaper and Knights of the Southern Cross WA.