Cottesloe and Mosman Park Parish welcomes new Parish Centre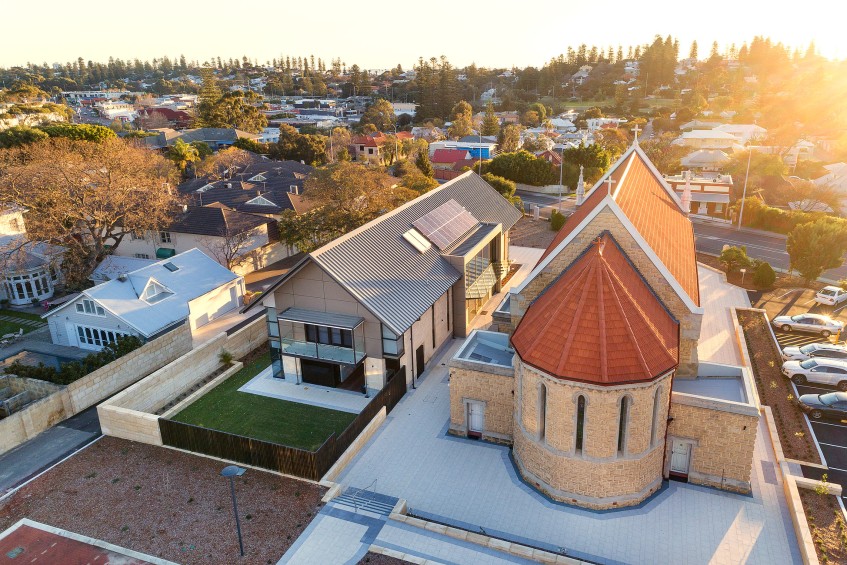 Aerial view of Cottesloe and Mosman Park Parish complex. Photo: Neal Pritchard Photography.
By Theresia Titus
St Mary Star of the Sea Church, Cottesloe/Mosman Park Parish, has celebrated its newly built Parish Centre with a blessing liturgy on Saturday 11 August.
Archbishop Emeritus Barry Hickey presided at the blessing liturgy, with assistance from Parish Priest Fr James D'Souza.
"Parishioners are happy to have this new building," Fr D'Souza told The eRecord.
"The parish demolished the old presbytery which was in bad condition and almost falling apart."
Faith formation activities at the parish, such as marriage, baptism, youth and adult faith formation, as well as Sacramental programmes, will be conducted at the new parish centre.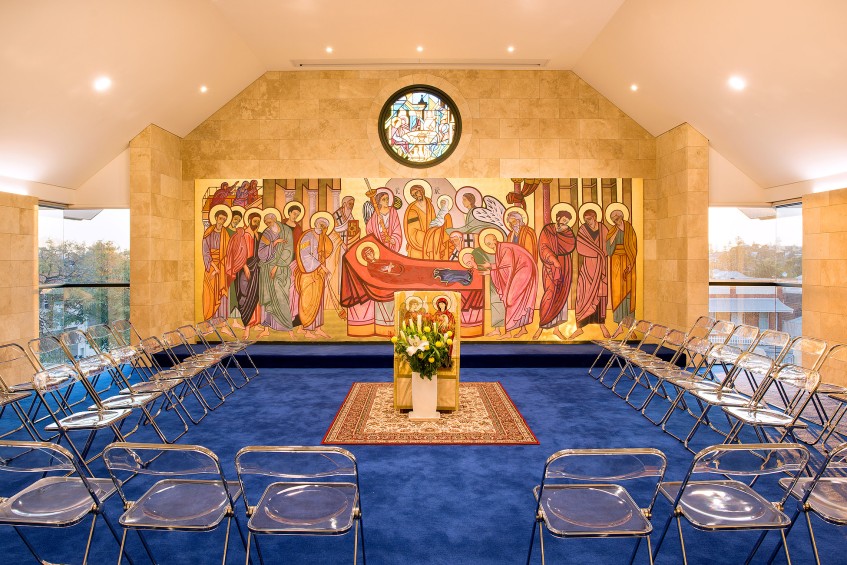 A meeting room in the new Parish Centre, which features a painting of the "Dormition of Mary". Photo: Neal Pritchard Photography.
Designed by MCDF Architects, the new parish centre has two levels and is divided into two sections, with the front section comprising the administration centre of the parish.
The parish administration centre includes two meeting rooms, two offices for priests, a storage room, an archive room, a communication room and a small pantry.
One meeting room is adorned with a painting of the Dormition (sleep) of Mary, which tells the story of Mary's "passing away", surrounded by the 12 apostles.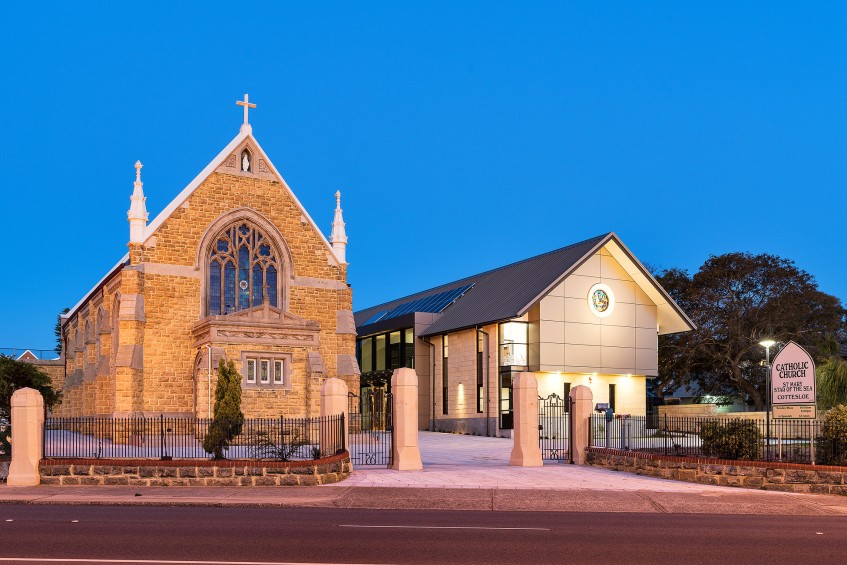 Cottesloe and Mosman Park Parish St Mary Star of the Sea Church next to the newly built Parish Centre. Photo: Neal Pritchard Photography.
The second half of the building is a homestead for the Parish Priest, as well as the Assistant Priest Fr Rodrigo Da Costa Ponte, which consists of three bedrooms, a kitchen and dining area, two living areas (one alfresco), and a balcony.
The project began on 19 June 2017 and was completed on 27 July 2018.
"Approximate cost [of the building] is about $2 million," Fr D'Souza said.
"The parish borrowed the money from the Archdiocesan Finance Office, and we are in the process of organising the repayment."
Fr D'Souza said the repayment funds would come from leasing land at the back of the parish complex to Presbyterian Ladies College for 29 years.
The old Parish Hall is still in place, and parishioners are welcome to utilise it for any social activities of the parish.