SJG Subiaco Hospital unveils first integrated operating theatre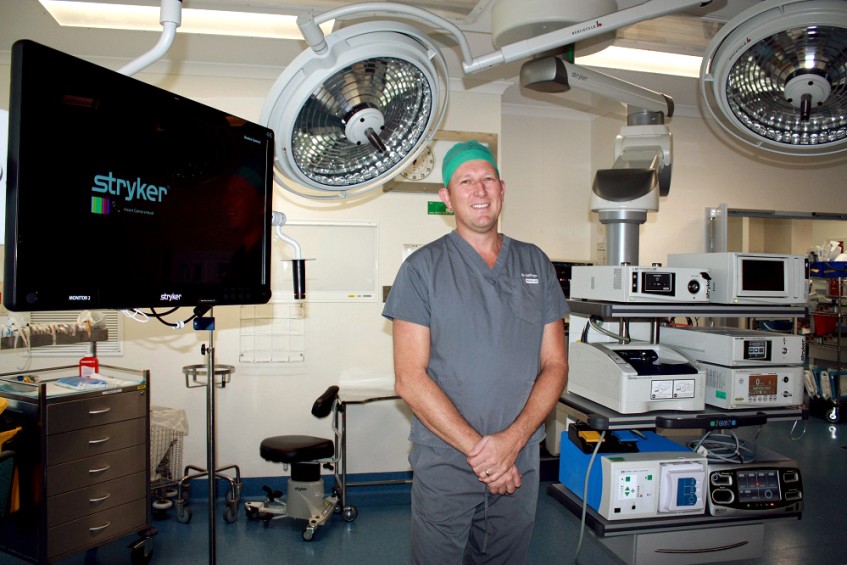 Dr Stuart Salfinger stands in Australia's first integrated operating theatre in SJG Subiaco Hospital in WA. Photo: Supplied.
Surgeons at St John of God Subiaco Hospital are the first in Australia to have access to a new integrated operating theatre, which is improving patient outcomes.
Professor Shirley Bowen, Chief Executive of SJG Subiaco Hospital, said the investment in theatre technology is part of the hospital's ongoing commitment to delivering an exceptional experience for patients and surgeons.
"I am delighted to announce that St John of God Subiaco Hospital is the first hospital in Australia to have an integrated Stryker theatre system, for the benefit of our patients, our surgeons and our theatre staff", she said.
"The hospital is undergoing a transformation as we implement new technology and innovation in our theatres and wards, and commence refurbishments, as part of our mission and vision to deliver exceptional patient care."
The integrated Stryker system gives theatre staff control of compatible equipment from a single intuitive touchscreen. This helps to increase efficiency by simplifying workflows and streamlining communications.
It features ultra-high definition quality images and video that gives surgeons clearer vision of critical parts of anatomy during surgery, leading to better outcomes for patients.
The new design of the system makes it easier to handle and position in the operating theatre, leading to faster surgery times which is better for patients, fewer injuries for staff and less clutter in the operating theatre.