St Norbert College student Sanjita Ghimire takes out top art prize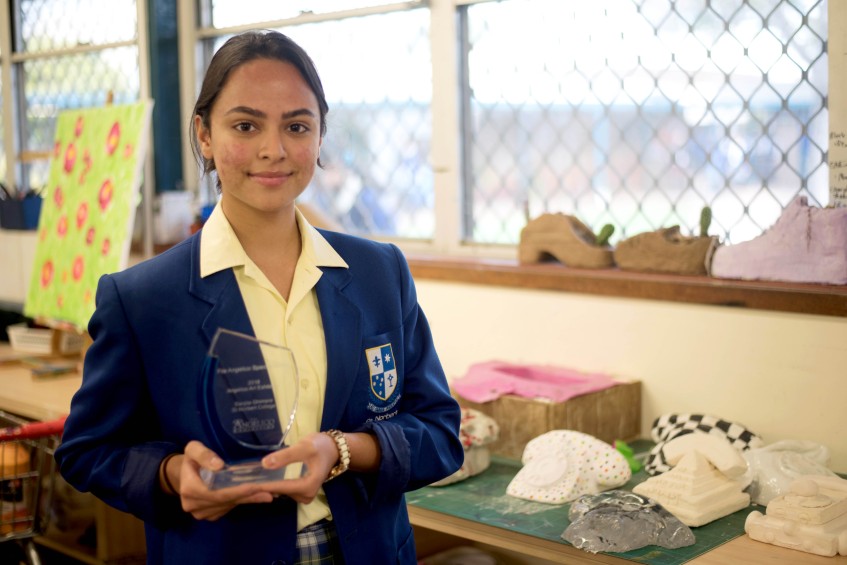 Year 11 student at St Norbert College Sanjita Ghimire was recently presented with the Fra Angelico Award for her artwork 'Youth is a State of Mind'.
St Norbert College student Sanjita Ghimire has won the prestigious 2018 Fra Angelico Art award for Catholic secondary students.
The Year 11 student's artwork, titled 'Youth is a State of Mind', was among 169 entries submitted by students around the State, representing 31 different schools.
Sanjita said she was thrilled to receive the award, which was presented at the official opening of the 25th annual Angelico Exhibition on August 14 at the Forrest Centre in Perth.
"It's really great knowing that people appreciated something that I created, especially since this painting is something that I'm so proud of," she said.
The subject of the oil canvas painting, which took two months to complete, was a man Sanjita observed during a school excursion to the 'Sculpture by the Sea' exhibition earlier this year.
"I felt drawn to this elderly man who was fishing by the rocks," she recalled.
"He seemed so at peace. His relaxed demeanour and focus on fishing was quite mesmerising and equally calming to see."
Sanjita said she was pleased with the way the painting turned out, despite it being the first time she had used water-based oils.
"I love the harmony in the painting the most, between the man and his surroundings, and I'm really pleased that I was able to capture that," she said.
The 16-year-old, who has pursued art as a hobby for several years, said she greatly enjoyed the freedom of creating an artwork, whether it is for her own enjoyment or for that of others.
"Art gives people the ability to express anything they want in so many different ways through so many media options," she said.
"It allows me to replicate certain moments or feelings that really stick with me, but mostly it is a way for me to physically create what I've got in my head.
"Art never becomes boring because you never reach the end, there are always more ways you can improve or more things you can make, it really is the ultimate expression of yourself and knowing that is a really freeing feeling."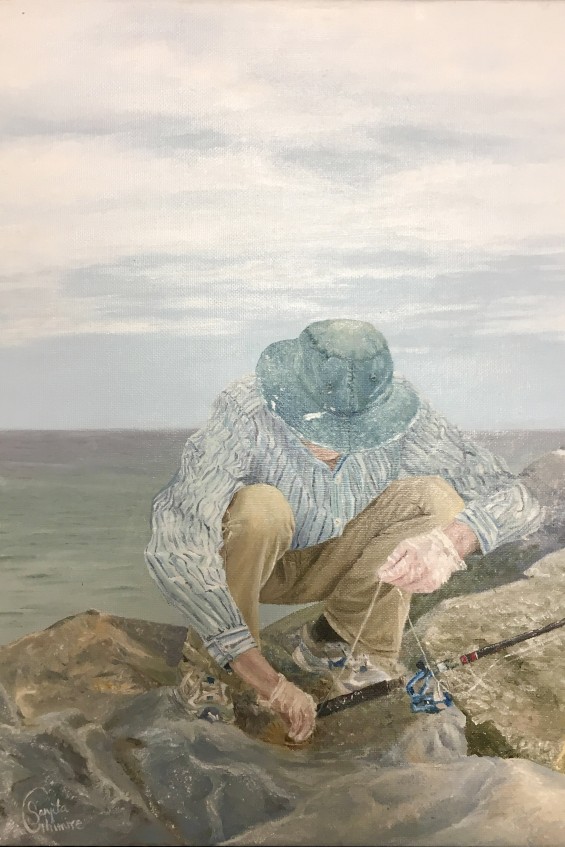 Principal Simon Harvey said the school was immensely proud of Sanjita's achievement.
"Sanjita is a wonderful talent in a number of areas, we are so very proud of her," he said.
"This recognition of her special gift in art exemplifies how very talented she is.
"It is a wonderful compliment for Sanjita, the support she receives from her family and the dedication of our staff to encourage our students to challenge themselves, to take pride in their work and as our motto suggests, to be 'prepared for all good works'."
The Fra Angelico Award is the highest individual accolade presented at the exhibition, recognising an artwork that embraces and upholds Catholic beliefs and values in accord with the annual theme, which for 2018 was 'The Year of Youth'.
The exhibition, which features a vast array of paintings, ceramics, sculptures and textiles, runs until August 24.