Being ordained a priest involves a death to self, says Archbishop Costelloe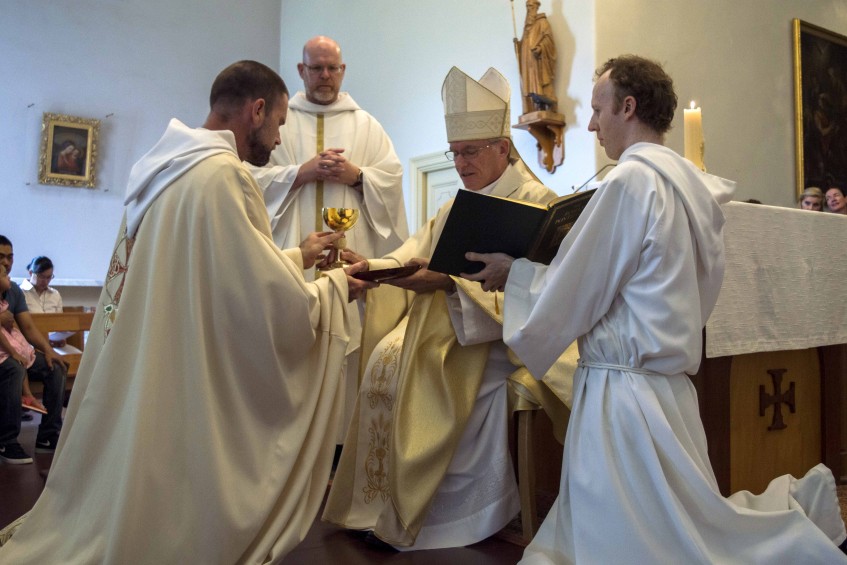 Fr Robert Nixon was ordained to the priesthood by Archbishop Timothy Costelloe SDB on Sunday 28 January. Photo: Feby Plando.
By Josh Low
The Benedictine community of New Norcia last weekend welcomed another member to the order of Priesthood with the priestly ordination of Father Robert Nixon OSB on Sunday 28 January.
Held in the Abbey Church at New Norcia, the Mass of Ordination was celebrated by Perth Archbishop Timothy Costelloe SDB and concelebrated by Abbott John Herbert OSB.
In his homily for the occasion, Archbishop Costelloe expressed that being ordained to the Priesthood is not a gift or prize that is deserved or earned.
"It is a freely given grace, offered in God's mysterious plan to broken and fragile men who are asked to be living signs that God continues to guide and shepherd His people," the Archbishop said.
Fr Nixon is vested by New Norcia Abbott, John Herbert OSB. Photo: Feby Plando
Speaking to Fr Nixon, Archbishop Costelloe said he should never allow his priesthood to overshadow or obscure his identity as a Benedictine monk.
"The two must never be in opposition, but always intertwined. The special gift you have been given, and which is in a remarkable way deepened today, is the gift of the charism of Saint Benedict.
"Your priesthood must be marked by that charism and by the vows of stability, obedience and conversion of life which underpin your life as a monk.
"In living this charism you also today through your priestly ordination become a living sacrament of the love and sacrifice of the Good Shepherd, who gives Himself without reserve to His flock – and this surely is the witness of religious life, in all its forms, within the Church," he said.
Archbishop Costelloe added that being ordained a priest involves a death to self, which in itself for Christians is a gateway to life.
"As today's Gospel puts it, you are not of this world, any more than Jesus was of this world. Rather, with your brothers, you are in this world offering by your words and the example of your life a different vision of what life, as God gives it to us, is all about," he said.
"From today you are ordained to do so as a living sign of the presence of Jesus among us as our Good Shepherd."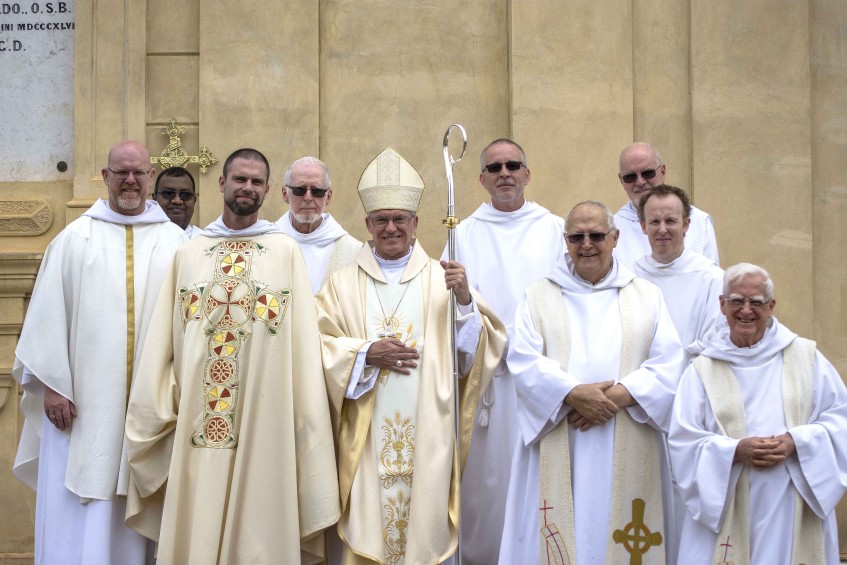 Archbishop Timothy Costelloe and the newly ordained Fr Nixon (second from left) among his fellow Benedictines. Photo: Feby Plando.
Fr Nixon expressed his gratitude after Mass to his family and the community for their presence at his ordination, and hopes he can be of service to others in the priestly ministry.
"The presence of each and every one of you is a true blessing and fills me with confidence in the continued power of God and the Holy Spirit through you, His Church.
"As Benedictine monks our lives are dedicated to the search for God and to the glorification of God through a life of prayer and separation from the world.
"But also to service; of our own monastic community, to service of the broader Church and to service of all mankind - all of God's children," he said.
"I know personally that I'm very unworthy of this ministry, especially in regards to the Sacrament of the Eucharist, as indeed any human being is.
"But I'm assured of the grace of God working through the Sacrament of Holy Orders that where I fail as human being, the grace of God will supply," he concluded.