CHRISTMAS 2017: No greater reason for rejoicing than celebrating birth of Christ, says Archbishop Costelloe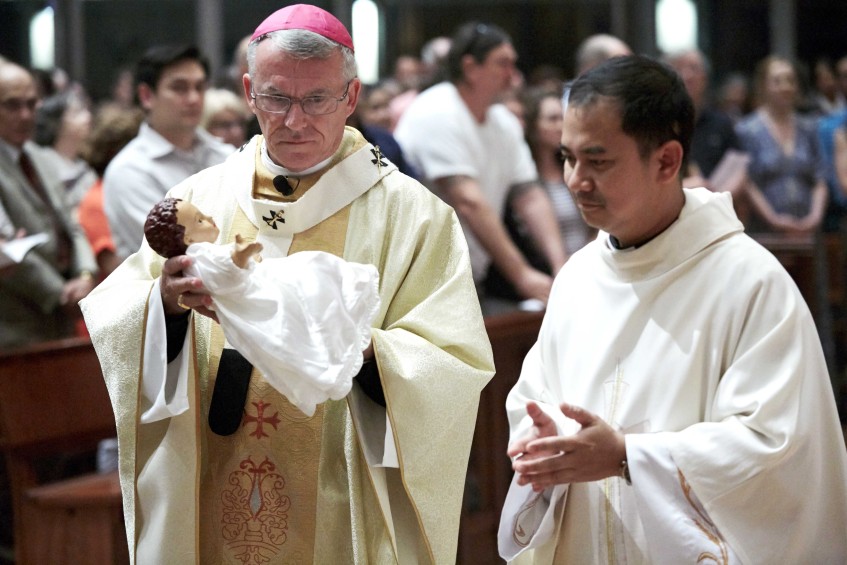 Archbishop Costelloe carries a statue of baby Jesus to the Nativity scene during the Christmas Eve Midnight Mass on Sunday 24 December at St Mary's Cathedral, accompanied by Cathedral Assistant Parish Priest, Fr Jeffey Casabuena. Photo: Ron Tan
By Jamie O'Brien
Christmas offers us the assurance that each one of us, in our struggles, and our limitations, and our frailty and brokenness, as well as in our gifts and talents, is deeply loved and cherished by the God who gave us the gift of life.
This was the message of Archbishop Timothy Costelloe SDB during his homily for the 2017 Christmas Eve Midnight Mass on Sunday 24 December at St Mary's Cathedral.
The Archbishop concelebrated the Mass with the Very Rev Fr Peter Whitely VG, Cathedral Dean Mgr Michael Keating and Assistant Priests Fr Jeffey Casabuena, Fr Brennan Sia, Fr Conor Steadman and Resident Priest Fr Don Kettle, together with St Charles Seminary Rector Fr Phillip Fleay and retired priest Fr Greg Donovan, as well as Fr Ihor Holovko from the Ukrainian Catholic Church.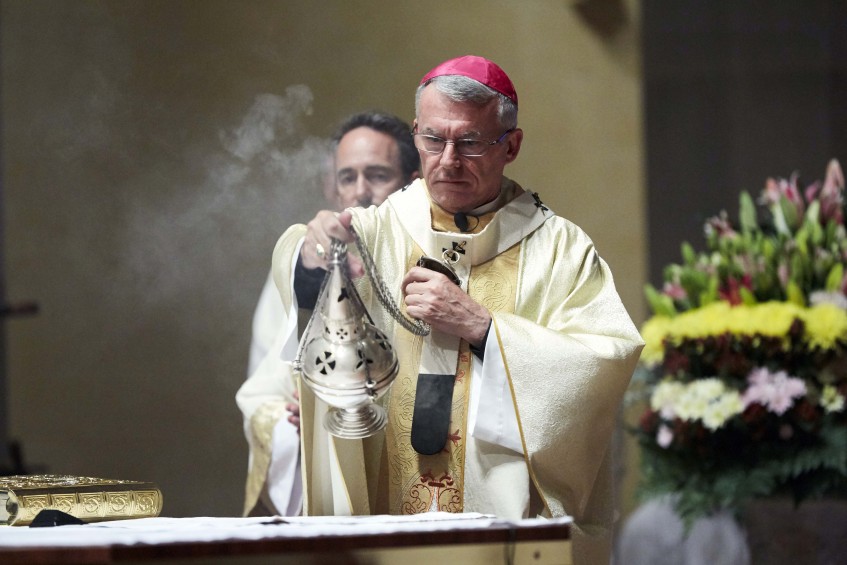 Archbishop Timothy Costelloe incensing the altar during the Christmas Eve Midnight Mass at St Mary's Cathedral on Sunday 24 December. Photo: Ron Tan.
The Archbishop took the opportunity to also talk about those who may experience the joy and peace of Christmas.
"We are celebrating the birth of Jesus and there is no greater reason for rejoicing than that," the Archbishop said.
"But there is a danger that this feasting and this fun might only be superficial; a fleeting moment of escape from the sometimes difficult and even demoralising circumstances of our daily lives, and of the society in which we live," he continued.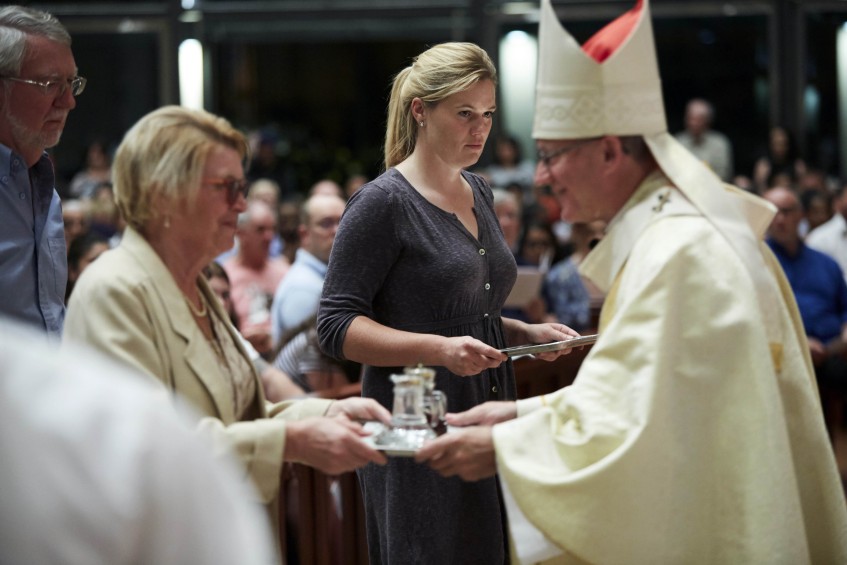 Archbishop Costelloe receives the offertory gifts during the Christmas Eve Midnight Mass on Sunday 24 December 2017 at St Mary's Cathedral. Photo: Ron Tan.
The Archbishop noted that through the media, we are constantly exposed to the horrors which are the daily experience of thousands of people around the world.
"Tonight we will sing of joy to the world and peace on earth but we know that so many people will experience no joy and no peace as Christmas Day unfolds.
"Many of these people are visible to us, and we thank God that through our own Catholic agencies and so many other groups and organisations in our community, such people will not be forgotten on Christmas Day.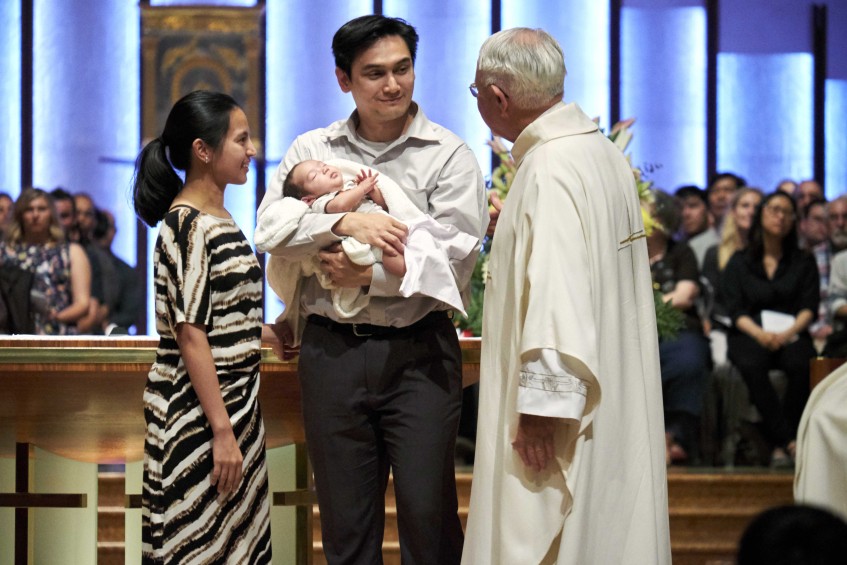 Mgr Michael Keating with Juan Antonio and Beatrice Joseph with their son Javier Alonzo, who was the 2017 Christmas Baby, at the 2017 Christmas Eve Midnight Mass on Sunday 24 December. Photo: Ron Tan.
However it is also the case that many of these people are invisible, trapped in isolation and loneliness, the Archbishop noted.
"In reality this darkness and deathly shadow spoken of by the prophet may be closer than we realise.
"It may be the hidden experience of our next door neighbour, of our spouse, of our parents, of our children.
"It may even be the hidden, and perhaps not fully acknowledged, reality of our own heart.
"What we see on the surface of people's lives, and what we ourselves share with others, including those closest to us, may be little more than a mask put on to hide the reality.
"The fun and feasting of Christmas Day may enable us to escape from this reality for a brief time, but is this really all that the feast of Christmas offers us?
The answer, said Archbishop Costelloe, is no.
"Christmas offers us so much more. It offers us the assurance that each one of us, in our struggles, and our limitations, and our frailty and brokenness, as well as in our gifts and talents, is deeply loved and cherished by the God who gave us the gift of life in the first place and who wants us to be able to live this gift joyfully and creatively and serenely."