Aboriginal Catholic Ministry founder remembered for open heart, giving without reservation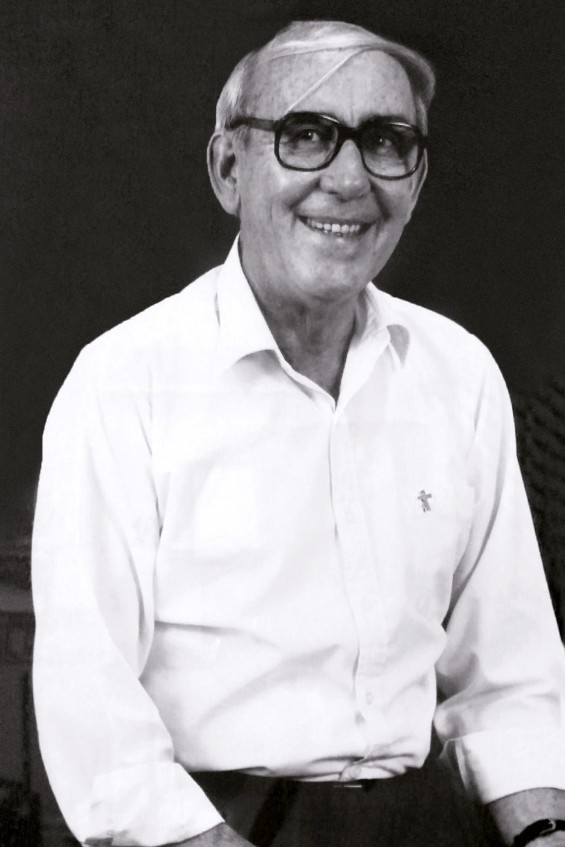 Fr Bryan Tiernan, who passed away on Christmas Eve, has been remembered as a selfless and compassionate priest, who ministered among WA's Aboriginal population from 27 years. Image: Sourced.
By Robert Hiini
Father Bryan Tiernan SAC will be remembered as a true priest, mentor and friend following his death on 24 December last year.
Pallottine Regional Leader Fr Eugene San SAC was the principal celebrant for the Funeral Mass, with Archbishop Timothy Costelloe SDB presiding, which held on Friday 5 January at Riverton Parish, Our Lady Queen of Apostles Church, and was joined in celebrating the Mass by Perth Emeritus Archbishop Barry Hickey, Geraldton Emeritus Bishop Justin Bianchini and some 20 other priests.
In a moving homily for the funeral Mass, Fr San reflected on Fr Tiernan's five decades of service among people in Western Australia, Victoria and India.
"Fr Tiernan opened his heart to the people and gave of himself without reservation," Fr San told the congregation.
"As a true son of St Vincent Pallotti, (he) seized every opportunity to promote collaborative ministry, encouraging everyone to be apostles in whatever capacity or walk of life they find themselves in …
"An innate desire to help and heal people, especially the lowly and those on the fringes, never left him.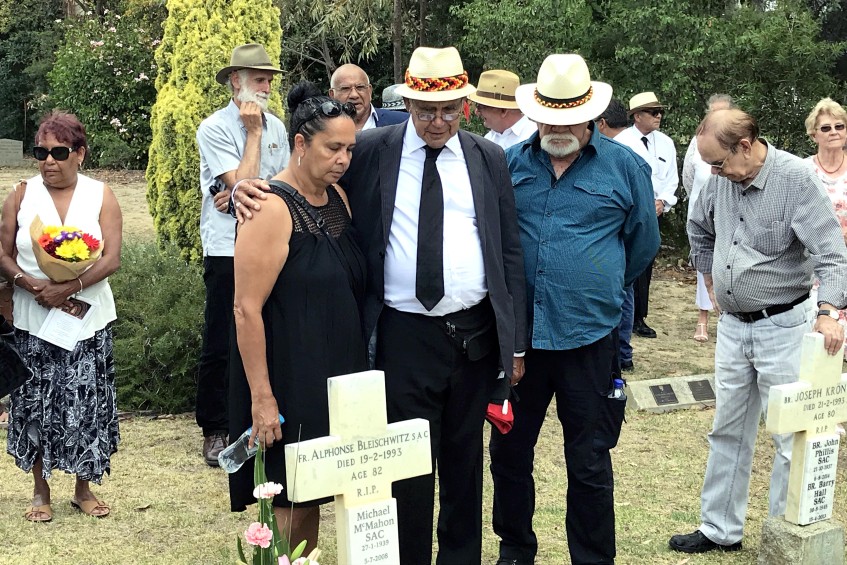 Noongar elder Ben Taylor (centre) mourns with others at the graveside of his friend, Fr Bryan Tiernan, on 5 January, following a Requiem Mass and smoking ceremony at Queen of Apostles Church in Riverton. Photo: Sam Orti.
Born in 1928, Bryan Tiernan was 20 years old when he joined the Pallottines, making his final profession – and becoming ordained – in 1955.
He then spent five years as a missionary in India, where he helped to bolster new Pallottine communities and also established the Khristsevikas Community – a secular institute for women.
Returning to Australia, he spent the following five years as Provincial Bursar in Kew, Victoria, before moving to WA in 1966, where he would spend the next 27 years ministering among the State's diverse Aboriginal population.
In 1967, he began operating Aboriginal Catholic Ministry and Aboriginal Mobile Ministry in the Archdiocese of Perth, the Dioceses of Geraldton and Bunbury, and in New Norcia, running hostels in Albany and Mosman Park for Aboriginal students.
Fr Tiernan's final mission field was an urban one, serving as chaplain for 10 years at St John of God Hospital in Subiaco before retiring due to illness.
In his homily, Fr San made mention of the personal testimonies given by Robert Isaac, Marlene Jackamara, Ben Taylor and Reg Carnamah at the Rosary Vigil on the previous evening, regarding "how this gentle and humble priest changed their lives for the better".
"(Someone) told me yesterday that Fr Tiernan helped not just the Aboriginal people but anyone who was down and out, white people included," Fr San said.
"She said we need to acknowledge good priests like Fr Tiernan.
"Like our founder St Vincent Pallotti, Fr Bryan believed that where there is no love there is no apostolate. He realised that without love our ministries will be futile," Fr San said.
Fr Tiernan passed away on Christmas Eve in Rossmoyne after a long illness. He was 90 years old.