'Gift of faith specially chosen by the Lord' – Archbishop Costelloe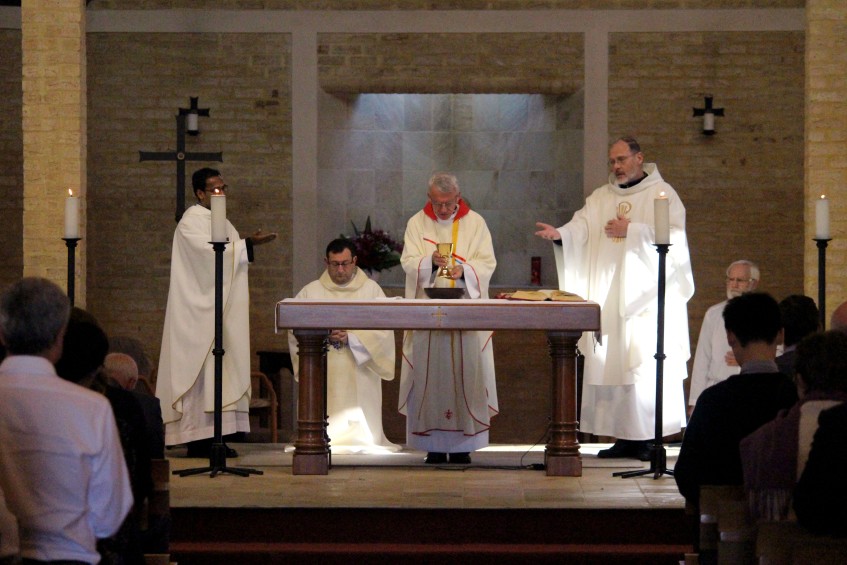 Archbishop Timothy Costelloe, Fr John Pallippadan and Fr Greg Burke consecrate the Blood of Christ. Photo: Chisholm Catholic College.
By Matthew Lau
Everything we have comes to us as a gift from God to share with others, said Perth Archbishop Timothy Costelloe SDB during the Performing Arts Festival opening Mass on 20 July.
Archbishop Costelloe was principal celebrant for the Mass and was joined by concelebrants Fr Greg Burke and Fr John Pallippadan; which, for the fourth year in a row, was held at Infant Jesus Church, Morley Parish.
This year's Performing Arts Festival theme mirrors the national 2018 Year of Youth, commissioned by the Australian Catholic Bishops Conference.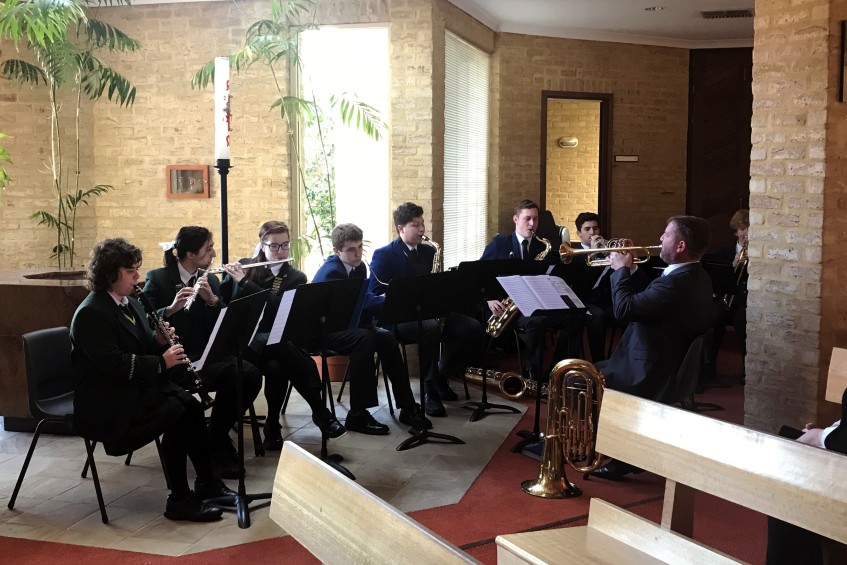 Students of Mazenod College and St Brigid's College collaborative provided music at the opening Mass on 20 July. Photo: Sabrina D'Roza.
Student representatives, principals, and performance art teachers of several schools were present and contributed to the flag procession prior to last Friday's Mass.
Archbishop Costelloe spoke in his homily about the special talents that God bestows upon His sons and daughters.
"God does not have favourites. God does not like some people more than others. God created each of us in love and God continues to sustain us in love," he stated.
"God has let us into the secret of his love so that we can then share that secret with others – by what we say, of course, but also and more importantly by what we do.
"We are not just sharing our gifts; we are also inviting people to admire those gifts and, in doing so, admire the one who gives the gifts."
Archbishop Costelloe said while each individual has his or her own unique aptitude, the gift we all share is the gift of faith.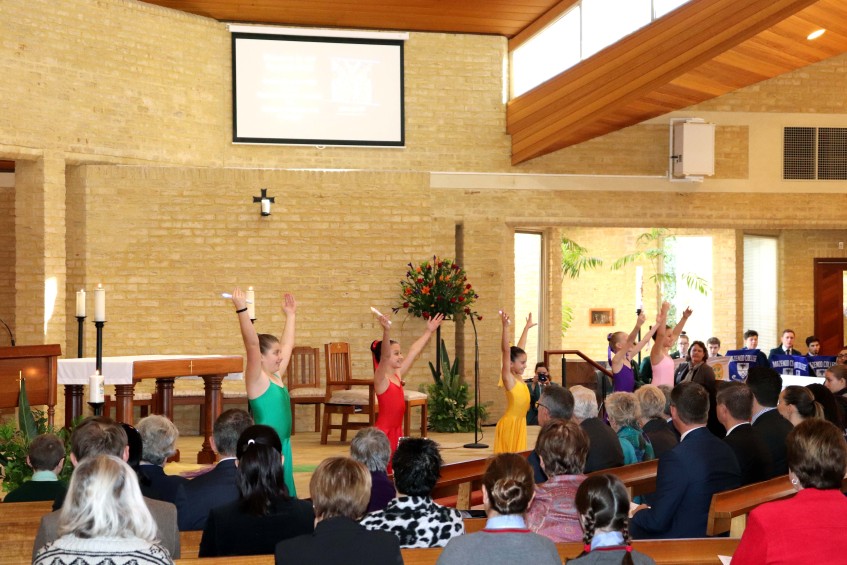 The liturgical movement prior to the commencement of the festival opening Mass. Photo: Chisholm Catholic College.
The gifts God gives us should not be a source of selfish pride, he continued, but rather a source of deep gratitude that through us, as we use and cooperate with God's gifts, other people are able to "experience the creativity, generosity and beauty of God".
"While we certainly want to thank all those people who make this annual Performing Arts Festival possible, and while we must thank all those who are willing to use their gifts to entertain, delight and amaze others, most of all we want to thank God without whom there is no life, no joy, no creativity, and no hope.
"Among all the many gifts and talents each one of us has been given, throughout the festival we want to be conscious of the most basic and beautiful gift of all – the gift of life," Archbishop Costelloe concluded.
The 29th annual Performing Arts Festival – organised by Catholics Arts – aimed to help students of Catholic schools experience the spirit and tradition of the performing arts.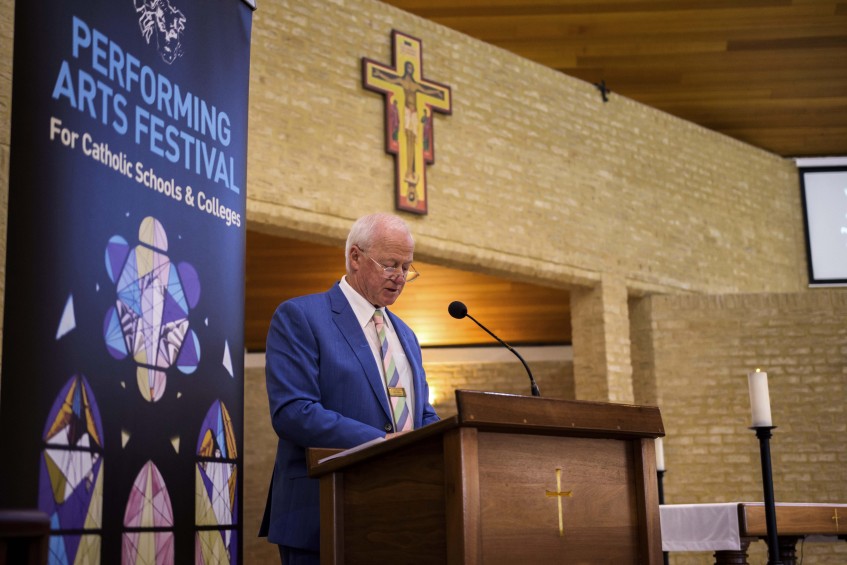 Catholic Arts Chair John Aldous gave words of appreciation to those involved in all facets of the Performing Arts Festival. Photo: Sourced.
John Aldous, Catholic Arts Chair, told The eRecord of his pride in being able to provide a platform for pupils across the Archdiocese to continue showcasing their talents.
"We received a record number of 2646 entries from 108 participating schools – that results in 20,910 students performing over the next six weeks. The festival is getting bigger and bigger each year," Mr Aldous proclaimed.
The Festival Concert will be held on 10 September at 7pm at the Perth Concert Hall.