SPECIAL REPORT: Kalgoorlie-Boulder Parish reaches landmark 125 years of worshipping God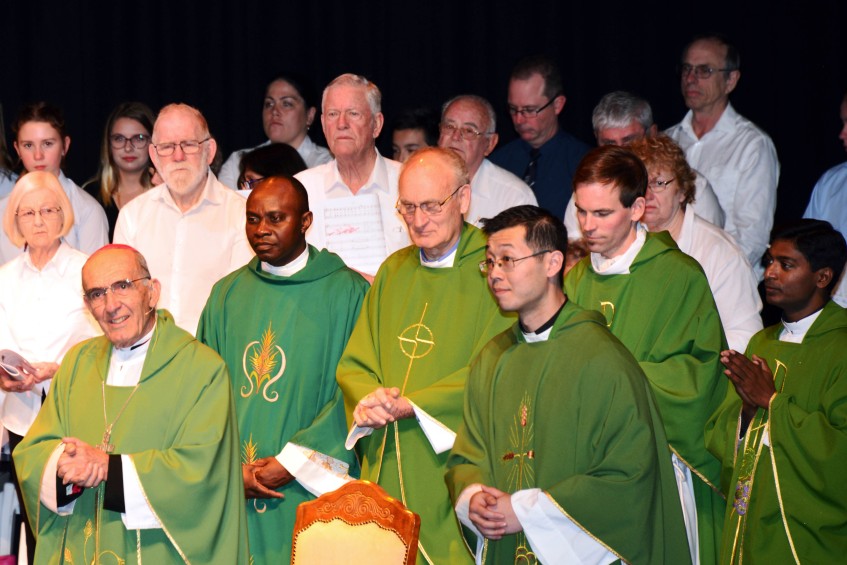 The Goldfield's Parish of Kalgoorlie, Boulder, Coolgardie, Norseman and Kambalda is large; with an enormous amount of Catholic Church history. Photo: Murray Joyce.
By Matthew Lau
"Information supplied by the Catholic Church's resources, suggests that the first Catholic Mass ever performed at Kalgoorlie, was celebrated in the latter the part of 1893, when an improvised altar was erected under a tree, near where the old belfry once stood, at the back of St Mary's Church Hall, in the current church yard." – The Centenary of St Mary's Catholic Church Building Kalgoorlie 1902-2002, researched and written by Harry Joseph Argus OFS.
Like the Kingdom of Heaven in the Parable of the Mustard Seed, it took one small nugget of gold for a small country town to blossom into the thriving city of Kalgoorlie that exists to this day.
More than 400 people of Goldfields Catholic Community turned out for the auspicious anniversary occasion on Sunday 17 June, exactly 125 years after the first gold nugget find was registered in 1893.
The Kalgoorlie, Boulder and Coolgardie Parishes merged into the now Goldfields Catholic Community in 1978.
A special Mass was celebrated on 17 June at Goldfields Arts Centre by Bishop Emeritus Justin Bianchini with concelebrants Mgr Tim Corcoran, and Kalgoorlie-Boulder Priests Frs Brennan Sia, Hyginus Ebede, Matthew Hodgson and Renald Anthony.
Music was provided by a 60-strong ensemble that included students from John Paul College, local choir "Two Up Two Down", and various instrumentalists.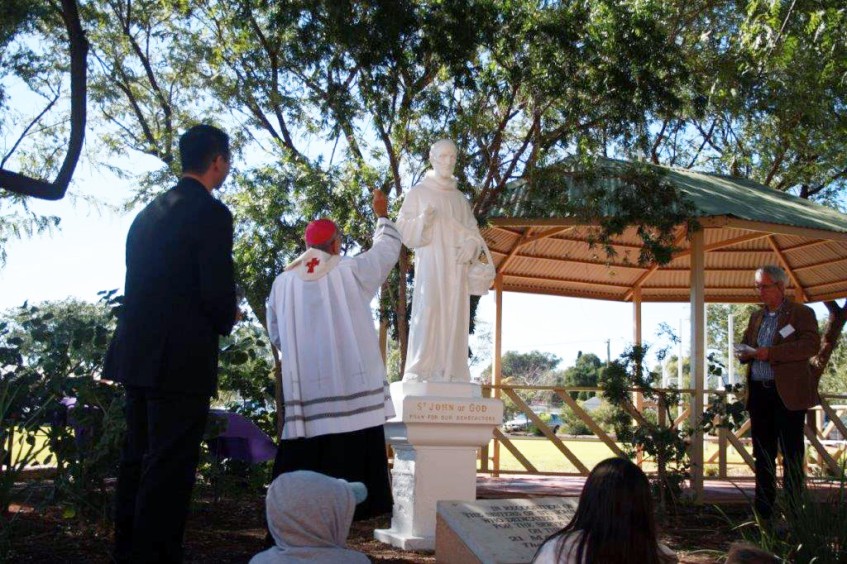 Bishop Bianchini rededicates a statue of St John of God at St Mary's Primary School on 17 June. Photo: Courtesy of St Mary's Primary School.
A statue of St John of God was unveiled at St Mary's Primary School later that day in respect for the decades of work the Sisters of St John of God did for the people of Kalgoorlie.
According to the Official Year Book of the Catholic Church of Australia, New Zealand and Oceania, Kalgoorlie-Boulder Parish is the eighth oldest active parish in the Archdiocese of Perth; and one of only 10 Catholic churches consecrated in the 19th-century.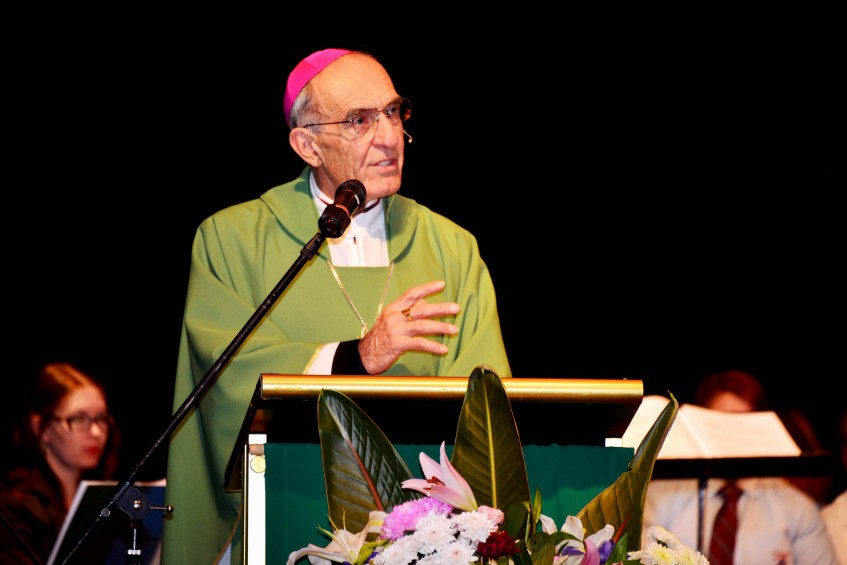 Emeritus Bishop of Geraldton Justin Bianchini was Kalgoorlie Parish Priest from 1974 to 1980. Photo: Murray Joyce.
The main crux of Bishop Bianchini's homily compared Kalgoorlie's growth from a single gold nugget as a microcosm of how the Kingdom of Heaven is like a grain of mustard seed.
He also spoke about how Kalgoorlie's existence was largely down to three layman – Paddy Hannan, Thomas Flanagan and Daniel Shea – who discovered Kalgoorlie's first gold nugget on 14 June 1893.
"They too made their contribution to the building up of society – not just the infrastructure and buildings – but the values, principles and morals based on the Gospel," Bishop Bianchini explained.
"The laypeople make up the greatest majority of the Church. The Church is the people of God, the whole society."
The Mass evoked memories for Bishop Bianchini, who was Kalgoorlie Parish Priest for six years in the 1970s.
"The Goldfields was, and still is, a lovely community. People were together in the same confines. Wherever I went, I was connected to parishioners.
"It was my first term as parish priest, it was like a 'first love'," he described.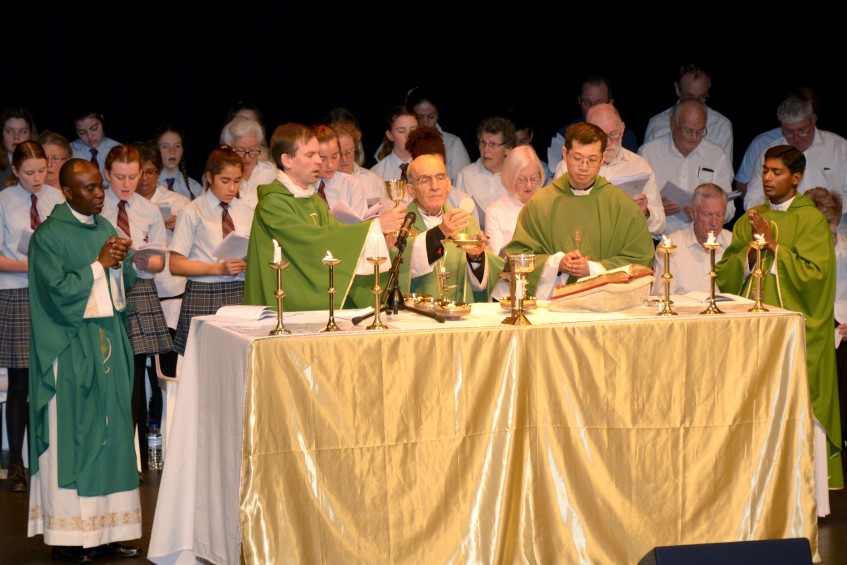 Kalgoorlie-Boulder Parish marked its 125th year with a celebratory 10am Holy Mass on Sunday 17 June at Goldfields Arts Centre. Photo: Murray Joyce.
There have been nine Popes since gold was discovered in Kalgoorlie, and Emeritus Bishop Matthew Gibney was head of the diocese in 1893.
Goldfields Catholic Community Parish Administrator Fr Sia was pleased with how the day went.
"It was also a celebration of the connection between the Catholic community and the wider Kalgoorlie community. There was a great sense of that on the day," he said.
Fr Sia paid homage to religious orders, such as: Sisters of Mercy, Josephites, Christian Brothers, Sisters of St John of God, Missionaries of Charity, and the Little Sisters of the Poor for their contribution to the city over the past 125 years.
The Kalgoorlie-Boulder Parish also administers Coolgardie, Kambalda, Norseman, and Southern Cross.