Ebullient Chinese Catholic community mark Year of the Dog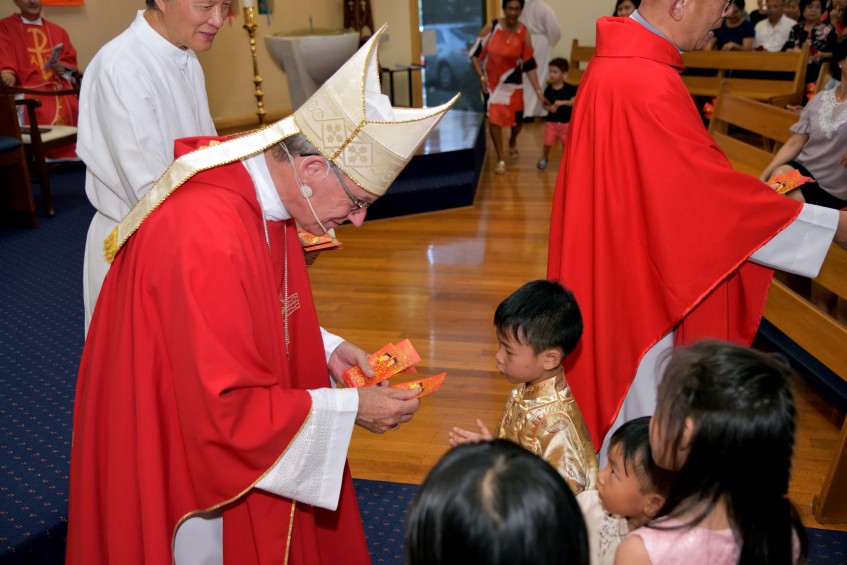 Perth Archbishop Timothy Costelloe distributes red envelopes to children as a symbol of good luck and to ward off evil spirits. Photo: Supplied.
Congregations gathered across three Catholic Churches in Perth to celebrate the cultural festival of Chinese New Year on Sunday 25 February.
The day of celebration involved thanksgiving Masses at Pater Noster Church, Myaree, St Thomas More Church, Bateman, and Holy Family Church, Como.
The choir of the Perth Chinese Catholic Community (PCCC) provided music for the three Mass celebrations, which was supported by the use of a traditional Chinese zither.
Perth Archbishop Timothy Costelloe SDB was the principal celebrant at Holy Family Church with Msg Michael Keating, Msg Tim Corcoran, Fr Leonard Macionczyk, and PCCC Chaplain Fr Patrick Lim.
The Gospel reading was proclaimed by Fr Lim in Mandarin.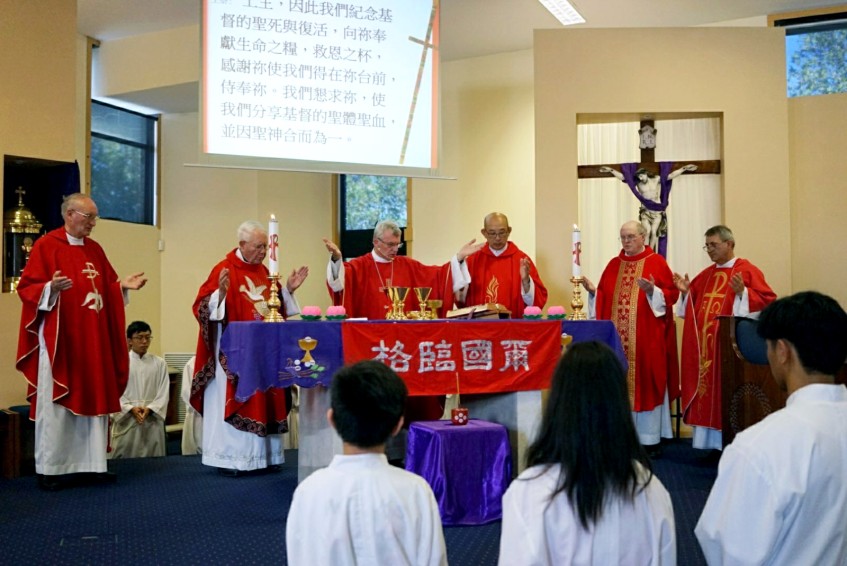 Archbishop Costelloe blesses the Holy Eucharist. Photo: Supplied.
PCCC Chairperson William Suseno led the congregation to conduct the render of three bows as a respect to God the Father, Jesus Christ, and the Holy Spirit.
Archbishop Costelloe blessed a banner which will be used for the Pan Australian Chinese Catholic Community Forum, to be held in Perth from 18 to 20 May.
The forum will focus on the future of Chinese Catholic youth, which coincides with this year being a national Year of Youth.
"It will be a huge event with all members from the Chinese Catholic Communities in every parts of Australia, expected to attend," Suseno said.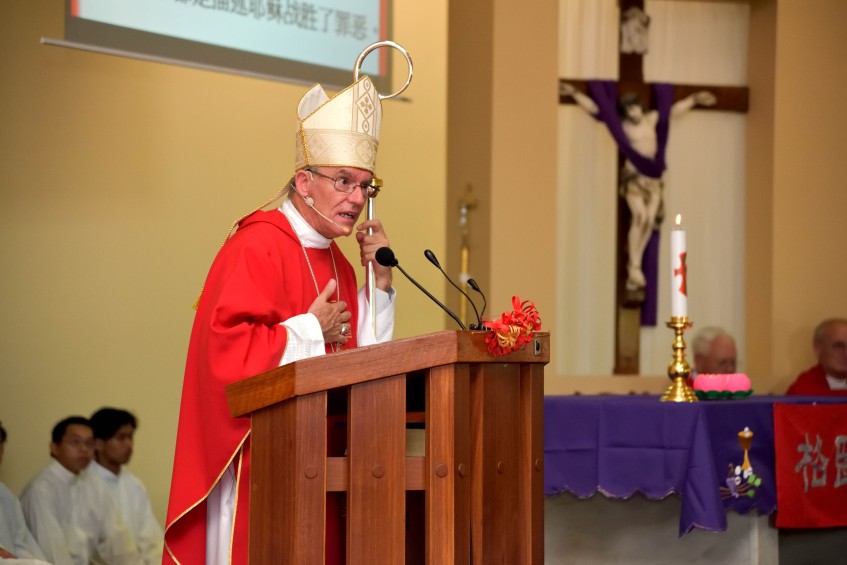 Archbishop Costelloe gives his sermon during Chinese New Year Mass at Holy Family Church. Photo: Supplied.
In his homily, Archbishop Costelloe asked for Catholics to 'appreciate just how strange and unexpected some of the Gospel stories are'.
"Because we read the Gospels so often, at least during Mass if not at other times, it is easy for us to become so accustomed to them," he said.
"While this is probably true on most Sundays of the year, I think it is especially true during Lent, when we get quite a dense concentration of really remarkable stories which, if the Gospel is read from beginning to end, are actually separated by many other events."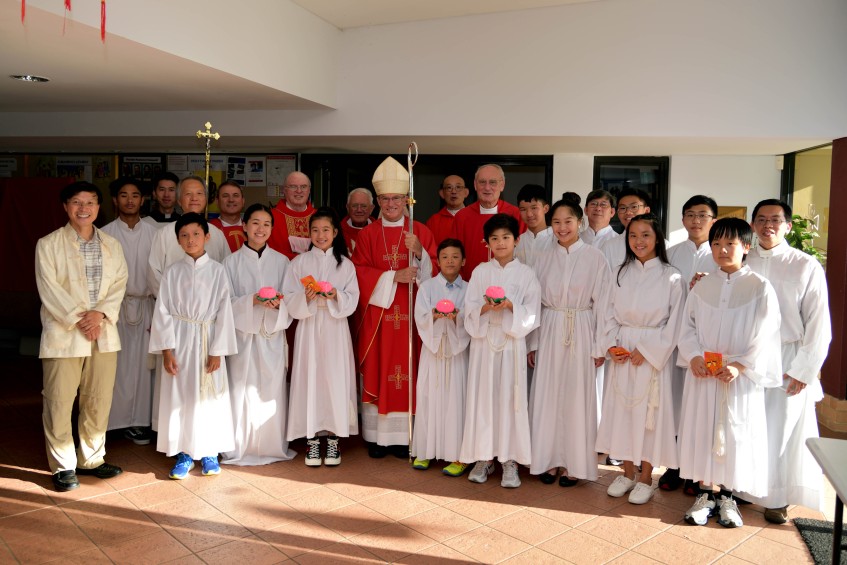 Archbishop Costelloe (centre) with priests and members of PCCC. Photo: Supplied.
Archbishop Costelloe highlighted that when the first disciples responded to the invitation of Jesus to go and follow Him, they could never have imagined what that following would mean for them.
"It is the same for us. Our decision to walk in the footsteps of Jesus, and this is what being a Catholic really means, is a decision to entrust ourselves to the Lord, as the first disciples did, and allow Him to lead us forward, even when it means finding ourselves on unfamiliar and unexpected, and even frightening, roads.
"We will be growing into the people we were created to be – and our Easter celebrations will mean more to us than they ever have before."
The priests concluded Mass with an act of generosity by handing each child a Red Packet as a symbol of luck to the younger generations.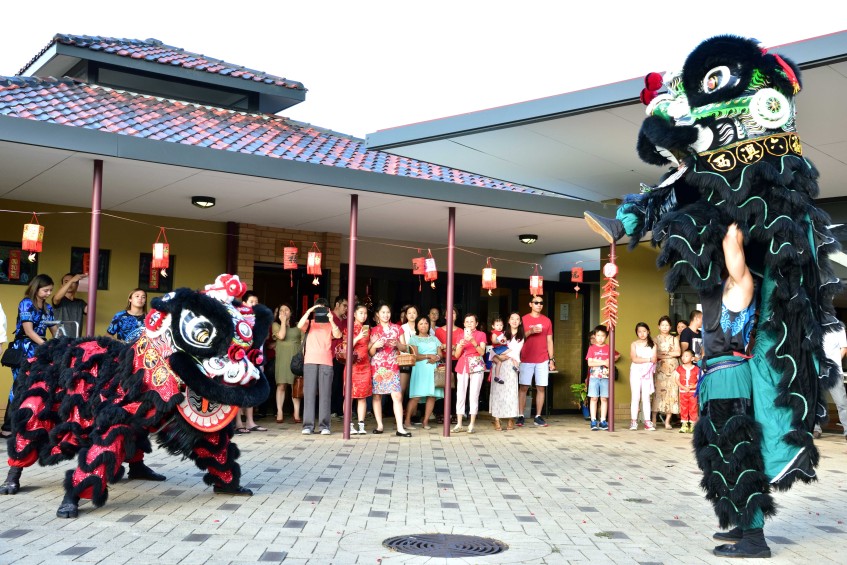 Lion dancers put on a show for parishioners after Mass. Photo: Supplied.
The congregations then came forward to the altar to take home a piece of a tangerine each, which is also symbol of good luck.
Energetic lion dancers performed at the front yard of the Church to mark the end of the Mass, which was followed by a banquet.