Overwhelmingly positive satisfaction response for Identitywa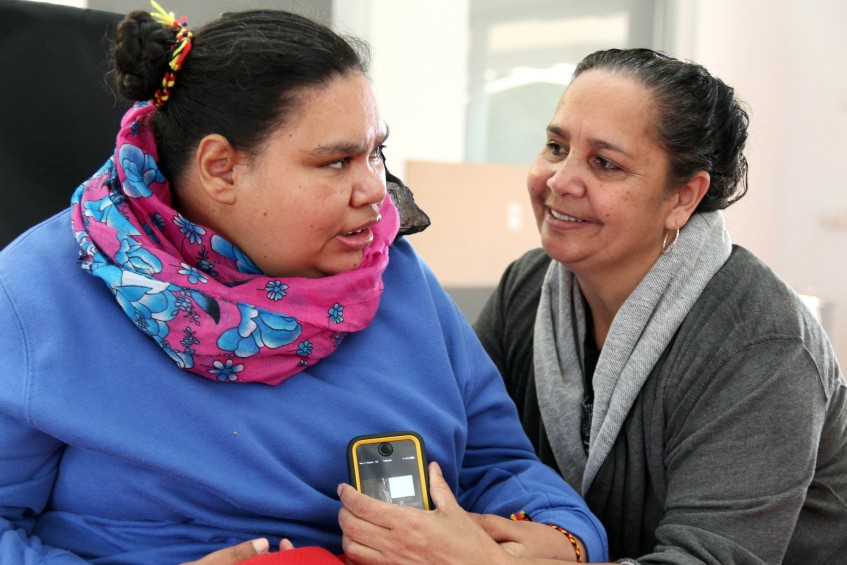 Rikeesha, pictured with her mother Penni, lives in an Identitywa shared house. Photo: Supplied.
Eight out of ten families have said they are satisfied with Identitywa, according to Identitywa's latest family and carers survey results.
As part of a commitment to the people supported by Identitywa, all families and carers were asked to complete a survey at the end of 2017, with 90 per cent responding they would recommend the Archdiocesan agency to others.
Part of Identitywa's operational standards is to ensure it is delivering on its promise of high-quality service.
The survey consisted of questions covering the areas of communication, provision of support, consultation, complaints process, and overall satisfaction of the support their family member receives from Identitywa.
The response rate was high, including 92 per cent of respondents who stated their family member was treated with dignity and respect.
Just shy of that figure was 90 per cent reporting they would recommend Identitywa to family and friends.
Furthermore, 87 per cent acknowledged their family member experienced opportunities for participating and inclusion.
Identitywa's end of 2017 survey revealed an 80 per cent overall satisfaction score in terms of the support family members received.
Chief Executive Marina Re said she was pleased with the overall positive outcome, and that there was always room for improvement.
"We were really pleased with the number of responses to the family and carers survey and loved that our efforts to increase consultation with families and guardians were so warmly welcomed," Marina elaborated.
"The survey has provided valuable feedback which gives us a real benchmark for future surveys and is an important opportunity to identify areas we need improve on so we can assist people to achieve their goals."
The survey participants described Identitywa as welcoming (93 per cent), responsive (88 per cent), non-judgmental (90.5 per cent), professional (90 per cent), and understanding (93 per cent).
"Improvements implemented already include updating our website so it offers comprehensive information about the National Disability Insurance Scheme, including a set of tools we have developed to assist with navigating the changes."
Marina said the organisation had made changes to its induction process and provision of training opportunities.
"Additionally, the development of a Reference Group we have established will enable Identitywa to engage with, and work alongside, families and guardians to continually improve our practice and processes," she added.
"We will continue to look for ways to improve our services to the families and the people we support, maintaining our reputation as one of Western Australia's leading disability service providers."