Ignite Live encourages teens to depend on the Holy Spirit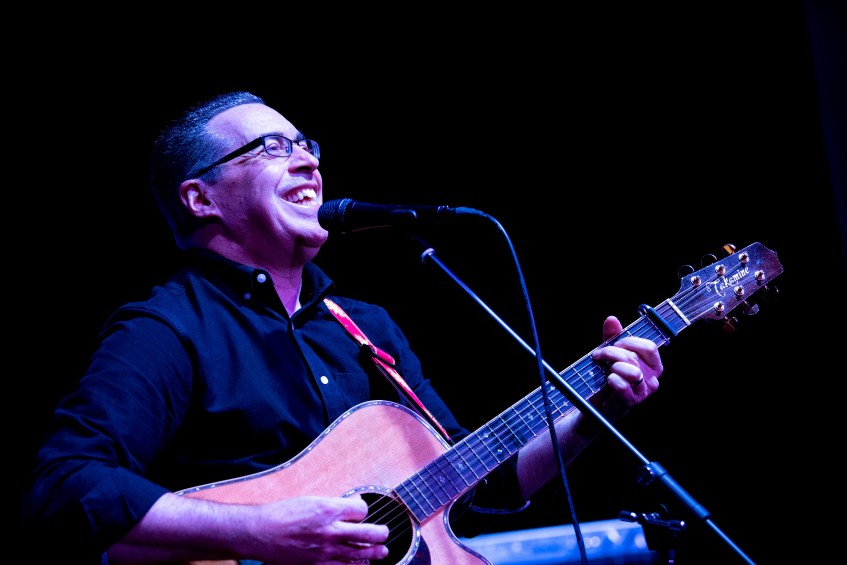 Texas music missionary Steve Angrisano lead a praise and worship session at Servite College during an Ignite Live event on 11 May. He also gave a talk, incorporated with music focusing on the theme of the Holy Spirit. Photo: Ignite Youth.
By Amanda Murthy
Ignite Live Perth once again proved to be the chosen avenue for more than 100 youth, who last Friday 11 May gathered at Servite College for an unforgettable night led by American music missionary Steve Angrisano.
The two-hour event organised by Perth's Ignite Youth saw teenagers and young adults across the Archdiocese of Perth come together for the bi-monthly Ignite Live event.
The night focused on the presence of the Holy Spirit, kick-started with a praise and worship session, led by the lively Ignite band.
Mr Angrisano also led in a few upbeat hymns, which engaged crowd participation.
He spoke to the youth through song, stories, prayer and with humour – a method he believes is an engaging and exciting way to spread the message of God.
In his talk, Mr Angrisano stressed on the importance of living the Word of God through action.
"You don't have to necessarily tell people about God for them to experience his greatness. "By just being a reflection of hope and faith, people will see God in you, and be inspired," he said.
"It is so important that we recognise that God is so much more a part of our life than just putting aside one hour a week, and it is through events like these that helps us understand how tangible God is in our life."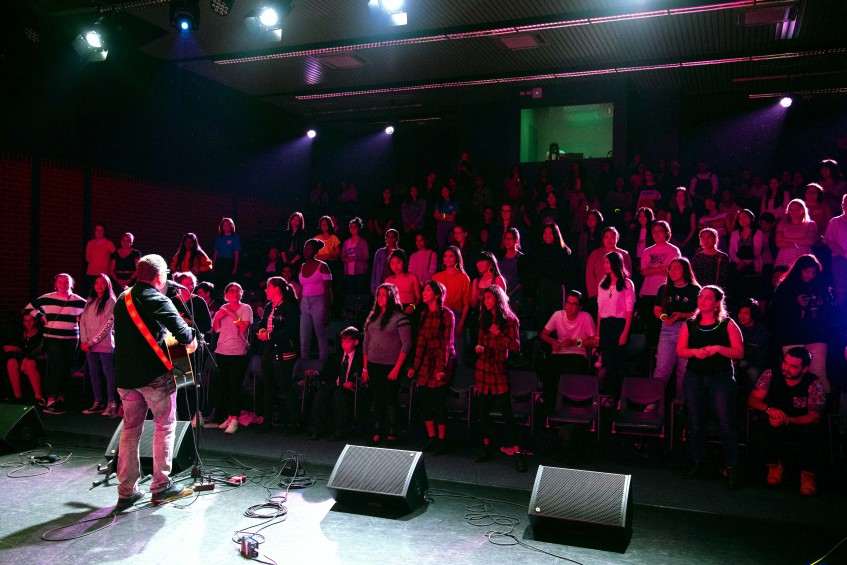 The youth are seen participating in one of the upbeat hymns lead by Steve Angrisano. The event included a lively praise and worship session, followed by games, a personal testimony and an opportunity to attend small prayer groups and receive the Sacrament of Reconciliation. Photo: Ignite Youth.
Mr Angrisano recognised that everyone is called by the Holy Spirit, not by coincidence, to be instruments of spreading Jesus' message to the world. By saying "yes" to God's invitation only, can people then be proud of their faith in Christ.
"The best thing about tonight's gathering is leaving – leaving here with courage to live out your faith and touch other people's lives wherever you go."
After a few reflective hymns, including Open my eyes, Lord, the youth that comprised of teens and young adults from parishes and schools from across the Archdiocese of Perth, were encouraged to participate in the sacrament of reconciliation or small prayer groups led by Ignite Youth Leaders.
Many connected with these opportunities, as the remaining crowd sat in the lecture theatre, reflecting and chanting the Chaplet of the Divine Mercy in song.
The night concluded with a string of upbeat hymns followed by a burger eating and mingling session outside.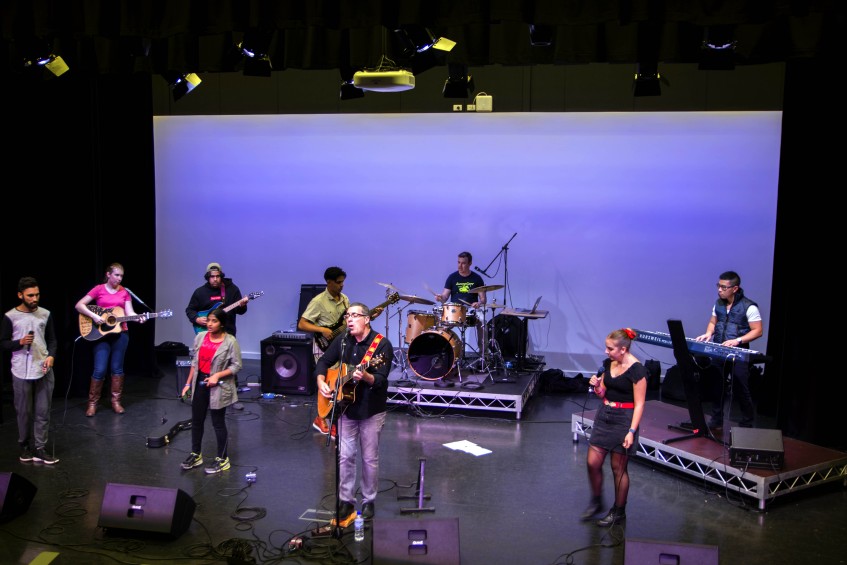 The Ignite Youth Band pumped the crowd of over 100 youth and young adults who attended Ignite Live at Servite College on 11 May. Photo: Amanda Murthy.
Mr Angrisano was also in Perth to conduct a series of music and leadership workshops as well as school visit under Catholic Youth Ministry Perth in conjunction with the Year of the Youth. He told The eRecord that he hopes to be back next year.
"I am so happy that this is the Year of Youth because there are more opportunities for the fire to be lit in many of the Australian schools, many of which I discovered through my visits, that have not had the chance of experiencing retreats before.
"I do see how powerful that awareness is in their lives when people acknowledge the presence of God in their lives," he added.
Perth Director of Ignite Youth Ronan McGinniss said that events like Ignite Live provide an opportunity to gather in large concert environments for experiences that are both joyful and meaningful.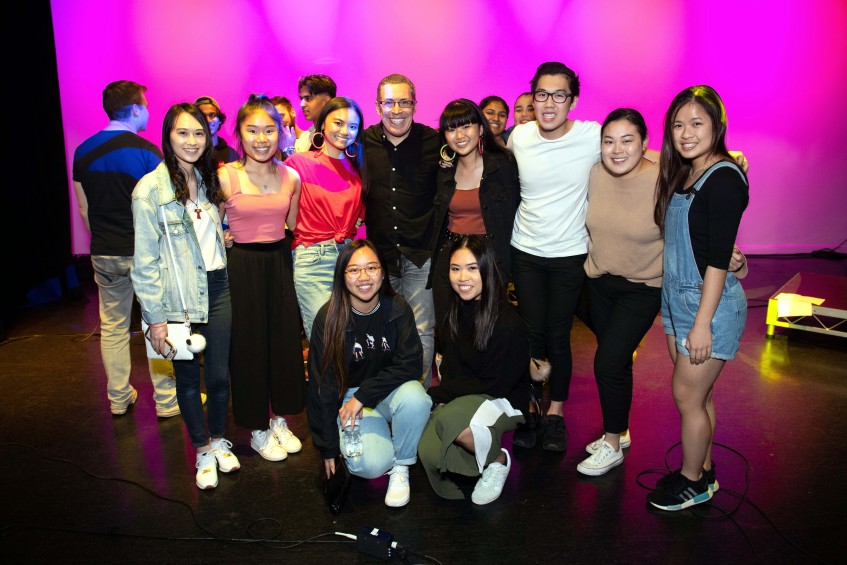 Young people from the Vietnamese Catholic Youth movement are seen posing with Steve Angrisano after the Ignite Youth event last Friday. Photo: Ignite Youth.
He added that events like these bring together groups from schools and parishes across Perth and are joined by many people who don't have a group that they are regularly part of.
"Because it's the Year of Youth, so we wanted to make every Ignite Live extra special this year. Many people have seen Steve at World Youth Day and at the Australian Catholic Youth Festival and he is well known for adding so much to this kind of event," Mr McGinniss said.
"Among the fun and excitement of a big event, Steve is a wonderful example and communicator of the faith. We are so grateful that he could share this with so many people. "His stories, music, and personal conviction is such a blessing."