'It is in giving that you receive', says Catholic artist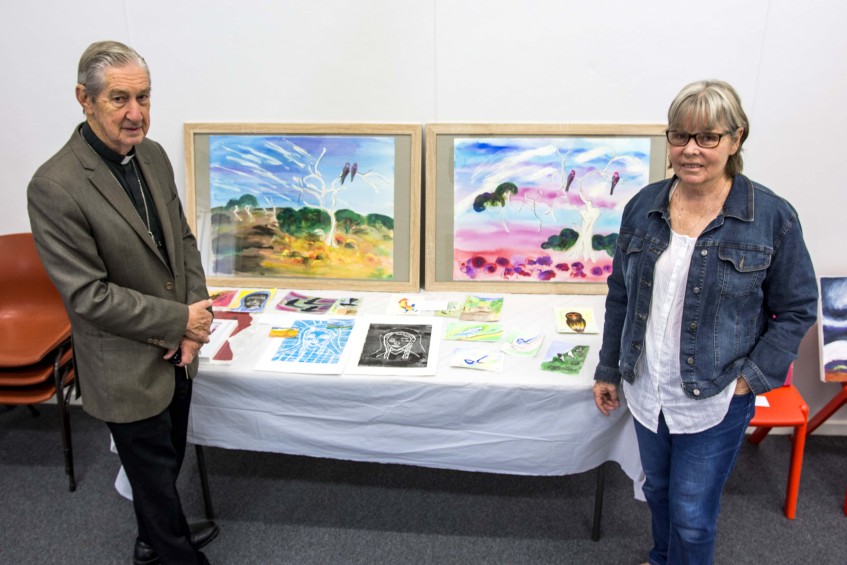 Emeritus Archbishop Barry Hickey and Margaret Fane in the Victoria Park Parish hall where the art exhibition is being held after each Mass this weekend. Photo: Matthew Lau.
Emeritus Archbishop Barry Hickey has last weekend encouraged Perth Catholics to purchase artwork by a local abstract artist to raise proceeds for his charities.
Margaret Fane displayed her works of art for sale at the Victoria Park Parish hall after each weekend Mass from 12 to 20 May.
The retired Archbishop of Perth celebrated the 9.30am Mass at St Joachim's Church, Victoria Park Parish on 13 May, where he gently asked parishioners for their generosity support his homeless projects and orphanages in the Philippines.
During his homily for the Feast of the Ascension, which coincided with Mother's Day, he described how the Gospel reminds us that Jesus came to teach and reveal the mysteries of God's plan.
"In order to reveal to us the plans that God has for you and me, the focus is always on Jesus," Emeritus Archbishop Hickey said.
"Of the Holy Trinity, it was 'The Son' – the word of God – that became man. In His ascension, He rose up His humanity – and with that, our humanity – to be with God forever; giving us a hint of what God has prepared for us.
"It took a long time for people to realise that Jesus was really the Son of God, not just a son of God, but the Son of God."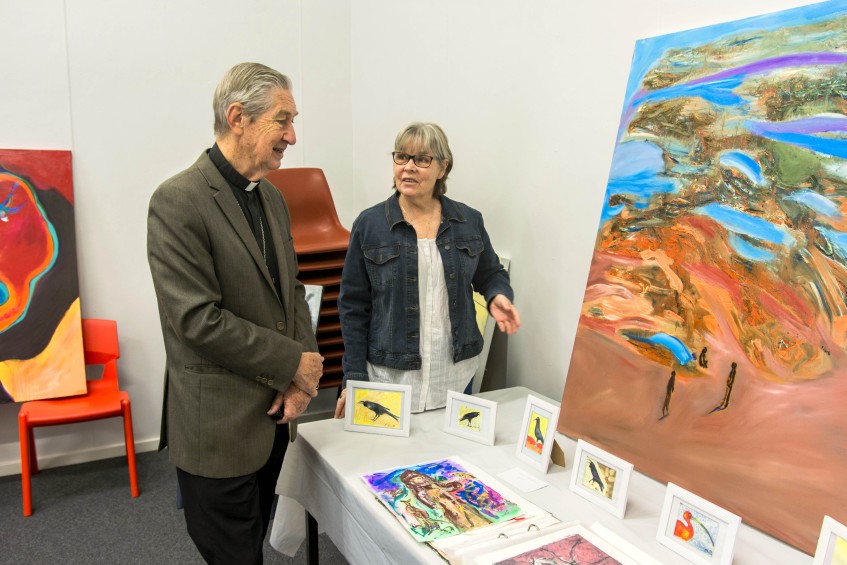 Artist Margaret Fane explains the meaning behind some of her works of art to Emeritus Archbishop Hickey. The large piece in this image is a narrative for the Holy Trinity. Photo: Matthew Lau.
Ms Fane uses a variety of methods for her works – including watercolour, oils, and acrylics – to achieve her unique style of abstract and realism.
"I had some paintings that the Archbishop thought were really nice and suggested that I have an exhibition to raise funds for the Cathedral. So I did that, not thinking I would sell any to be honest with you, but they sold very well," she said.
Ms Fane studied art and spirituality in Rome 20 years ago and artist Friar Joe Walsh OFM has been her mentor for that period of time.
"I'm passionate about birds. I think when a person comes to Australia one of the first things they notice is the bird life, and it brings such a happy feeling to a world that is so sad," she expressed.
"I feel that if we were more compassionate towards the people who are not so well off, we would have a happier world. There would be a lot more happiness in us."
Ms Fane believes that it is in giving that a person is truly able to experience the joy of receiving.
"If the whole world was better at helping those less fortunate, especially the many homeless people in Australia, I think it would be happier place," she added.
"Helping people on the edge contributes to a better world."
For more information or to purchase artwork, email marg.fane@gmail.com