Heart-warming partnership benefits both young and old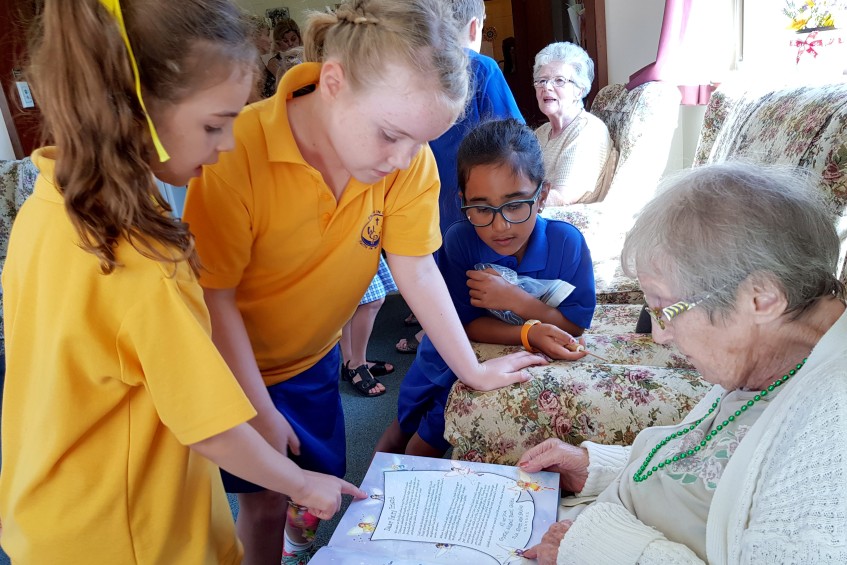 The Mercyville residents make the most of their time with the young ones to chat and share stories together. Photo: Whitford Catholic Primary School.
By Matthew Lau
Whitford Catholic Primary School and Mercyville Hostel have maintained a good rapport for more than a decade with an invigorating arrangement that pleases all parties.
Every Friday, a baker's dozen of pupils walk over to the aged care home to spend time with the residents to form strong bonds with their elders.
The children do a "show and tell" presentation for the seniors as part of their community program.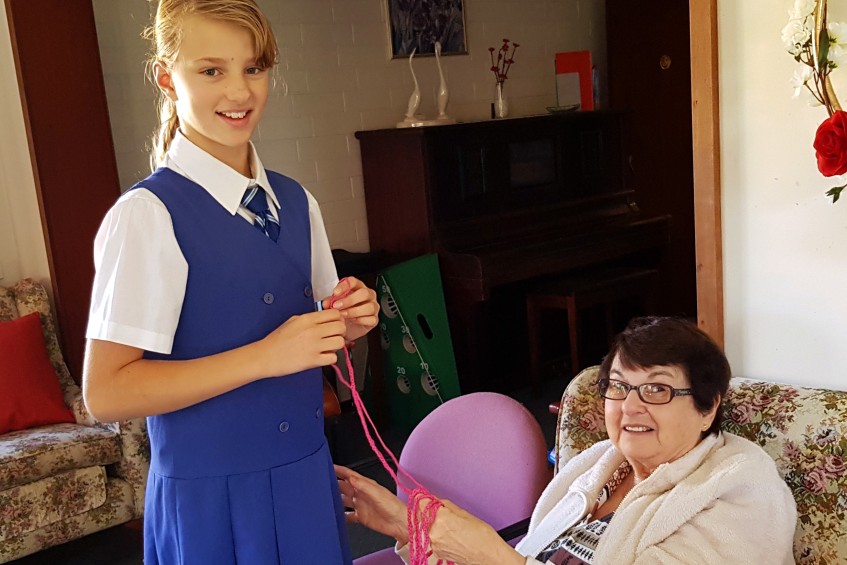 Pupils of Whitford Catholic Primary School do activities with residents of Mercyville Hostel every Friday. Photo: Whitford Catholic Primary School.
Joyce Johnson is a short-term resident at Mercyville – seeing a different batch of children turn up to the care home is one of the highlights of her week.
"I'm nearly 90 now. It's a nice opportunity to see the children, we were young once," she said.
Annette Lynch, History Teacher at Whitford Catholic Primary School, is the coordinator of the partnership.
A video submitted by Mrs Lynch was part of the application that won Kids of Mercy the LEAD Awards for Excellence 2015 in the Discipleship category.
She said while the arrangement initially occurred during Book Week after 2005, it only became a weekly fixture on the school's calendar from 2010, after the then Year 6 group asked if they could visit the elderly every Friday.
From 2011, all children from Year 1 to Year 6 were invited to participate.
This year Whitford Catholic Primary School has some 160 children enrolled in the program, Mrs Lynch rotates 13 pupils each week to walk next door to Mercyville.
"I roster siblings together. They bring all sorts of things over for show and tell. We've had musical demonstrations, balloon animals, origami, and even remote control helicopters," she said.
"What's beautiful is that this interaction makes the ladies remember memories from their past."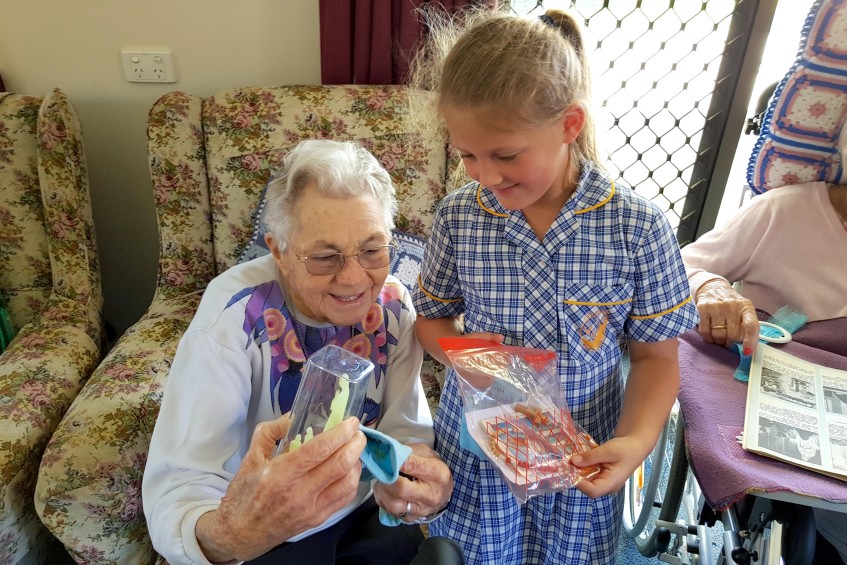 The children of the school enjoy the opportunity to have a show and tell with the elderly. Photo: Whitford Catholic Primary School.
Mrs Lynch said the kinship goes both ways, as the seniors would occasionally visit the school and engage with the children during lunchtime.
"The chat that goes on afterwards is awe-inspiring, the kids really feel the blessings that the visit brings. They get just as much out of it as the ladies do," she added.
"For us it is about outreach, being the hands of Jesus in that respect.
"There are a lot of children who don't have their grandparents close by, it's good for them to have this experience with the elderly."
Mercy Health is a Catholic community founded by the Sisters of Mercy and grounded in a 2000-year history of caring for those in need.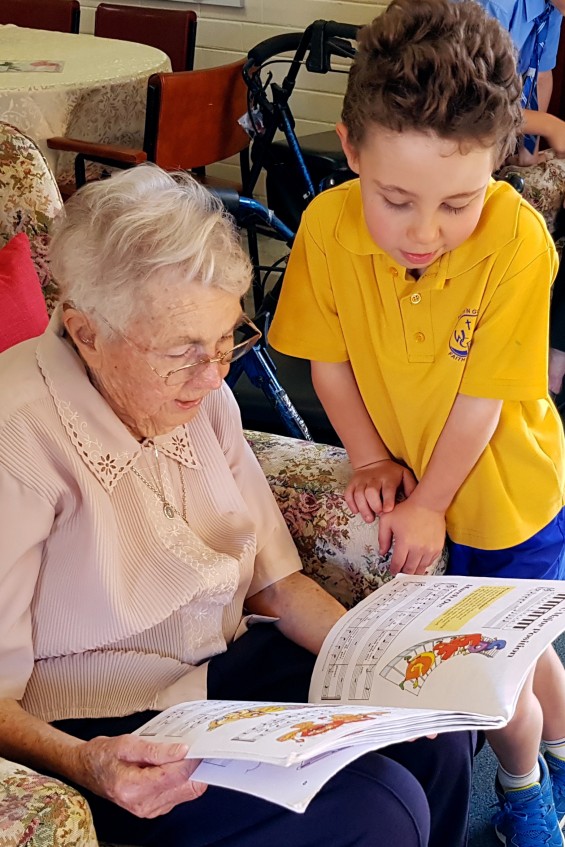 A Whitford Catholic student has a book read to him by a Mercyville resident. Photo: Whitford Catholic Primary School.
In WA, the organisation cares for more 300 people across six residential homes, with 78 independent living units.
Helen Fullarton, Mercyville Service Manager, echoed Mrs Lynch's sentiments that the intergenerational partnership has been beneficial to both sides.
"Our residents love spending time with younger people and they're very keen to share their hobbies, stories and life lessons with the children – and equally love hearing their 'show and tell' stories," Mrs Fullarton said.
"The partnership is also a way for young people to learn from and respect the elderly in the wider community; they've certainly loved spending times with residents and many of them share some of the same interests, particularly reading and music."
Click Here to watch a video about the History of Kids of Mercy