Fervent St Jude's community rejoices in half-century birthday
Auxiliary Bishop Donald Sproxton DD blesses a commemorative plaque for St Jude's Church on Sunday 28 October. Photo: Matthew Lau.
By Matthew Lau
The culturally diverse parish of Lynwood/Langford celebrated its golden jubilee in multiethnic fashion on the Feast Day of Saint Jude.
Bishop Donald Sproxton celebrated Mass on 28 October with concelebrants Father Terry Raj, Monsignor Tim Corcoran, Fr Henry Byrne, and Fr John Flynn SAC.
Fr Flynn led the parish's very first Mass in 1967 when the Eucharist was celebrated in a camouflaged Nissen hut – commonly known as "The Lynwood Mass Centre".
Archbishop Emeritus Launcelot Goody consecrated St Jude's Church on 27 March 1973.
The St Jude's Choir, African, and Filipino music groups sang an array of hymns at last Sunday's Mass – while the Perth Tamil Catholic Community performed an adoration ritual known as "Aarathi", and children of the African choir performed a liturgical dance.
Bishop Sproxton began his homily by narrating a tale about Archbishop William Foley in 1977, during the former's first priestly appointment at St Mary's Cathedral.
Then-Father Foley was Dean at the time, to which Bishop Sproxton recalled his [Fr Foleys] displeasure in being moved from Lynwood/Langford Parish.
"He certainly missed this community, and I know that whenever he could, he would try and get here to be with you, especially in those years that he was Archbishop," Bishop Sproxton said.
"What made him, I think, even more connected to this community was the fact that it was developing into such a multicultural community.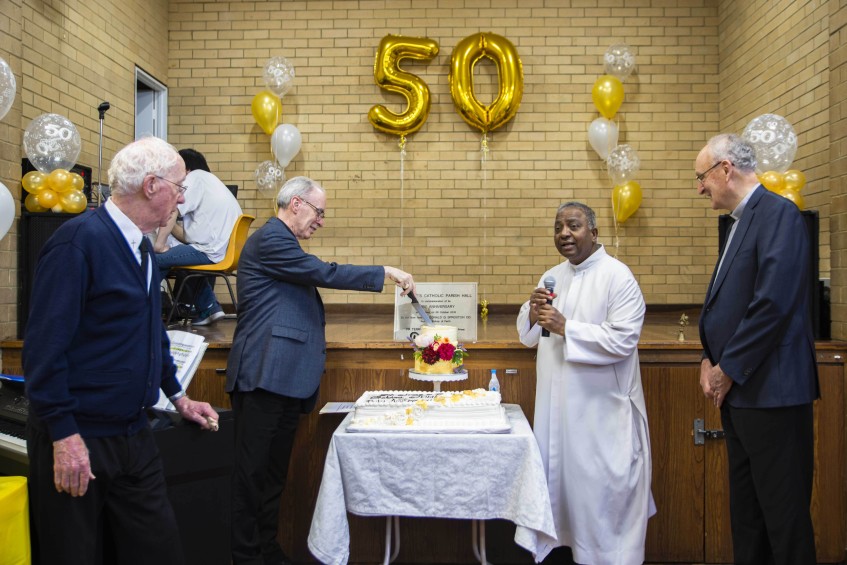 Fr Henry Byrne, Bishop Sproxton, Fr Terry Raj and Mgr Tim Corcoran at the cutting of the cake during the 50th anniversary celebrations. Photo: Matthew Lau.
"As we celebrate 50 years of history, 50 years of being a Catholic community in this area, 50 years of encouragement that has been given to one another, as we resort to live together as disciples of the Lord, I give thanks to God for the fact that this very multicultural community is continually finding a place for those who are still coming to join us here in Australia."
Long-serving Parish Priest Fr Terry Raj showed his appreciation to St Jude for his protection and intercession.
"We remember those Parish Priests and parishioners who have departed this world, and pray for the peaceful repose of their souls. May they rest in peace with God," Fr Raj said.
"As we look back, we see how the parish has grown as a community. We invoke God, Mother Mary, St Joseph, and our patron St Jude to continue to tender their loving care and protection upon our community in the years to come."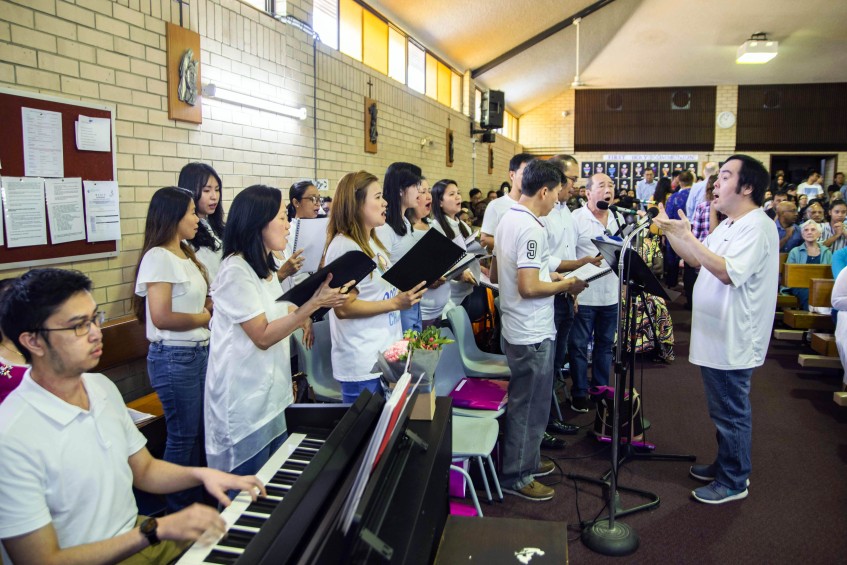 The St Jude's Filipino choir sang "Sa'yo Lamang" in Tagalog. Photo: Matthew Lau
St Jude's Church ministers to Catholics in the suburbs of Lynwood, Langford, Ferndale, and Parkwood.
Prior to the commencement of Mass on 28 October, Parish Council Chairperson Peter Elloy presented a history of Lynwood/Langford Parish.
"We wish to thank all those who have been and those are currently part of this parish for their contribution of time, talent, and resources – which has enabled us to grow together as a community," Mr Elloy expressed.
"We will always be grateful for the initiative and quiet involvement in various projects these people have provided unsparingly to keep our community a vibrant and caring one."