Welcome newcomers with the love of Christ, says Bishop Sproxton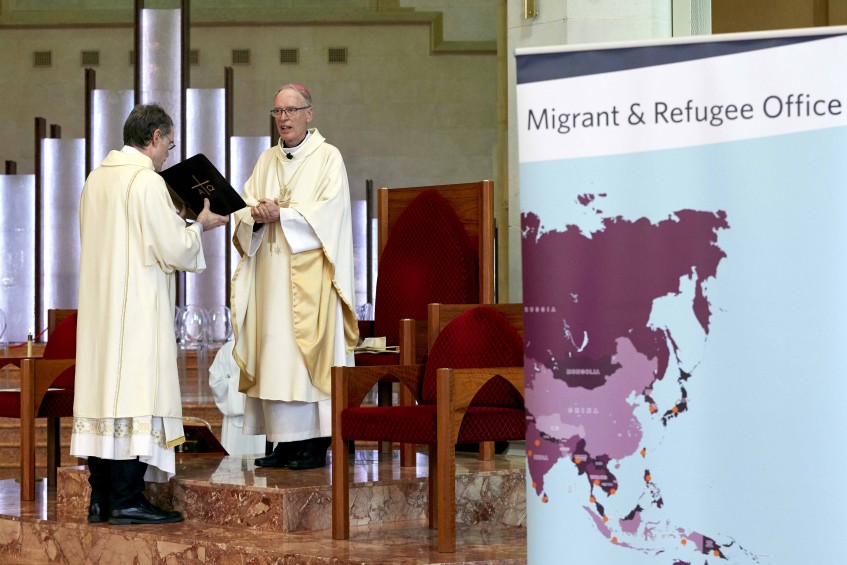 Bishop Don Sproxton encouraged the congregation to follow the example of Christ in accepting and welcoming the multicultural Church of Australia during the Unity and Diversity Mass. Photo: Ron Tan.
By Amanda Murthy
Asking the question "what do you want?" and extending a helping hand would be the best Christian approach towards a newcomer or someone who is seeking to migrate to our country.
These were the words of Auxiliary Bishop Donald Sproxton during his homily at the Unity and Diversity Mass, held at St Mary's Cathedral on Sunday 28 October.
The 2.30pm Mass, assisted by Deacon Paul Reid and several other Archdiocesan priests, was organised by the Archdiocese of Perth's Western Australian Catholic Migrant and Refugee Office (WACMRO) to recognise and celebrate the many ethnic groups of the Church of Australia, particularly migrants and refugees.
Bishop Sproxton addressed the congregation made up of Church agency representatives and various ethnic groups, including: Caritas, Red Cross, CARAD, Catholic Mission, Catholic Youth Ministry, Centrecare, Aboriginal Catholic Ministry, and the South Sudanese, Chinese, African, Indonesian, Filipino, Korean, Malaysian, Singaporean, and Vietnamese Catholic communities.
Bishop Sproxton said the Catholic community of WA remains united today because of the love and respect shared between all, guided by the presence of the Holy Spirit.
"We can begin by taking the initiative to get to know these people who are new in Australia. Making the effort to know details such as their backgrounds, language and their food is vital in order to better understand and appreciate one another," he said.
"Then always being ready to help and give them what they need in order to feel a part of our community."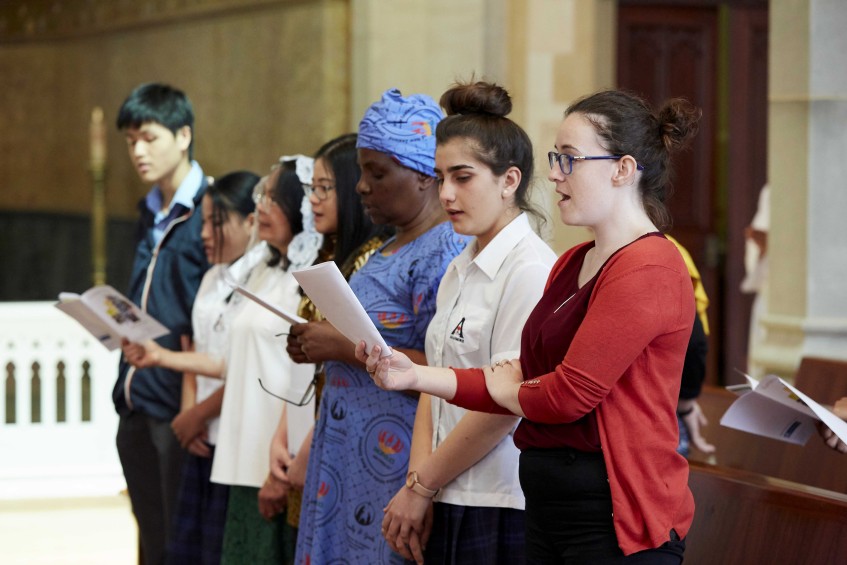 Parishioners wore traditional outfits at the Unity and Diversity Mass at St Mary's Cathedral last Sunday. Photo: Ron Tan.
Drawing inspiration from the Gospel reading, Bishop Sproxton explained that Jesus healed a blind beggar named Bartimaeus, because he had faith and believed Jesus has the power to heal him.
"The Gospel spoke about a process that even in the first century of our Church's history, stressed the importance for welcoming and including people into the Christian community – Bartimaeus was someone who was cut off from his community, but he had faith in God – that faith is what helped him see again, get up and follow Jesus from that moment on.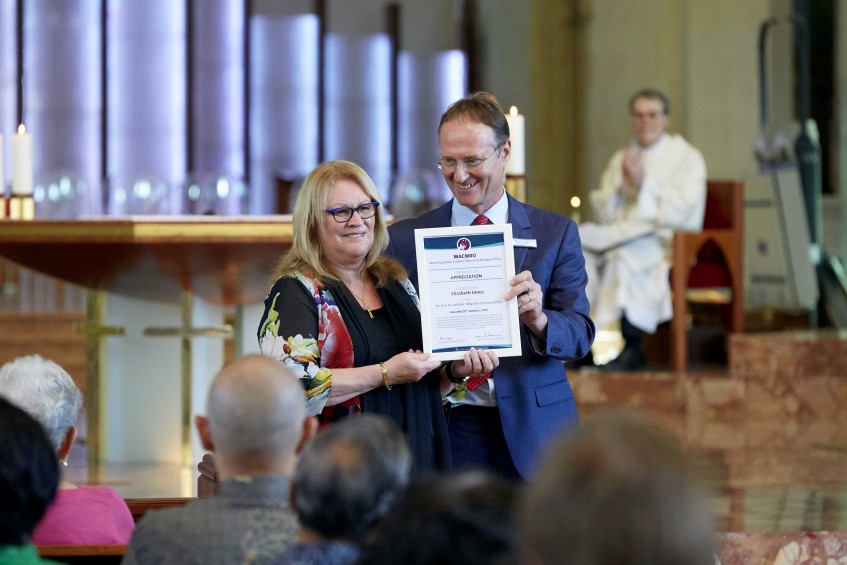 Elizabeth Jones receives a certificate of appreciation from Deacon Gregory Lowe for her services to Catholic migrant communities at the conclusion of the Unity and Diversity Mass at St Mary's Cathedral on 28 October. Photo: Ron Tan.
"We can continue to pray for our brothers and sisters that the Holy Spirit will fill us abundantly so that we can continue to help one another, living out the true example of Christ," Bishop Sproxton concluded.
The Prayers of the Faithful was recited in multiple languages by parishioners from the participating ethnic communities and Aranmore Catholic College students.
Before the conclusion of Mass, WACMRO Director Dcn Gregory Lowe expressed his gratitude to those present, recognising those who serve and support the migrant and refugee community on a daily basis.