Conference encompasses Catholics to discover a deeper relationship with Christ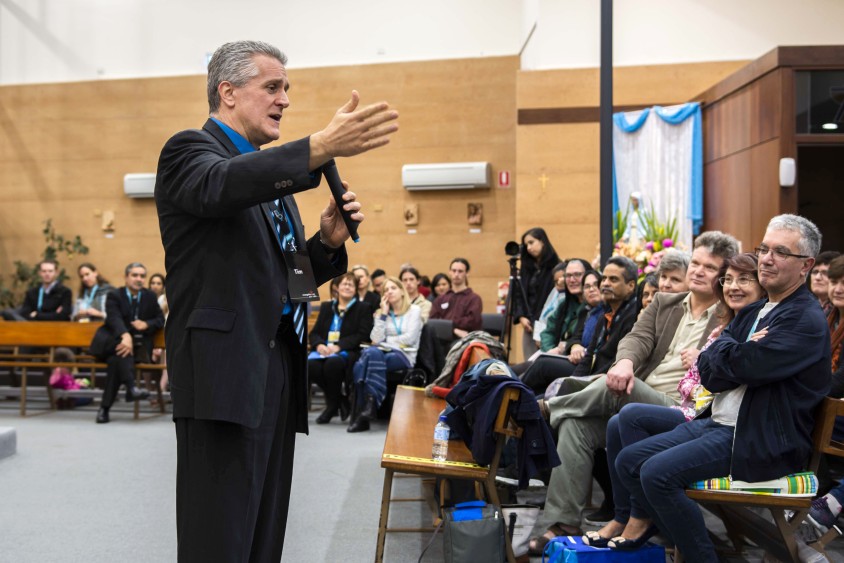 Catholic apologist Tim Staples featured at this year's "Why be Catholic" conference from 18 to 20 October, on his fifth trip to Perth. Photo: Matthew Lau.
By Matthew Lau
"Stand up for what is right, even if it costs you your life; the Lord God will be fighting on your side" – Sirach 4:28
Evangelisation Australia's third annual 'Why be Catholic' conference at Kwinana Parish inspired some 600 attendees to re-charge their faith batteries, faith that bears the truth of trust in the Lord.
The conference began on 18 October at St Vincent's Church with the opening Mass led by Auxiliary Bishop Donald Sproxton, and reached its conclusion on 20 October with Kwinana Parish Priest Fr Daniel Boyd celebrating the closing Mass.
The Friday night of the conference also saw a youth night hosted by Catholic Youth Ministry Perth, with talks specifically relating to young people.
The theme of the event was centred on Philippians 4:13 – "I can do all things in Him who strengthens me".
International evangelist Fr Larry Richards and Catholic apologist Tim Staples humoured and motivated those present during their various invigorating talks that tested audiences to evaluate their current faith situation.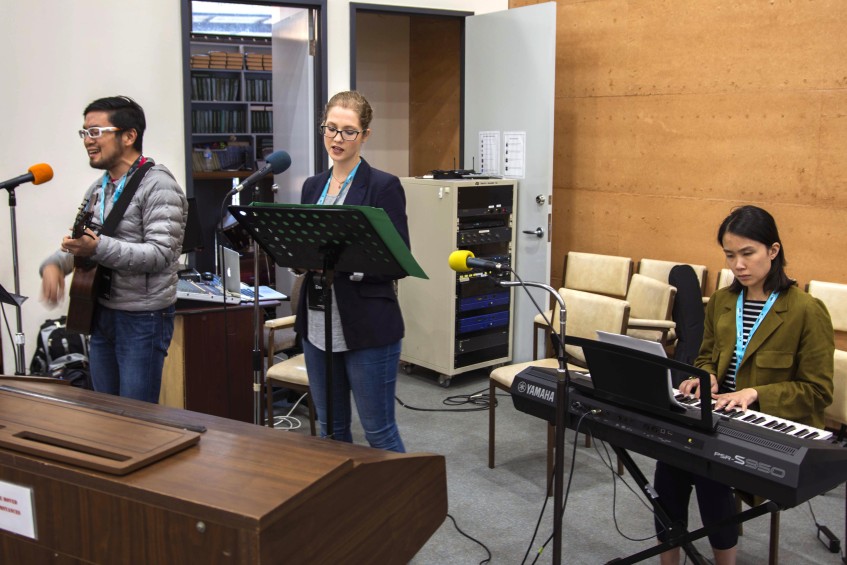 Applecross parishioner Tommy Segoro (left) and fellow musicians Davia Brown and Eveline Indra led worship through music. Photo: Matthew Lau.
Perth musician Tommy Segoro capped off the 2018 music ministry team, providing praise and worship music across the faith-filled three days.
Mr Staples covered the topics of "The Answer is Catholic", "Seeing ourselves the way God sees us", "The Gospel of Suffering", "Behold your mother", and "Living Bread".
"You and I don't sin because we're full of grace, we sin because we're not," Mr Staples conveyed.
"The focus of the Mass is the healing of our souls. We are called to the Cross, we are called to suffer."
The Catholic Answers mainstay shared his own conversion journey from Protestantism to Catholicism.
"Be encouraged, my Catholic friends. Be joyful, encourage one another in the Lord," Mr Staples added.
On the Feast Day of St Luke, Bishop Sproxton spoke about the Gospel of Luke in the Acts of the Apostles.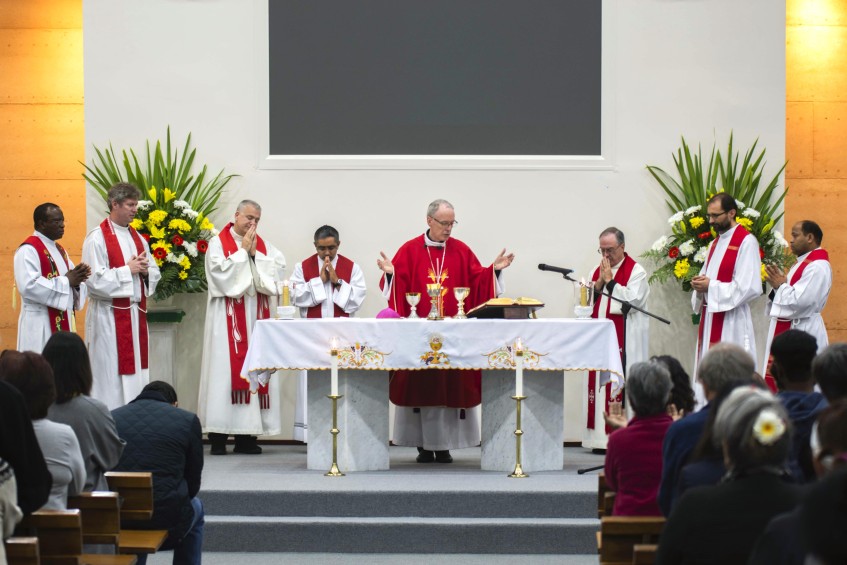 From left: Fr Emmanuel-tv Dimobi, Fr Mark Payton, Fr Larry Richards, Fr Patricio Carrera Morales, Bishop Donald Sproxton, Fr Daniel Boyd, Fr Pierluigi Vajra, and Fr Johnson Vijay D'Sousa consecrate the Blessed Sacrament. Photo: Matthew Lau.
"In Paul, you find a man who had an encounter with Jesus; it was the encounter that turned his life upside-down. He had to give up so much in order to follow Christ, and with the spirit of Christ working within him, to become a great evangeliser of nations," Bishop Sproxton said in his homily at the opening Mass.
"Luke tells the story of Peter as well, and how he, many times, had to face the truth about himself – and had to seek from the Lord the courage and the strength to be faithful to that mission that had been given to him.
"It's a remarkable story, and one that's inspirational but also very encouraging us. I know that this will be a theme of the talks that you'll have over these days."
Evangelisation Australia Chairperson Michael Chong commended the "incredible speakers", Fr Larry Richards and Tim Staples, for their thought-provoking insightfulness.
"We had an amazing combination of an apologist who defends the faith, and then we had someone with such a pastoral heart in Fr Larry who really taught us a lot and showed us the face of Jesus," Dr Chong said.
"There was so much information; we received messages saying this could take weeks to unpack."
Dr Chong hopes the 'Why be Catholic' conference emboldens others to develop faith formation programmes and a spirit of evangelisation in their own family, parish, and school communities.
For more information about Tim Staples, go to: www.timstaples.com or www.catholic.com