From Subiaco to New Norcia: 'The Companions' complete eight-day pilgrimage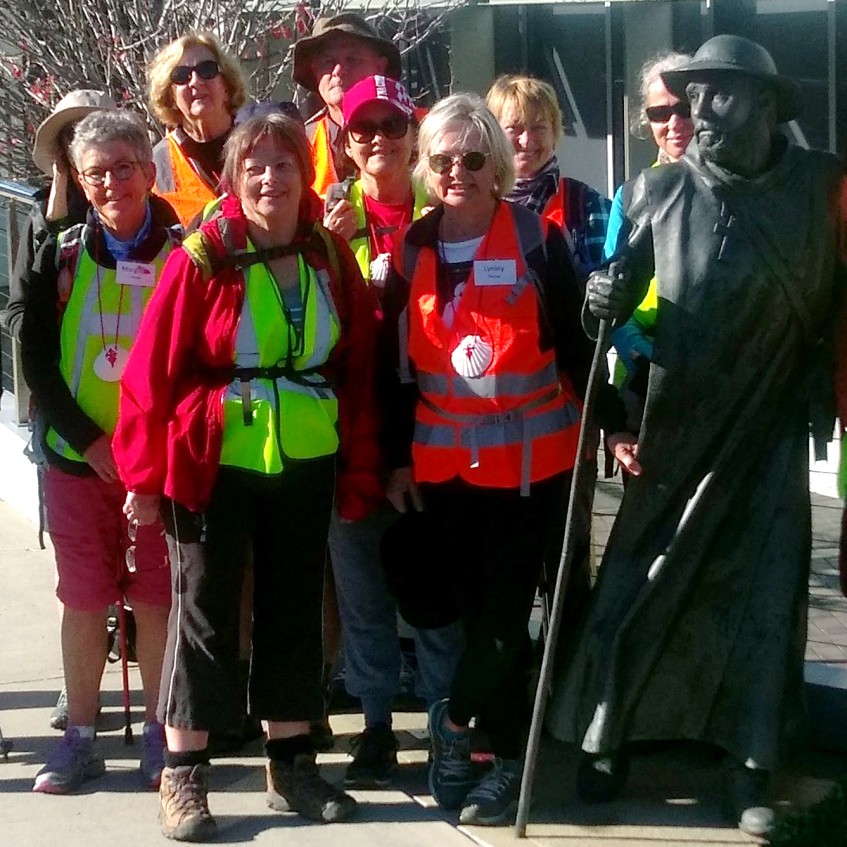 The walking journey starts in Subiaco, the recent pilgrims stop for a photo with a statue of Benedictine monk Rosendo Salvado. The average age of the group was just shy of 64. Photo: Henry Milner.
By Matthew Lau
Forty-three pilgrims from across Australia walked the 157km Camino Salvado during August and September with the aim of deepening their spiritual lives.
The 10th annual Camino Salvado pilgrimage began on foot after 8am Mass from St Joseph's Church, Subiaco Parish, and ended at the nation's only monastic town of New Norcia.
The first batch of participants walked from 19 to 26 August, with the next group journeying from 2 to 9 September.
St Joseph's Camino Organising Committee member Graeme Wishart said some pilgrims did it for the adventure, while others wanted to check the achievement off their bucket list, but that all alluded to their desire for the spiritual gifts gained along the way.
"We walk in the spirit of Dom Rosendo Salvado, a pioneering monk from Santiago in Spain who established the monastery in New Norcia," Mr Wishart explained.
The Camino Salvado retraces Salvado's inspirational journey in 1846 to establish a mission for the training of Aboriginals.
"The pilgrimage is an opportunity to travel lightly, to walk free of the daily routines, to meet people, to make friends, to enjoy and celebrate God's creation. An opportunity too, in the travelling, the conversations and the silences to reflect on the journey of our lives," he added.
"The pilgrimage attracts a variety of people, Christians and non-Christians of all ages, who participate in this unique Australian Camino."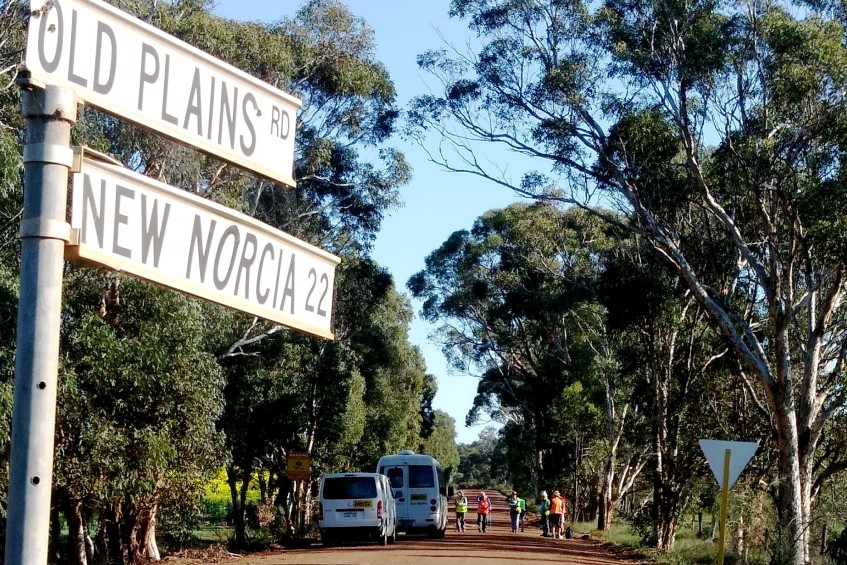 The seventh day of the Camino Salvado pilgrimage involves the group's arrival to New Norcia. Photo: Henry Milner.
Once out of suburbia, the Camino travels along bush tracks and gravel roads with abundant wildflowers and colourful rural landscapes.
Upon return from the August pilgrimage, Liam Lynch told The eRecord how he and his fellow 20 pilgrims bonded so immensely that they nicknamed themselves "The Companions".
"From laughter to pain, shared life-stories to prayer, the Camino Salvado has in it the full range of spiritual and human experience that can be hoped for from such a pilgrimage," the 56-year-old said.
One of the highlights of his journey was when Abbot Fr John Herbert OSB gave him a copy of RB 1980: The Rule of St Benedict. Mr Lynch was particularly pleased with this memento as monastic spirituality is a topic of great interest to him.
"Pilgrims prayed together, feet were washed, tokens were laid upon Salvado's tomb, and afternoon tea was shared," Mr Wishart concluded.