'Love, Sex and Relationships' highlighted in latest teen handbook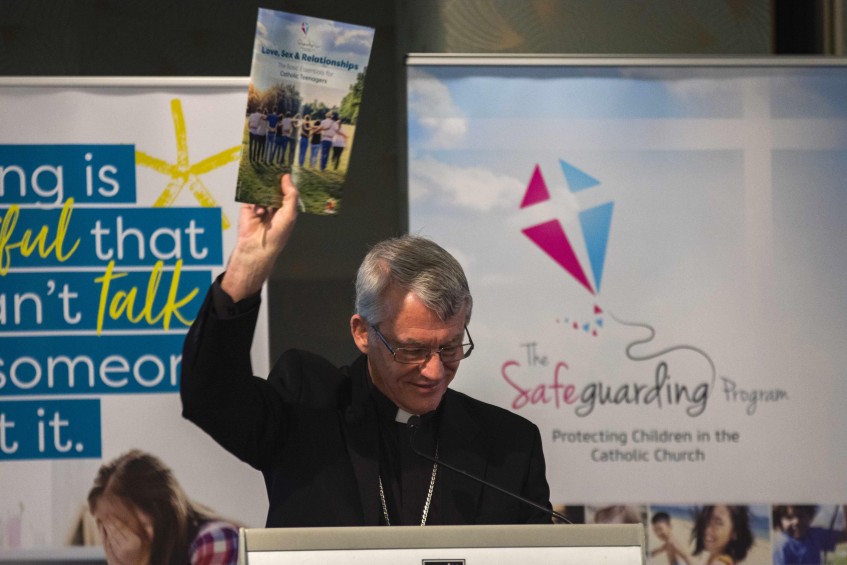 Archbishop Costelloe officially launches the second safeguarding handbook for teenagers aged 12 to 16 during the 2018 Child Protection Breakfast held at Duxton Hotel on Tuesday 4 September. Photo: Josh Low.
By Amanda Murthy
The Archdiocese of Perth Safeguarding Office launched its second handbook, this time dedicated to teenagers aged 12 to 16, during the 2018 Child Protection Breakfast held at Duxton Hotel on Tuesday 4 September.
The free educational resource titled Love, Sex and Relationships – The Basic Essentials for Catholic Teenagers, was produced in response to the "increasing pressures teenagers face in an ever changing and ever challenging world".
Some of the topics discussed in the 57-paged handbook include online safety, abuse and violence, pornography, sex and criminal law.
The handbook was written by Safeguarding Office Director Andrea Musulin and Manager of Ministry Services at the University of Notre Dame Australia Fremantle Campus, Tom Gourlay.
Present at the breakfast held in conjunction with the National Child Protection Week (3 to 9 September) were Archbishop Timothy Costelloe SDB, Auxiliary Bishop Don Sproxton, MLA Minister for Child Protection; Women's Interests; Prevention of Family and Domestic Violence; Community Services the Hon Simone McGurk, Shadow Minister for Child Protection; Prevention of Family and Domestic Violence the Hon Nick Goiran MLC, LLB, Knights of the Southern Cross Chief Executive Peter Lewis and Mrs Musulin.
Assistant Bishop of Perth of the Anglican Church the Rt Rev Jeremy James, Vice Chancellor of UNDA Prof Celia Hammond, along with representatives from Catholic Education WA, Police WA, Victims of Crime, and children and young people added to the distinguished guest list.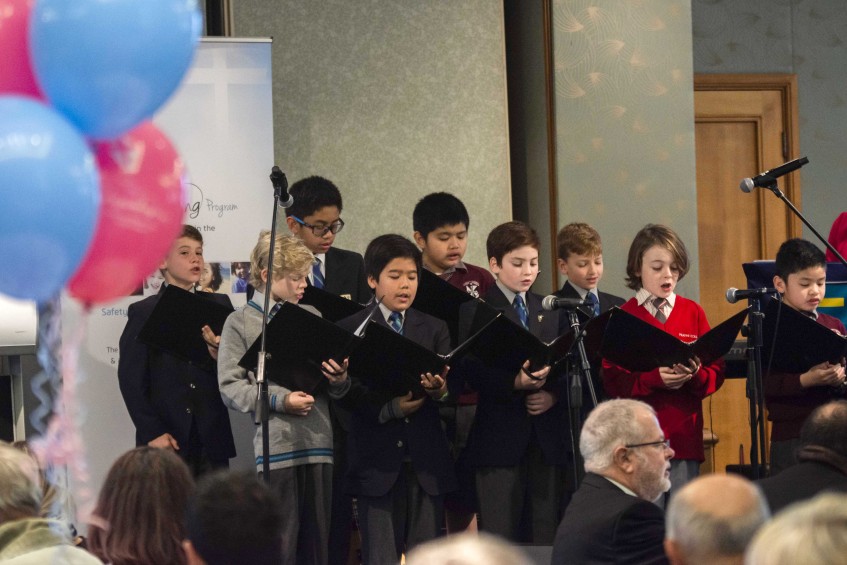 The St Mary's Cathedral Boys Choral opened the 2018 Child Protection Breakfast their rendition of the Safeguarding Song at Duxton Hotel on Tuesday 4 September. Photo: Josh Low.
Master of Ceremonies Karen Tighe welcomed guests and introduced the St Mary's Cathedral Boys Choral, who opened the event with their melodic rendition of the Safeguarding Song.
Archbishop Costelloe then took the stand to address those present, and officially launch the new resource.
"With the formal response of the Church to the recommendations of the Royal Commission published, I want to renew my commitment again, to do everything in my power to ensure that children, young people and all vulnerable people are safe, secure and safe in all of our Catholic communities – the heart of our efforts has been the establishment of our Safeguarding Office and the development of our Safeguarding programs."
Archbishop Costelloe said the teen handbook was written in plain simple language, accessible to young people, and full of practical examples with activities, and directed to the adolescents themselves.
"While it is not always recognised in the wider community, the Catholic Church has made enormous efforts to transform our Catholic communities into places of safety for our young people – the Church of 2018 is not the same as it was 50 years back.
"All this must carry in our minds and hearts the constant, that vigilance can never be relaxed and complacency can never be allowed to grow.
"Because in the past we were so much a part of the problem, now and into the future, we are determined to be a part of the solution," Archbishop Costelloe added.
The winners for the Safeguarding writing competition were then announced.
The questions asked of young people in the contest were: "What does it mean to feel safe?", "Why is it important for you to feel safe in church?" and "What do you think God is asking of you at this time?".
Myaree Parish Year 7 student Sascha Finlay-Collins was named as the overall winner, receiving $500 sponsored by The eRecord.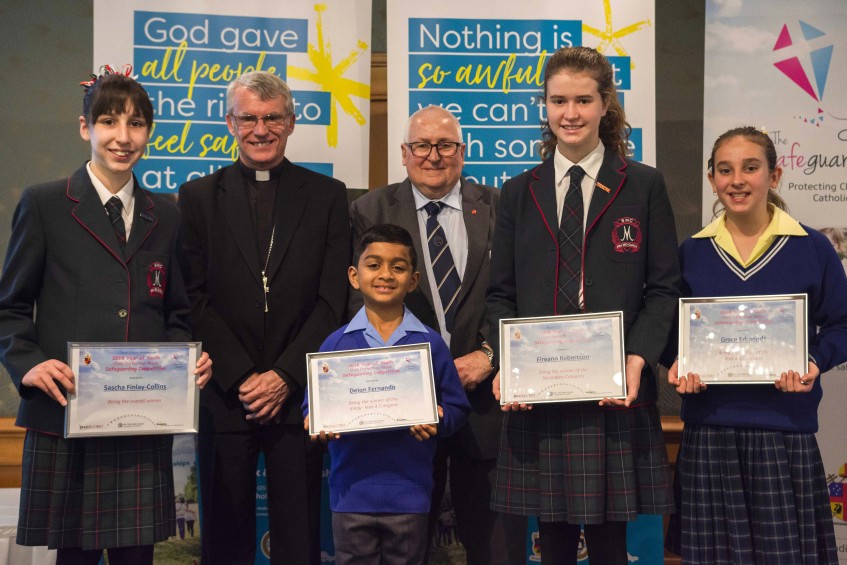 Archbishop Timothy Costelloe SDB and Peter Lewis present the Safeguarding competition winners with their cash prizes during the 2018 Child Protection Breakfast at Duxton Hotel on 4 September. Photo: Josh Low.
Three additional winners were selected, receiving $100 cash prize. They were Year 2 St Pius X Catholic Primary School student from Manning Parish, Deion Fernando for the Kindergarden category, Riverton Parish Year 6 student of Riverton's Queen of Apostles School, Grace Edmonds for the Year 4 to 6 category, and Year 9 student Eireann Robertson from Applecross Parish.
The prizes were presented by Archbishop Costelloe and Mr Lewis respectively.
Catholic Youth Ministry Director Vincent Haber gave the closing remarks, prompting the various agencies to continue to work together towards creating an environment where children can be safe.
The event concluded with an upbeat performance by the Emmanuel Catholic College Rock Band.
In a discussion with The eRecord, Mrs Musulin expressed her gratitude to all who continue to support the efforts of the Safeguarding Office, and shared some of the initiatives carried out by the Safeguarding Office in the past few months.
"All year we have been providing training to new Safeguarding Officers and have made available additional training to them. We have been working closely with Identity WA in order to provide Child Protection and Safeguarding Training to existing and new employees.
"We produced some promotional material such as bookmarks and theme posters which will be handed out on Child Protection Week Sunday to primary aged children – to compliment last year's resource Protecting God's Children – A Catholic Parent's Guide to Keeping their Kids Safe," Mrs Musulin added.
"Besides that, we will be conducting workshops for parents at various parishes throughout this week, and Mater Christi [Yangebup] Parish will host the first Teen Workshop for Parents today [6 September]."
When asked about her plans in the near future, Mrs Musulin said that the team hopes to develop some online trainings, and create a new resource for young adults aged 18 to 25, with a particular focus on University Students.
"We are also considering a safety app for children and an indigenous protective behaviours resource," Mrs Musulin concluded.