Our Lady of Sorrows group unified in prayer, 30 years strong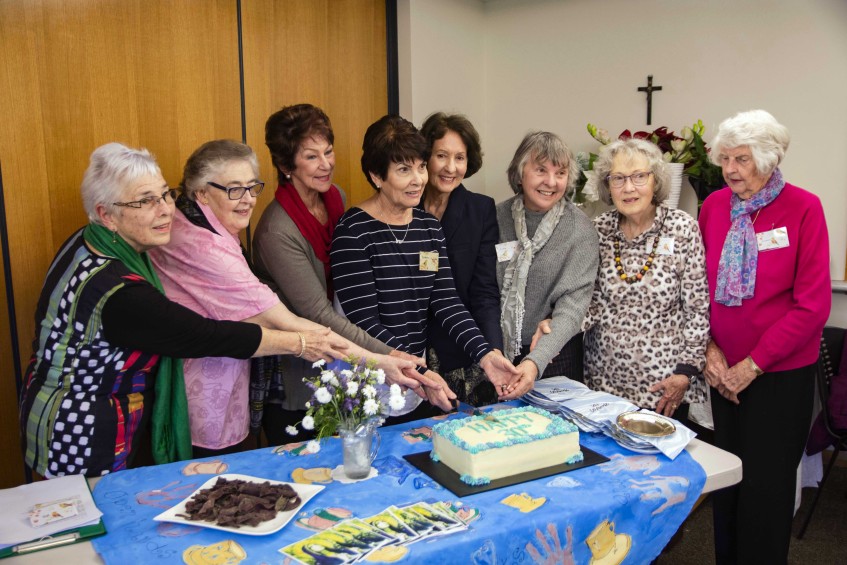 Long-time members of the Applecross-based prayer group cut the celebratory cake on Thursday 13 September. Photo: Matthew Lau.
By Matthew Lau
A ladies' prayer group has maintained three decades of companionship and support for one another in the name of Mother Mary.
The "Our Lady of Sorrows" Prayer Group gathered together at 1pm on 13 September at the Applecross Parish of St Benedict's, as it has done every Thursday since 1988.
To honour the special occasion, Mass was celebrated by Fr Nelson Po for some 30 people in the Albert Lynch Room – named after the parish's first priest.
Prayer group member Elspeth O'Connor began the anniversary with a few words.
"Who would have thought after 30 years this little group would still be running ... but we're still together," she said.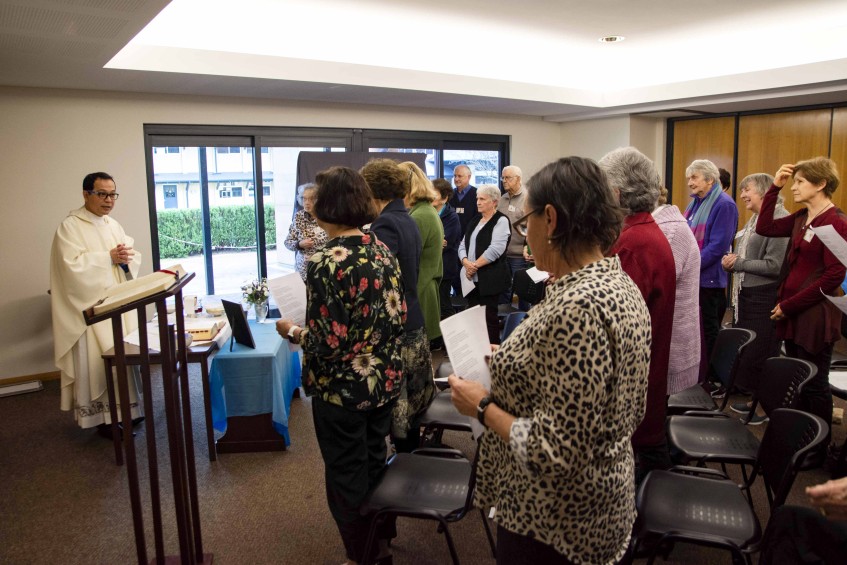 Applecross Parish Priest Father Nelson Po celebrates Mass to mark the Our Lady of Sorrows Prayer Group's 30th anniversary. Photo: Matthew Lau.
In his homily, Fr Nelson highlighted the Blessed Virgin Mary's bond with her Son during the week that marked her birthday.
"We can deepen our faith in Jesus Christ through the Virgin Mary," he said.
"It is a story of how human all our mothers are. It relates to that moment when Jesus was hanging on the Cross saying to His disciple, 'This is your mother', and then saying to Mary, 'This is your son'. It is a really beautiful moment between a mother and her son."
The Applecross Parish Priest made reference to her Seven Sorrows.
"Mary took all of those things in her heart. Mary suffers like our ordinary human mothers, and she feels our suffering too," Fr Nelson continued.
"Let's keep in mind all mothers of the world, that Mary will intercede for them and that they will share their faith with their children."
He concluded by commending the group for staying together for so long.
"It's not about numbers, it's about community. It's about how you touch other people's lives."
Barbara Frost has been leader of the Our Lady of Sorrows Prayer Group for the past 29 years.
"This group has grown so much that most of the members can lead," she told The eRecord.
"We started as a charismatic group, but we sort of evolved over the years into a faith-sharing group. We support each other through our life journey."
While the prayer group is based at St Benedict's Catholic Church, Applecross Parish, members of different parishes and other denominations are regular attendees.
"The whole essence of being a community is important, no matter how big or small the group is," Barbara added.