SPECIAL REPORT – Visiting Saint Pio relics bring prayerful tranquillity to believers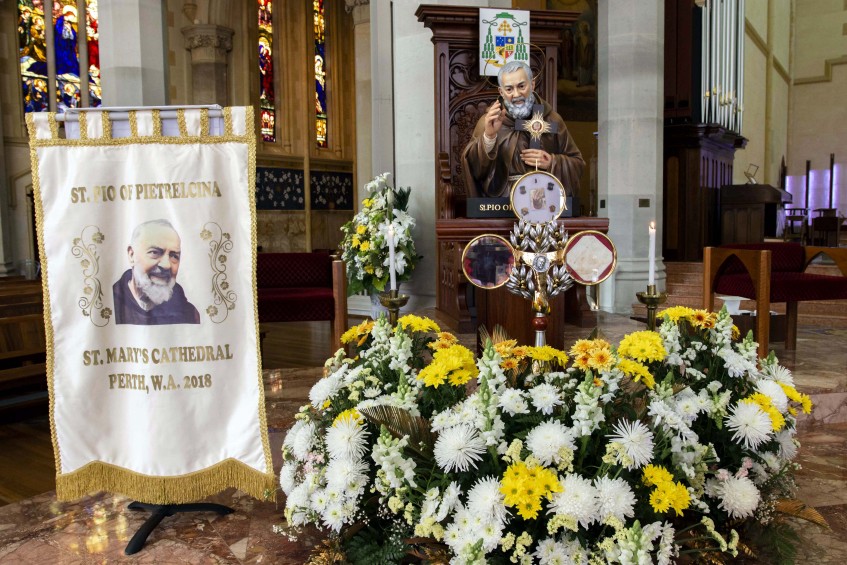 The first class relics of Padre Pio include cotton gauze with bloodstains, crusts of his wounds, a pair of his gloves, a lock of his hair, his mantle, and a handkerchief soaked with his sweat hours before he died. Photo: Matthew Lau.
By Amanda Murthy
First class relics of St Pio of Pietrelcina – endearingly known as Padre Pio – brought several thousands of Perth faithful closer to the presence of a revered saint.
The relics were displayed at St Mary's Cathedral from 22 to 26 September 2018, the dates of which fell on the commemoration of the Golden Jubilee of Padre Pio's death and the centenary of his stigmata revelation.
A bust statue of Padre Pio was generously commissioned by the Di Stefano family.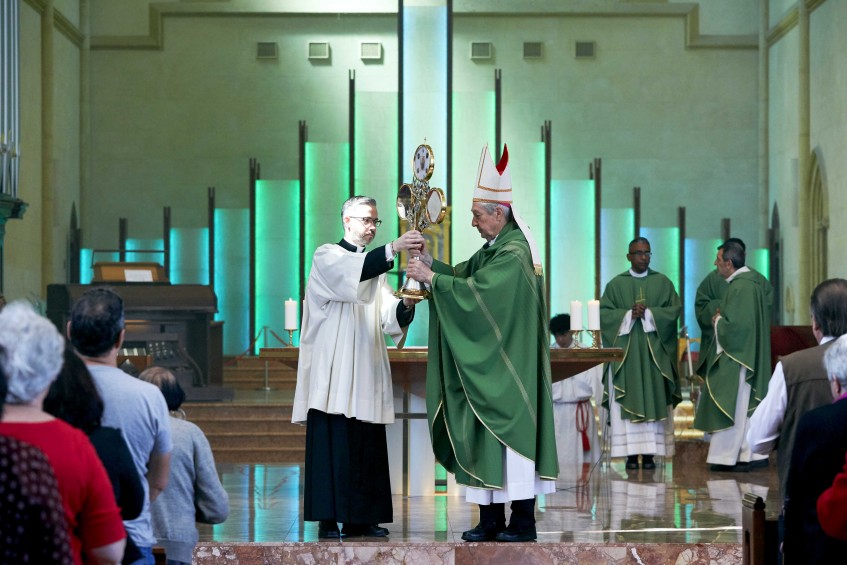 Emeritus Archbishop Barry Hickey venerates the relics of Padre Pio at the conclusion of Solemn Mass on Sunday 23 September. Photo: Ron Tan.
Archbishop Emeritus Barry Hickey celebrated Mass on 23 September with concelebrants Fr GianMaria Digiorgio OFM Cap, Cathedral Dean Fr Sean Fernandez and Assistant Priests Fr Jeffey Casabuena and Fr Conor Steadman.
"This day is a very special privilege for all of us," Emeritus Archbishop Hickey told a full congregation.
"I know all of you love Padre Pio, who was an extraordinary person, a man whose presence is felt by all of us."
Fr Digiorgio, a protégé of Padre Pio, gave the homily at Masses across each of the five days at St Mary's.
"One-hundred years ago he received the stigmata on his body. Fifty years ago today, Padre Pio died with the rosary in his hands while constantly repeating the names of Mary and Jesus," he began saying.
"Padre Pio is not dead; Padre Pio lives through us and in our hearts."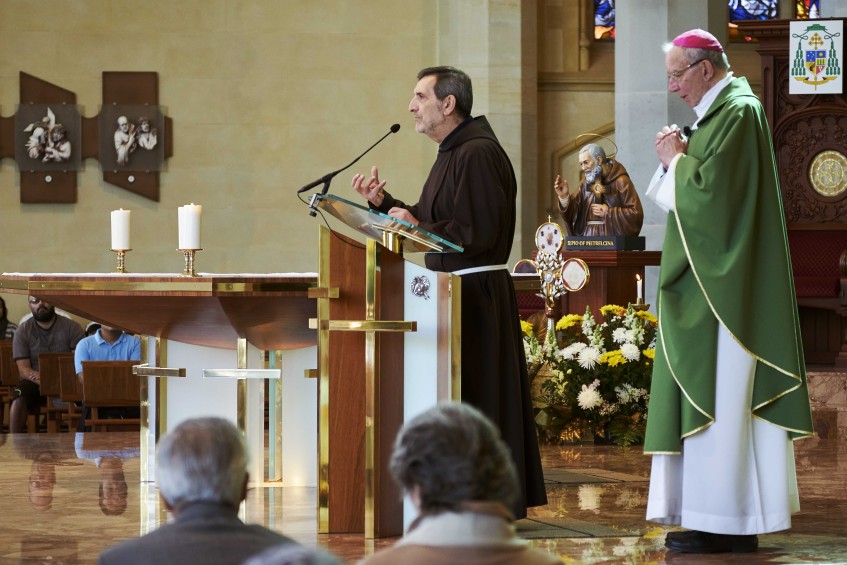 Fr GianMaria Digiorgio spoke in Italian about the life and teaching of Padre Pio on each day of the five days at St Mary's Cathedral, translated here by Hobart Archbishop Adrian Doyle. Photo: Ron Tan.
Speaking in Italian about the readings of the Sunday, Fr Digiorgio said St Pio mirrors the entire Gospel in his life.
"The gift Padre Pio was given by Jesus was a gift for us but not a gift for Padre Pio. Because for Padre Pio, every single day he suffered in constant battle," he continued.
"He understood that the only way to confront difficulty and struggle was through prayer. He is the saint of prayer personified on Earth.
"The first few times Padre Pio would celebrate Mass, it would take many hours because he would receive visions."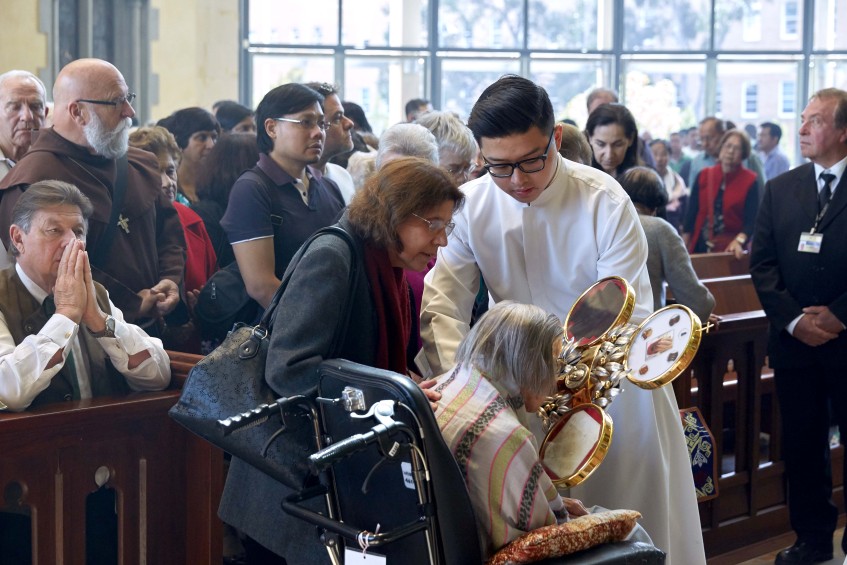 Thousands of faithful flocked to St Mary's Cathedral this week to be in the presence of Saint Pio's relics from 22 to 26 September. Photo: Ron Tan.
Fr Digiorgio conveyed the tale of Padre Pio's apparition of the Virgin Mary holding baby Jesus in her arms, saying "Pio, Pio, remain calm – you are ours and we are yours. Calm down, remain calm".
"One day, Padre Pio was in the convent praying the rosary while walking through the corridors. One of the Capuchin brothers was nearby and said: 'Tomorrow I am going on a pilgrimage to Lourdes, do you want to come with us to pray?'," Fr Digiorgio said.
"Padre Pio responded: 'My son, the Blessed Mother and I are walking together right now, I am walking together with her now, and we are talking and praying together. She is with me wherever I pray the rosary."
"Padre Pio didn't only pray the rosary once a day but many, many rosaries every single day to receive these graces from God."
Fr Digiorgio's last words of advice to the Perth congregation was a reminder of what Padre Pio would often tell people experiencing hard times: "Pray, hope, and don't worry".
Cathedral Dean Fr Sean Fernandez told The eRecord of his pleasure in seeing large crowds flock to St Mary's to view the relics and to have Confession.
"I have been impressed with the devotion and faith of people," Fr Fernandez said.
"The aspects of faith, hope, and love are key to Christian life. Through the intercession of Padre Pio, you can see the saints embody the mercy and presence of Christ."