Servite Village Ruby Anniversary: 40 years of service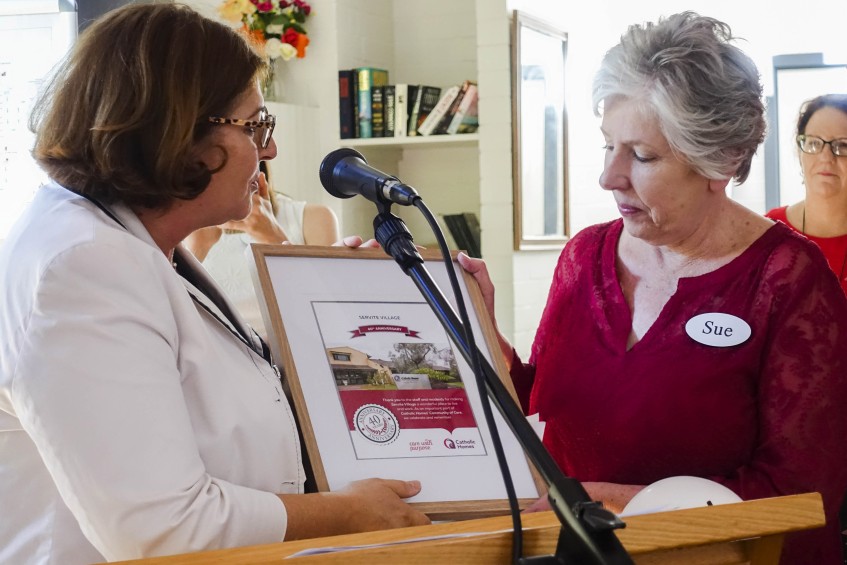 Catholic Homes' Board Member, Marina Re and Servite Facility Manager, Sue Elliott celebrate Servite Village's 40th anniversary. Photo: Carmen Jenner.
By Olivia Bunter
Family, friends and residents at Servite Village were delighted with a crowded reception as the celebrations for the facility's 40th anniversary kicked off on Wednesday 27 March.
The Joondana based aged-care facility is an extension of the Catholic Homes community who reflected on the momentous milestone, reminiscing over the past four decades of service.
Servite Village Facility Manager, Sue Elliot, expressed her fondness for the dedicated, caring staff, carers and volunteers that she was blessed to work with - most of whom have been with Servite Village for more than five years.
"We are blessed to have staff who are here for the right reasons," she said. "To provide care of the highest possible quality, who not only respect our community, but are also actively engaged in continuing to make it better.
"As I look at those here today I am humbled an honored - and a little emotional - to be part of this wonderful community and hope you will all enjoy celebrating this momentous milestone with us."
Personnel involved with the facility - past and present - each expressed their gratitude and fondness for the community at Servite Village, including Deputy Chairperson, Marina Re; Former Parish Priest at St Denis in Joondana, Fr Chris Ross; Executive Manager Mission, Bernadette Brady; and also Mary and Allen Droste, who were the former Site Managers for Servite Village when it was established in 1979.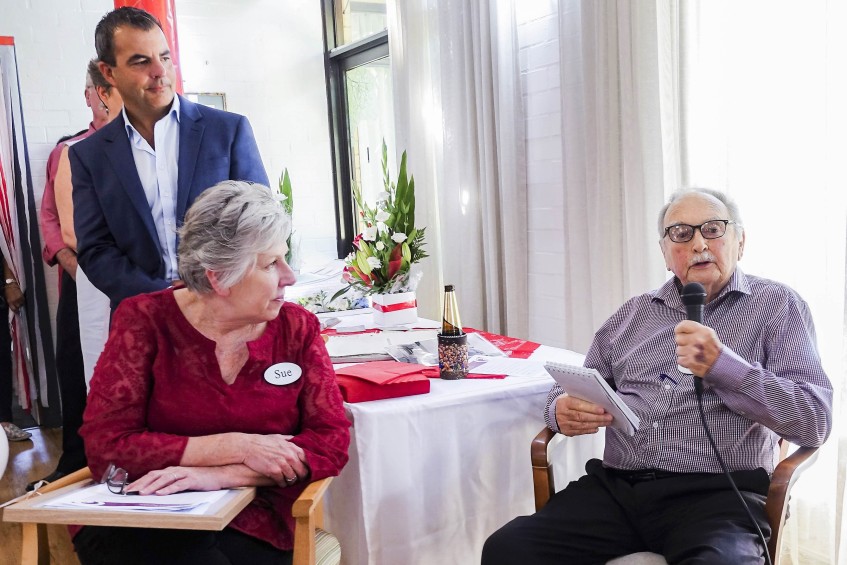 Servite resident Jack Segal presents to the room as Facility Manager Sue Elliott and Mayor of Stirling Mark Irwin look on. Photo: Carmen Jenner.
Former Parish Priest at St Denis Church in Joondana, Father Chris Ross, detailed the days when the Village was still under construction before it's completion in 1979.
"Servite was the first place of Catholic homes which is of course a great pride that it's still with us," he said.
"It has such a nice warm atmosphere which is something I am proud of. Thank you for the celebration of this event which is a part of my heart."
A special moment was shared with guests as 90-year old Servite Resident, Jack Segal, delivered a memorable speech that detailed his time at Servite.
He explained his need for an institution that would allow him to be "reasonably independent" while at the same time, give him the care and attention necessary to continue a healthy and satisfying lifestyle.
"My first visit to Servite, my family and I met Margaret, Julie and Kim. My daughter, Diana asked me of my first impression to which I replied, 'I think I've just met three angels'," he said.
"To Sue, Chaplain Ian, carers, volunteers and staff, thank you for providing the care and empathy to help us enjoy our autumn years."
Ms Brady closed the speeches with a prayer of thanks, dedicated toward the Servite Village family.
"Our most special guests are the people who live in our community. We are grateful for them and the joy they bring to us."