MARRIAGE DAY MASS 2019: Marriage brings healing and hope to the broken and suffering, says Archbishop Costelloe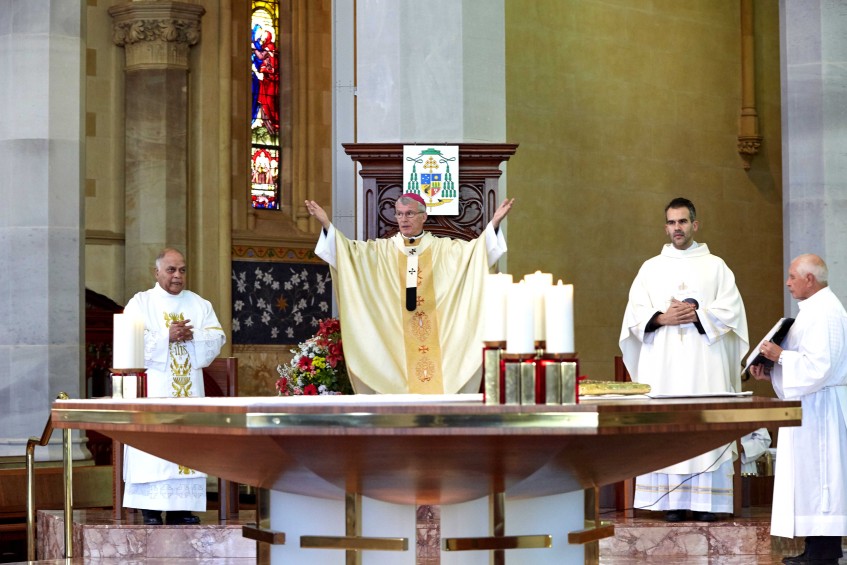 Archbishop Costelloe celebrated the Marriage Day Mass on 10 August at the St Mary's Cathedral. Photo: Ron Tan.
By Amanda Murthy
Cherishing the gift of fidelity was the central focus for married couples and their families gathered at St Mary's Cathedral on Sunday 10 August for the annual Marriage Day Mass.
Perth Archbishop Timothy Costelloe SDB was the main celebrant, joined by concelebrant Father Chris de Sousa and assisted by Deacon Trevor Lyra.
Also present for the celebrations were Director of the Centre for Life, Marriage and Family for the Archdiocese of Perth, Derek Boylen and his wife Karen Boylen, together with agency representatives and visitors from parishes from across the Archdiocese.
During his homily, Archbishop Costelloe thanked God for the healing and hope which marriages, through God's grace, bring to the broken and suffering world.
"We have gathered here in the Cathedral this morning to celebrate the gift of married life and love, and, of course, within that, the gift of fidelity," Archbishop Costelloe said.
"We do so in the context of our faith and we do so proudly and gratefully.
"That we believe in God and believe that life can be truly lived to the full only when God is acknowledged and sought as the answer to our deepest needs, is not something to be ashamed of or hidden, even if it is fashionable today to ridicule people of faith and seek to intimidate them into silence," he added.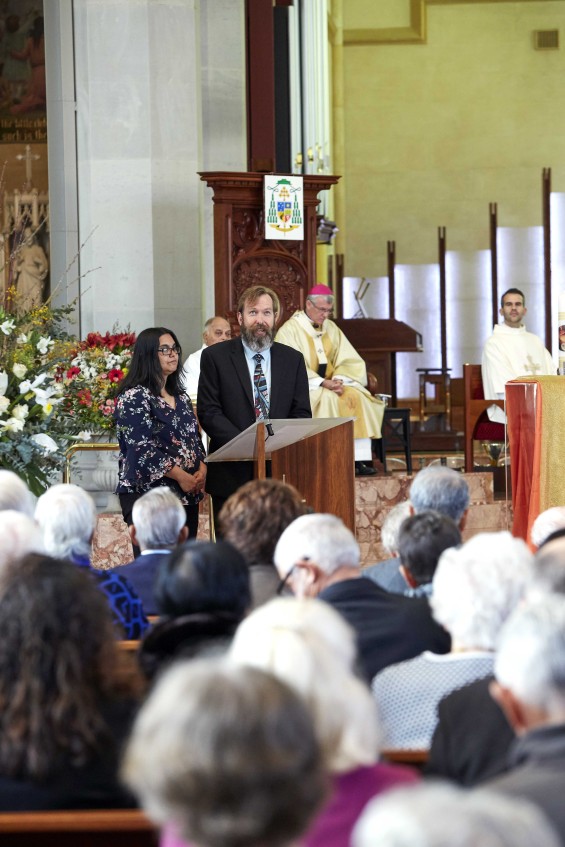 Director of the Centre for Life, Marriage and Family for the Archdiocese of Perth, Derek Boylen and his wife Karen Boylen spoke at the conclusion of the Marriage Day Mass held at St Mary's Cathedral on 10 August. Photo: Ron Tan.
Channelling the words of Pope Francis' famous sayings: "we do not live in an era of change - we live in a change of era", Archbishop Costelloe acknowledged some of the challenges faced by the Church today, especially in the area of morality.
"We might think of the present drive for the legalisation of Voluntary Assisted Dying, that is, Euthanasia, for example, or of the widespread acceptance of the practice of abortion," Archbishop Costelloe said.
"The list of challenges could go on - you are as aware of them as I am. Indeed I am sure many of you grapple with them within your own families."
The Perth Archbishop went on to say that being created in the image and likeness of God, is our glory, salvation, and is the origin of our dignity – a dignity given to us by God who is and always remains the Lord and giver of our lives and of the lives of every human being.
"The God in whose image we are created, the God who is revealed to us in the first chapters of the Book of Genesis, is a God who brings to life, not a God who deals in death," he cited.
"It should be no surprise, then, that at the heart of Christian marriage is the desire and readiness to share in the mystery of God, the life-giver, by creating a family in love, by being always lovingly open to the gift of children, should that be God's plan."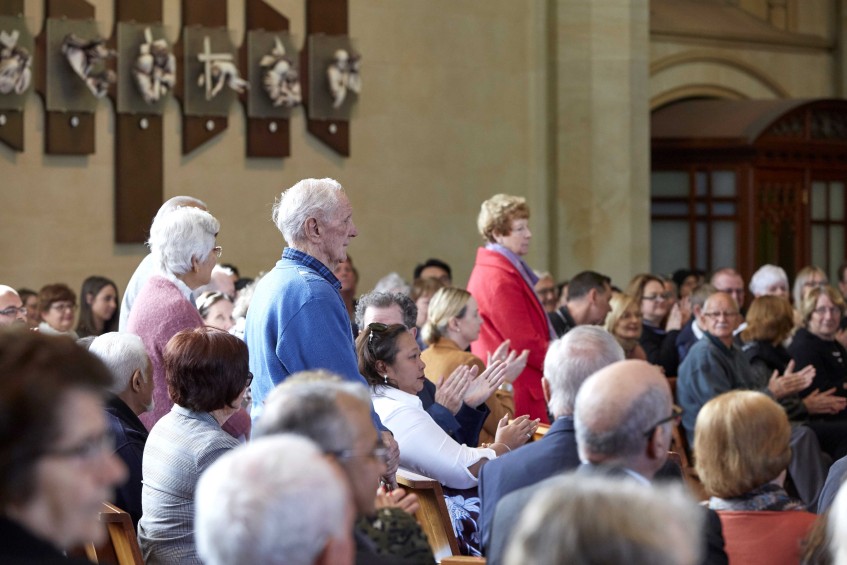 There were three couples who celebrate their 70 years or more of Marriage. They were acknowledged at the Marriage Day Mass held at St Mary's Cathedral on 10 August. Photo: Ron Tan.
Archbishop Costelloe added that God's loving is perfect and ours is not, adding that however, in the joy and struggles of married life, in its joyful welcoming of children and its creating of a home of hospitality and love, in its readiness to forgive and understand.
"In other words in the willingness of husbands and wives to fall to the ground and die to themselves so that a harvest of new and abundant life might begin to grow in their commitment to each other, the God of life and love is seen and experienced and the world in which we live is healed and enriched," he added.
At the conclusion of Mass, Mr and Mrs Boylen announced that this year, 150 couples are commemorating a milestone wedding anniversary – including three couples who celebrate 70 years or more, and 18 couples celebrating over 60 years of marriage.
"Pope Francis in his Apostolic Exhortation Amoris Laetitia said that every marriage is called to be a mirror of God's love, Mrs Boylen noted.
"This is our true vocation and also our super power. To use the grace entrusted to us by God to transform our world, to be beacons of hope and to build up His kingdom for one another and as husband and wife is a reflection of His love.
"…It is through our love for one another that God teaches the world and our community that relationships can be healed, that forgiveness is possible, that we can work together to overcome adversity, and that purpose, meaning and joy can be found in pouring out one's life for another," Mr Boylen concluded.