Archbishop Costelloe: Solemnity of the Assumption a 'living expression of the Church'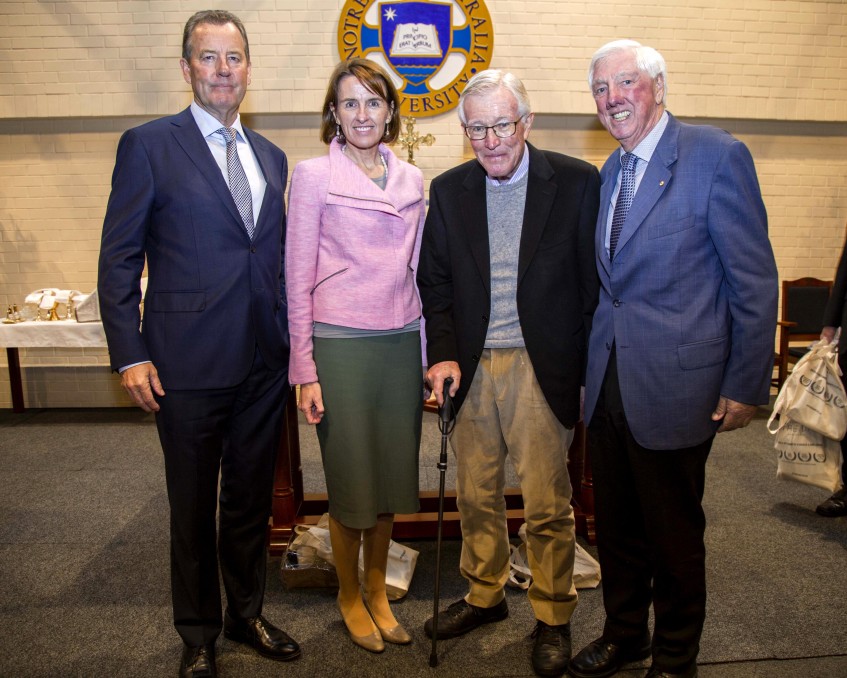 Emeritus Vice-Chancellor Celia Hammond (second from left), with former UNDA Chancellor Mr Peter Prendiville, Mr Terry O'Connor AM QC and Mr Denis Horgan. Photo: Jamie O'Brien.
By Matt Lau and Jamie O'Brien
God's faithfulness to Mary is a sign of hope and comfort that He will be faithful to us, Archbishop Timothy Costelloe SDB said on the Solemnity of the Assumption, a Holy Day of Obligation that he described as "one of the great feasts of the Church".
Celebrations were held at the University of Notre Dame Fremantle Campus on the Feast of the Assumption of the Blessed Virgin Mary, 15 August 2019, as the date coincided with Founder's Week and a farewell for Emeritus Vice-Chancellor Celia Hammond.
Prof Hammond held the esteemed University role from 2008 to 2019 and had worked for the UNDA for 20 years; she is now a member of the Liberal Party and represents the Australian Parliament for Curtin.
Archbishop Costelloe, who was the principal celebrant for the Mass that took place in the Drill Hall, was joined by concelebrants Auxiliary Bishop Donald Sproxton, Emeritus Bishop of Geraldton Justin Bianchini, St Charles' Seminary Rector Fr Phillip Fleay, Redemptoris Mater Seminary Rector Fr Michael Moore SM, Frs Peter Black, Vincent Glynn and Mariusz Grzech and Mgr Michael Keating, in addition to seminarians of St Charles' Seminary who served for the Mass.
In his homily for the special occasion, Archbishop Costelloe said the Church's teachings about Mary rest upon what we find in the Scriptures, especially the Gospels.
"While the specific references to Mary in the New Testament are few, they are rich in significance and have been reflected and meditated upon throughout the Church's long life," he began.
"This prayerful reflection has led the Church to a profound certainty, a belief grounded in faith, which comes to expression in four great Church teachings. We are the inheritors, and the custodians, of this treasure."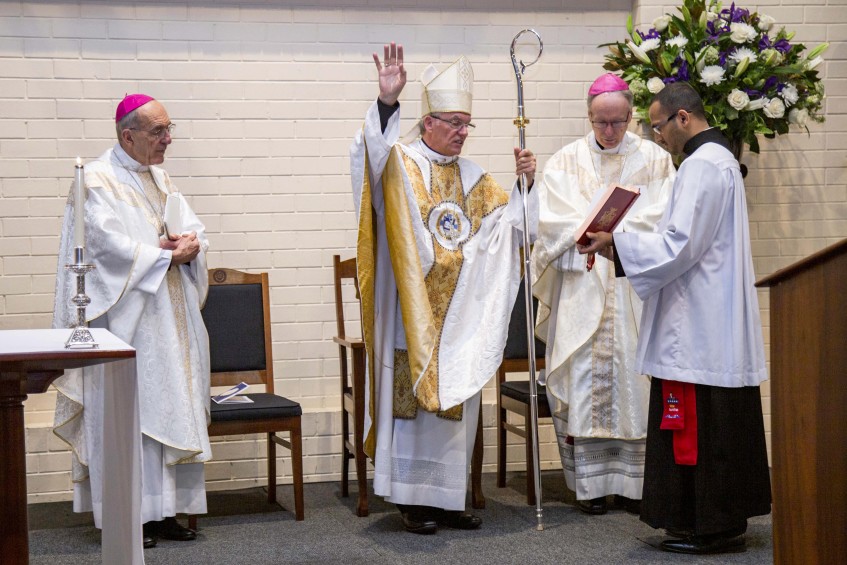 Archbishop Timothy Costelloe SDB bestows a blessing on those present for Celia Hammond's farewell on Thursday 15 August in the Drill Hall of UNDA's Fremantle Campus. Photo: Jamie O'Brien.
The Archbishop of Perth then delved into three remarkable beliefs about Mary that help us to understand her assumption into Heaven: the Immaculate Conception, Mary as the Mother of God, and Mary as ever-virgin.
United with Jesus so closely in his life, he added, Mary too is united with him in the mystery of his death and resurrection.
"In celebrating the Feast of the Assumption, we are celebrating the fact that Mary has entered joyfully and fully into the mystery of her son's resurrection. In this, she becomes, in communion with Jesus, the first of many sisters and brothers whose company we hope to share.
"These things we say about Mary are remarkable things to say about a person: that she was always free from sin, that she gave birth to the one who was and is God among us, that she bore a child and yet remained a virgin, and that she was taken body and soul into the glory of Heaven."
Archbishop Costelloe noted that while they may sound like dry doctrines – teachings that make no sense today, or have little to say to us in our daily lives – they are, in fact, the exact opposite.
"They are windows into what can be set free in a person's life if he or she is willing to believe, willing to take the risk of faith, willing to say 'yes' to God.
"In celebrating the Assumption of Mary, we might say that we are celebrating the confirmation of Mary's trust. She put her hope in God, and God did not abandon her.
"We couldn't do better today than to ask Mary to pray for us, and for our University, that God will give to this community, to all of us, something of her faith, something of her trust, something of her generous spirit and her willingness to say 'yes' to all that God asks, he concluded.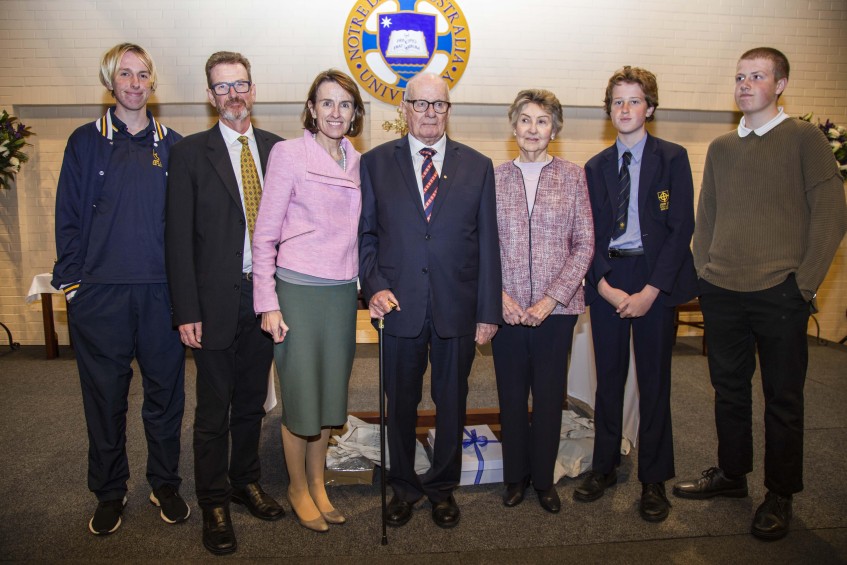 Former UNDA Vice-Chancellor Celia Hammond (third from left) pictured with her family. Photo: Jamie O'Brien.
The occasion was also a cause for farewell for Emeritus Vice Chancellor, now Federal Member for Curtin, the Hon Celia Hammond, who departed the role earlier this year.
"I am delighted to have this opportunity to give thanks and pay full tribute to everyone who has supported and assisted me during my stewardship of the role of Vice Chancellor of the University of Notre Dame Australia," Ms Hammond said.
"I have been blessed to have had the opportunity to be part of the Notre Dame community and the Notre Dame journey for such a long period of time. My time at this University has been a treasure and gift that I will forever cherish.
"There have been plenty of challenges the University has faced and there will undoubtedly be more, but the opportunities to educate others, to serve others, to learn, to make a positive contribution to society, to experience and grow as individuals and collectively, to develop in faith, make every challenge, trial and tribulation manageable and surmountable. Keeping the objects in front of mind and centre of heart is the key," she concluded.