Perth community gathers to celebrate 125 years of Oblates in Fremantle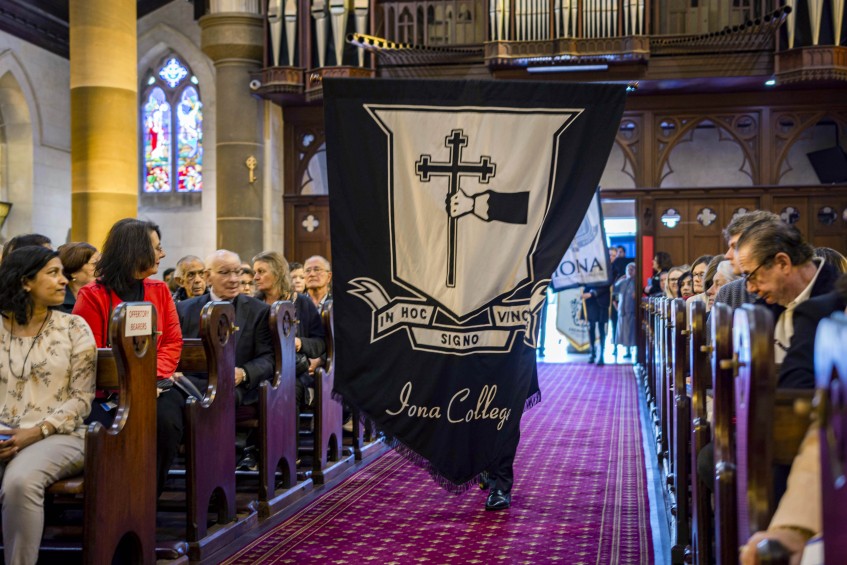 The Oblates were led into St Patrick's Basilica by a procession of school flags and agency banners, all of whom have a long history of association with the Oblates. Photo: Eric Martin.
Australia is a young nation when compared to the millennia old traditions and rich history of continental Europe and, as such, the opportunity to celebrate 125 years of service in this country is a significant event, recognising Christian service and community building that shaped the city of Fremantle and the settlement of our great state.
Western Australian Bishops and a who's who list of Fremantle's Italian and Irish families were in attendance at St Patrick's Basilica on Sunday 18 August, with the sun streaming down in benediction on the procession of Oblates and the flags and banners of the schools and other organisations with close links to the order and its history.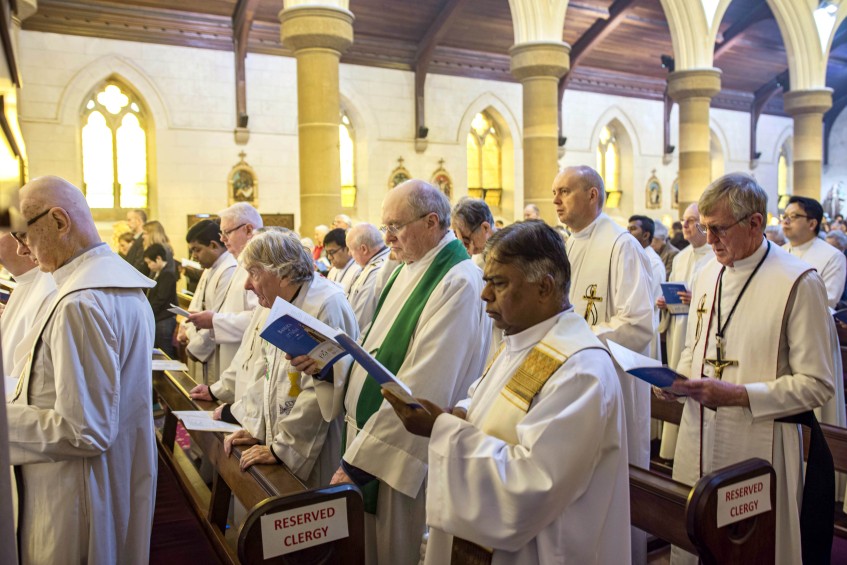 The Oblates of Mary Immaculate, united in adoration at St Patrick's Basilica in Fremantle, celebrate 125 years in Australia. Photo: Eric Martin.
The Mass was celebrated by Archbishop Timothy Costelloe SDB, together with concelebrants Auxiliary Bishop Donald Sproxton, Emeritus Archbishop Barry Hickey, Emeritus Bishop of Geraldton Justin Bianchini, Vicar General Peter Whitely, Provincial of the Australian Province Fr Christian Fini OMI, Provincial of the Anglo-Irish Province Fr Oliver Barry OMI, Provincial of the Indonesian Province Fr Eko Saktio OMI, Fr Ireneusz Dampc OMI of the China Delegation of the Australian Province, Parish Priest and Rector of Fremantle Basilica Fr John Sebastian OMI, Fr James Jeyachandran OMI as Master of Ceremonies, Dcn Patrick Moore, Dcn Andrew O'Brien OMI, Oblates from the Australian Province, and Archdiocesan priests.
"God is light and in him there is no darkness at all – at its heart, every Christian community is a community of disciples of Christ," Archbishop Costelloe shared in his homily.
"All of you who make up the community of this parish, and all of you who are visiting today who belong to other Christian communities are his disciples: this is our vocation, our privilege and our challenge: when people encounter us they should encounter Christ who lives in us and through us.
"They should encounter his compassion, his patience, his understanding, his forgiveness and the hope he holds out to all of us – in the memorable phrase of Pope Francis, they should encounter in us healers of their wounds and warmers of their hearts," he added.
"If we consciously return Christ to the center of everything we are seeking to do and to be, both as individuals and as communities of faith: if we remember as Eugene de Mazenod reminds us, that we are destined to be apostles; if we tend within our hearts the sacred fire that the Holy Spirit lights there; then we will be the community of disciples that the Lord is calling us to be."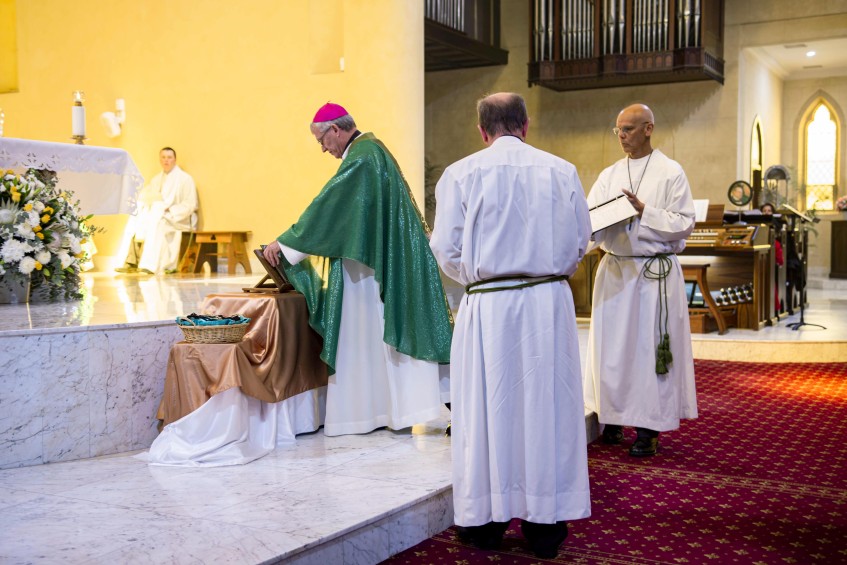 Archbishop Timothy Costelloe SDB blesses the plaque commemorating St Patrick's 25th anniversary as an ecclesiastical basilica. Photo: Eric Martin.
Provincial of the Australian Province Fr Christian Fini OMI delivered a heartfelt address to the congregation on behalf of Superior General Fr Lewis Lougan OMI, focussing on the achievements of the Oblates in Australia, his pride in their accomplishments and touching on the order's goals for the future.
"As we celebrate all that has been accomplished over the past 125 years, may we also believe in the future of the Oblates in Australia," Fr Fini expressed.
"Please nurture that strong conviction that the mission of the Oblates has a future in Australia, believing that God's grace still touches the hearts of young people.
"Keep praying for vocations, be proactive in inviting young men to experience our missionary and consecrated life and be living examples of joy, of fraternal communion and the centrality of God in apostolic communion."
St Patrick's was where the Oblates started in Australia back in 1894 and the Church has a special place in the Oblates' history, as it does in the hearts of many Fremantle residents, with many of them baptised, confirmed and married beneath its vaulted clerestory.
As such, it was an additional blessing for the parish community and the Oblates that they were able to concelebrate the church's 25th anniversary of being granted the ecclesiastical status of Basilica.
A cathedral is the principal church of a diocese, while basilica is the name given to certain churches granted special privileges by the Pope in a papal brief.
Not all churches with "basilica" in their title actually have the ecclesiastical status, which can lead to confusion, since it is also an architectural term for a church-building style – such churches are referred to as immemorial basilicas.
As of 15 November 2017, there were four major basilicas and 1757 minor basilicas in the world and of the minor basilicas, three have the title of papal minor basilica and four the title of pontifical minor basilica (of which St Patrick's Fremantle is one).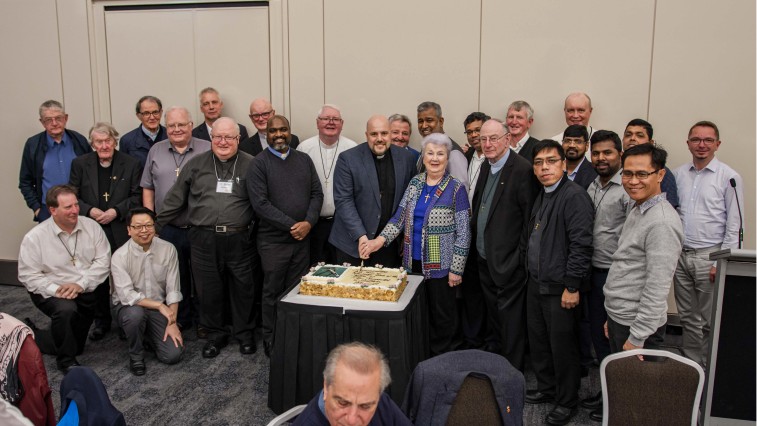 The Oblates gather around Provincial Fr Christian Fini OMI, for the cutting of the cake. Photo: Eric Martin.
Parish Priest and Rector of Fremantle Basilica Fr John Sebastian OMI gave a similarly heartfelt address to his parishioners to conclude, thanking the many members of the clergy and the community who came out to participate in the celebrations.
"I also wish to thank the dignitaries and all the wonderful people for your presence with us to help us celebrate 125 years of the Oblates mission and 25 years of St Patrick's being a basilica," Fr Sebastian said.
"For your ongoing support and friendship, thank you – I pray that we will be here for the next 125 years to come."
Parishioners, guests and clergy were treated to a luncheon at the Esplanade Hotel following the celebratory Mass, where some 200 people enjoyed fellowship along with the official cake cutting ceremony for both the Oblates and the Basilica.