Archbishop Costelloe imparts blessing on Safeguarding Officers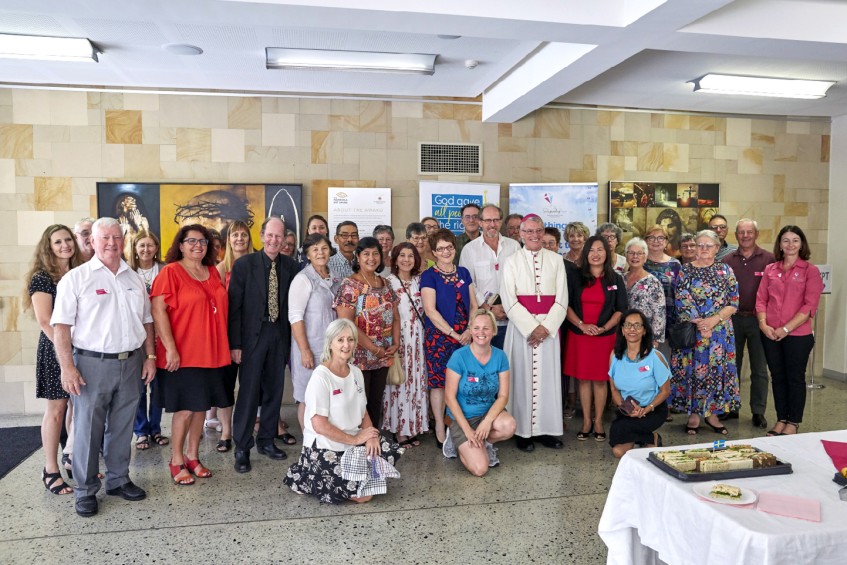 Perth Archbishop Timothy Costelloe with the Safeguarding Officers at the morning tea after Mass. Photo: Ron Tan.
By Olivia Bunter
"Jesus offers us the gift of life – a truly human, noble, worthwhile life now and eternal life beyond the gates of death."
Those were the words of Perth Archbishop Timothy Costelloe SDB, during his homily at the annual Safeguarding Mass held at St Mary's Cathedral on Sunday 17 February.
Archbishop Costelloe welcomed some 50 Safeguarding Officers and their families, thanking them for their commitment to the Church of Perth.
"You are the visible face of our determination to make the safety and security of our children and young people a vital part of our life and mission as the Lord's Church," he said.
Safeguarding Officers across the Archdiocese of Perth are responsible for ensuring the safety of children, young people and the vulnerable within the confines of parishes, as well as educating the Catholic community on child protection and protective behaviors within parishes.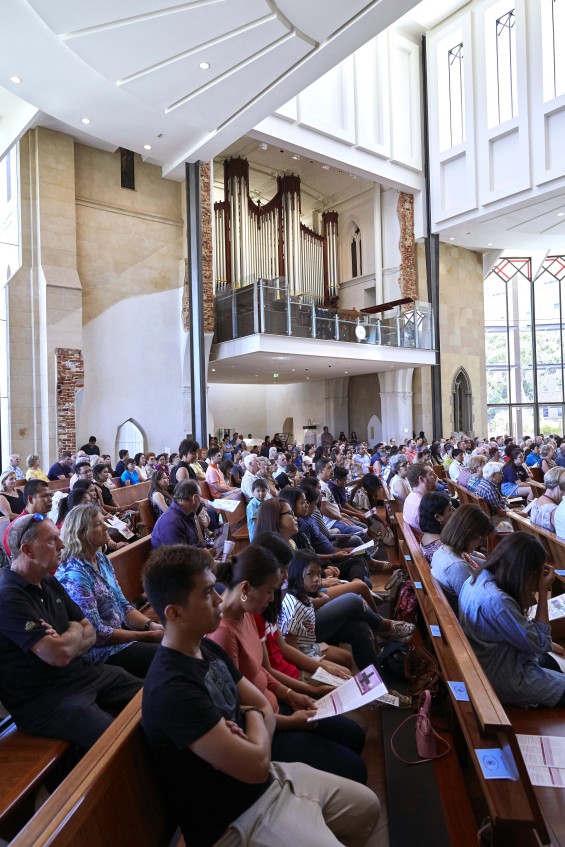 Archbishop Costelloe last Sunday welcomed some 45 Safeguarding Officers and their families during a Mass at St Mary's Cathedral, thanking them for their commitment to the Church in Perth. Photo: Ron Tan
Safeguarding Office Compliance Officer Barbara Blayney explained the Mass was about raising awareness and integrating the program with the community.
"It is really important that we acknowledge the work is ongoing and we shouldn't stop," she said.
"The work that we do is something for the benefit of everyone."
This was acknowledged in Archbishop Costelloe's homily as he reflected the Safeguarding officers are ministers of God's presence and His grace.
"Today I want to acknowledge and thank you, but also to encourage you to see yourselves as powerful instruments in the Lord's hands, disciples who are ensuring that our children and young people are being set free, and kept safe, so as to live the blessed, holy and happy lives about which this morning's Gospel speaks.
Addressing more than 300 parishioners present, Archbishop Costelloe posed a question to those present during his homily.
"How much of our lives is spent either running away from, or turning a blind eye to, the gift of life Jesus never ceases to hold out to us?," Archbishop Costelloe said.
"It is the strange mystery of our human condition that we chase after what will ultimately bring us sorrow and despair, while we turn our backs on what, or rather who, will bring us happiness, hope and peace.
This "who" is, of course, Jesus Christ.
A special blessing was given at the end of the Mass to celebrate the officers as the face of determination to safeguard the children within the Archdiocese.