Archbishop Costelloe to Youth: 'My hope is that we are commissioning saints'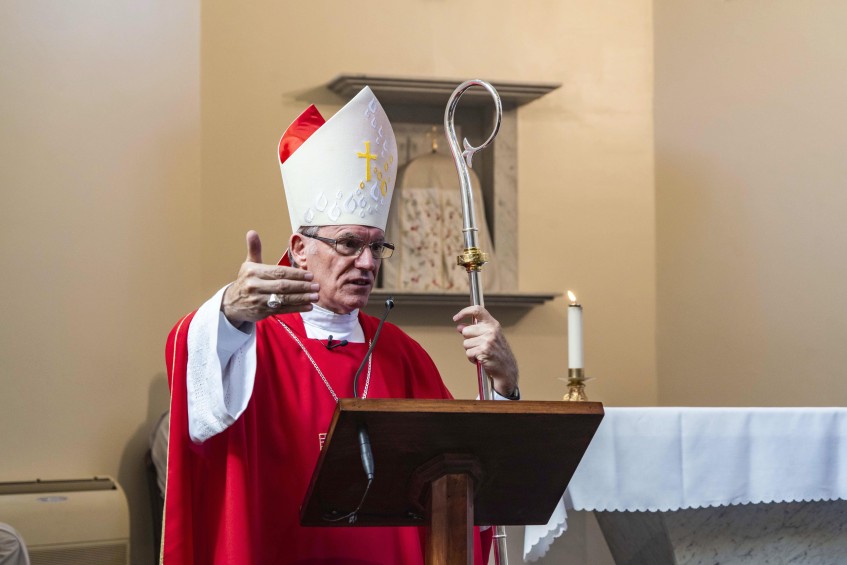 Archbishop Costelloe delivering his homily at the Youth Commissioning Mass on 23 February. Photo: Josh Low.
By Amanda Murthy and Josh Low
Catholic Youth Leaders from across the Perth Archdiocese attended a Commissioning Mass organised by Catholic Youth Ministry (CYM), followed by a brunch celebration and talk on Saturday 23 February.
Archbishop Timothy Costelloe SDB celebrated the Mass with CYM Chaplain Fr Mark Baumgarten, held in conjunction with the Feast of St Polycarp, Bishop and Martyr, welcoming and thanking the leaders in his homily who have in some way or another, found a calling in their hearts within the Lord's Church.
"We need to pray for ourselves, we need to pray for one another because leadership is challenging, it is difficult, and requires you to leave some of yourself behind, so that you can put yourself at the service of others."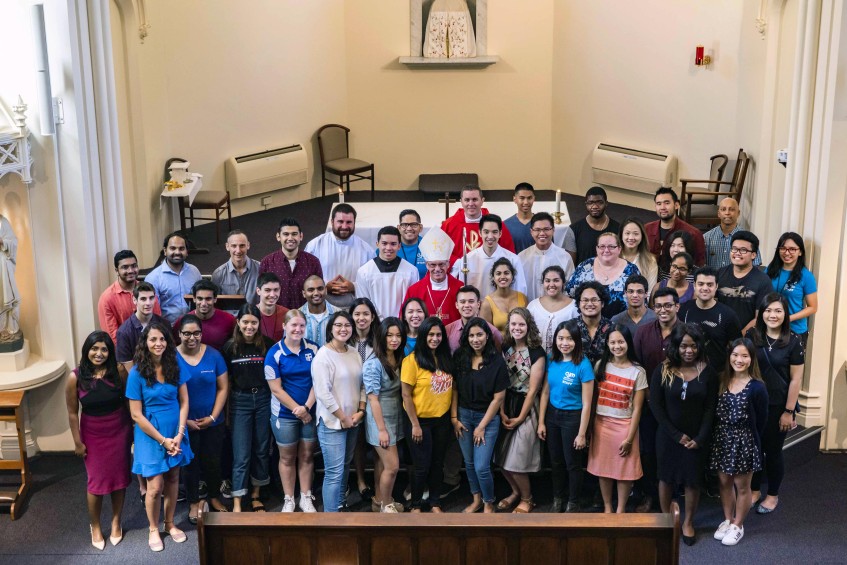 Archbishop Timothy Costelloe SDB commissioned Catholic Archdiocese Youth Leaders at a Mass on 23 February. Photo: Josh Low.
Expressing his appreciation for good theology, Archbishop Costelloe said one way devotees can gain a profound understanding on what it is to be a Catholic is by getting to know the stories of the Saints.
"I highly encourage you to reflect on your favourite Saints because Saints tell us what theology looks like when it's lived," Archbishop Costelloe said.
"As leaders, you will all need to be able to live the theology of the Church, and that is, the truth about who God is, who we are, and what He is asking of us if we are going to be effective leaders."
He added that his hope for that day was that he would be commissioning future saints of the Church.
"That might sound ridiculous, but it's not ridiculous at all, because sanctity is just living the life God has given us to the full; making the most of everything God has given us and living it out in fidelity to what God is asking of us.
"That's what sanctity is, that's what holiness is," he said.
"In hearing [and accepting] the call to Christian leadership, you're really committing yourself to do your best to be saints."
Archbishop Costelloe reminded those present that there was an instinctive understanding that at the heart of the Church, stands Jesus.
"At the heart of your ministry and presence as a member of the Church must stand the person of Jesus – Because there is nothing more true about the importance of Jesus theologically other than that He is the Way that we follow, the Truth in which we believe in and the Life which we live out in our own lives."
Archbishop Costelloe concluded by urging those present to imitate Mother Mary's words.
"Listen to Him and do whatever He tells you – If you put both of these ideas together, you will be the leader that God calls you to be; you will be on the path to Sainthood."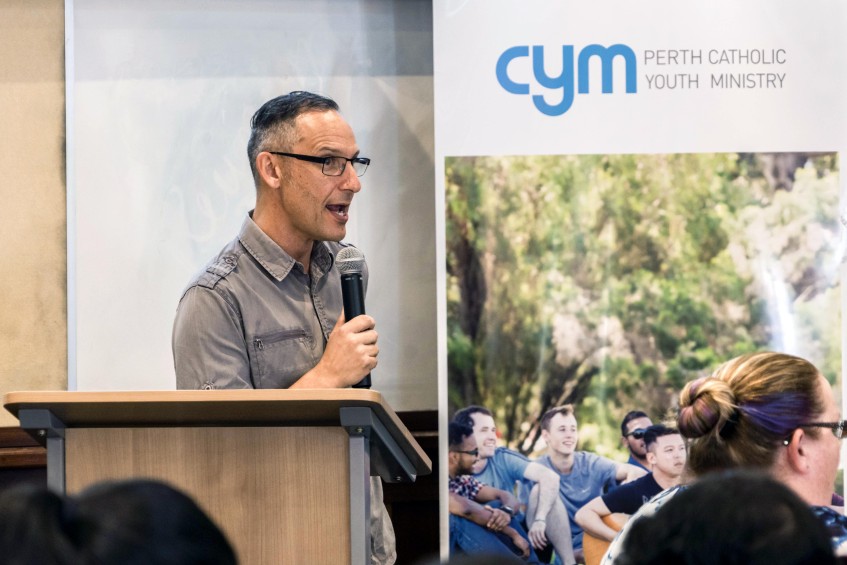 24:7 Youth Ministry Leader Mario Borg gave a talk during the Youth brunch event organised by Perth Catholic Youth Ministry on 23 February. Photo: Josh Low.
After the Mass, the leaders were treated to a brunch buffet and were seen mingling with other Parish leaders.
During the brunch, 24:7 Ministry Youth Director Mario Borg took the stage to talk about effective leadership, referring to the recent final document of the Synod of Bishops on Young People, Faith and Vocational Discernment.
Making several Scriptural references, Mr Borg spoke about Jesus' experiences with His disciples on various occasions, including the journey on the road to Emmaus, to encourage all leaders to work together.
"When we have a community of faith who is interested, instructing, forming, equipping, commissioning, sending us out and reflecting with us on our journey, we will be safe.
"Because it is about a community that journeys together," Mr Borg said.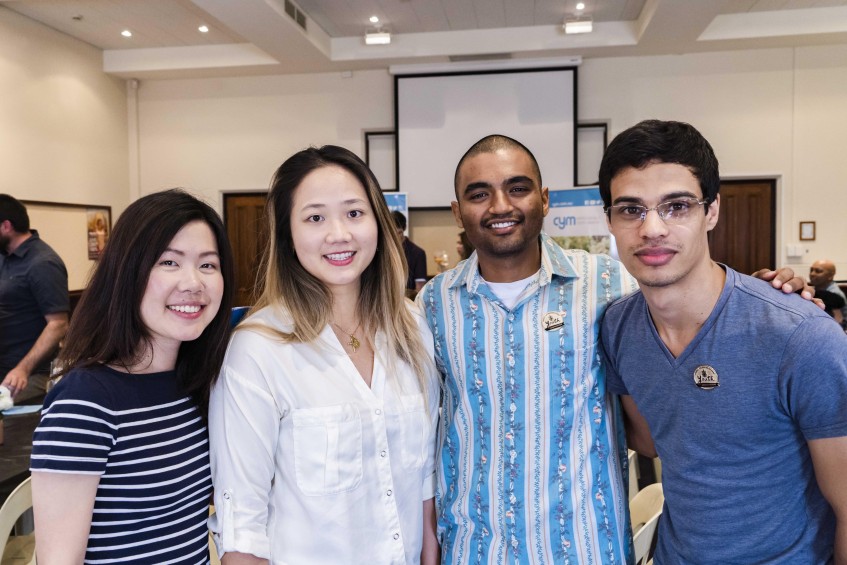 Some of the Youth Leaders that participated in the Youth Commissioning Mass and Brunch on 23 February. Photo: Josh Low.
CYM Youth Ministry Worker Nessya Santoso who emceed the brunch said the event was a way to thank the leaders for their dedication and effort in helping to build a strong foundation for young people in the Archdiocese.
"The youth leaders are the driving force in today's society and their contribution is vital for our young Catholic community here in Perth.
"Our hope is that the youth leaders will have a strong sense of accompaniment from us and other leaders as we move forward towards ACYF 2019," she concluded.
Click Here to watch Archbishop Costelloe's Homily - CYM Youth Leaders Morning