Academic success for Servite College with the release of the 2018 ATAR results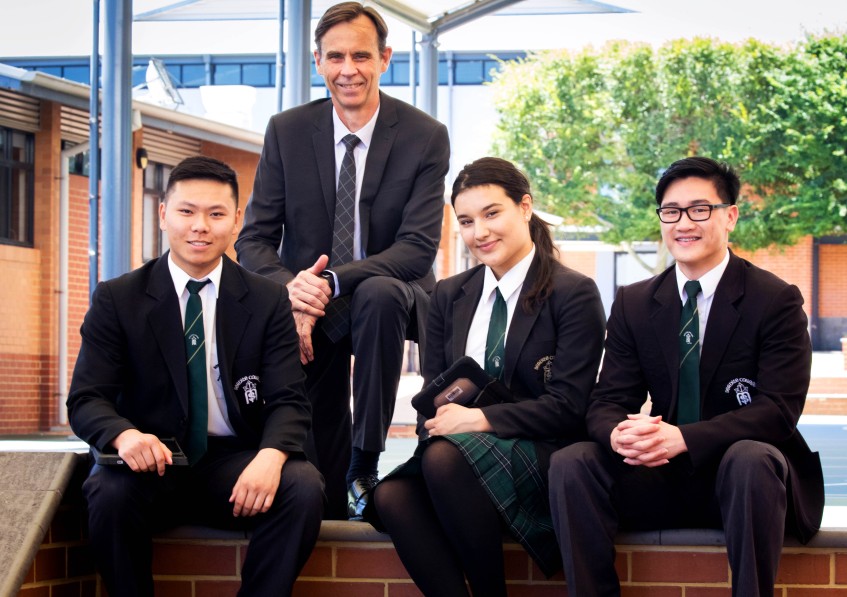 College Dux Henry Nguyen, 2018 Head Girl and Jack Shanahan Award recipient Natalie Krsticevic and Proxime Accessit – ATAR Hoang Nguyen, pictured with Principal Jeff Allen. Photo: Supplied.
By Olivia Bunter
Servite College students have reached new heights in academic success after the release of the 2018 ATAR results.
According to Catholic Education Western Australia (CEWA), out of the 21 Catholic schools in Perth's Archdiocese, the Tuart Hill based college ranked fifth for academic achievement and was 21st overall in the WA school rankings with a median ATAR of 86.65.
When approached about their academic success, the school emphasised how important it was for them to focus on each student individually.
Servite Principal Jeff Allen said he was thrilled with the news, but not surprised.
"We've had a pretty clear vision for learning that we put in place about five years ago," he explained about the schools' adopted measuring strategy – a program that caters to the different abilities of the individual to achieve personalised success.
"The school is focused on teaching the individual, not just curriculum. The dedication of the staff has led to exceptional learning outcomes for students."
He said students are encouraged to pursue different pathways that accommodate to their abilities – not only in university, but also in vocational paths.
In delivering personalised learning pathways aligned with students' strengths and interests, the college ensures Servite graduates are best prepared to pursue their future work and further study goals with confidence.
"We have promoted the concept that we are a community of learners – students, staff and parents included. Our teachers become learners as they continually strive for innovative ways to engage students," Mr Allen explained.
The College has targeted literacy and numeracy and introduced a Head of Learning Diversity which has enabled specific intervention strategies and the integration of cross-curricular literacy strategies.
The hard work and dedication of the staff and students has paid off with the release of the first round of offers from WA universities on the 22 February – 100 per cent of the students who applied from Servite received offers, 73.9 per cent were offered first preference course.
"We commend all out students on pursuing their learning goals with courage," Mr Allen said.