Father Peter Tran gives thanks for 25 years of priesthood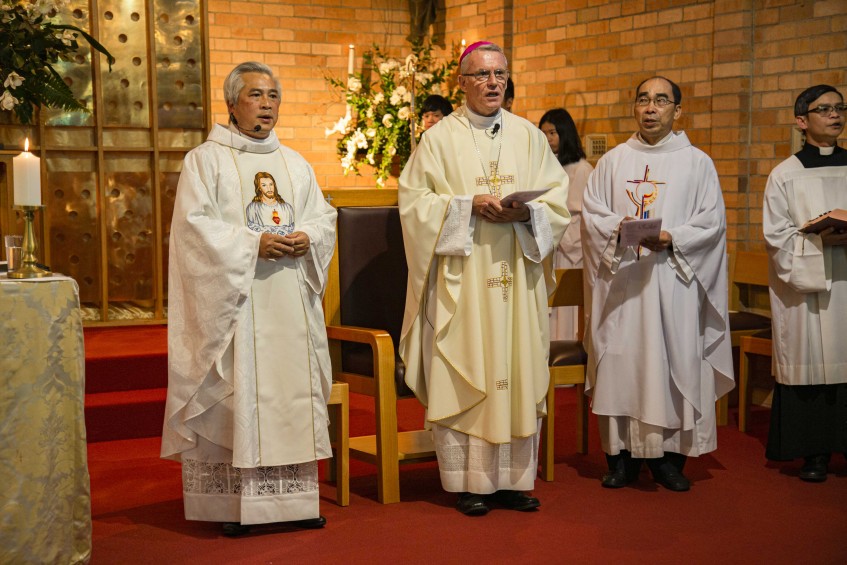 One of the choir members proclaiming the psalms at Fr Tran's silver anniversary celebrations held at the St Thomas More College Chapel on Tuesday 16 July. Photo: Jamie O'Brien.
By Amanda Murthy
St Thomas More College Chaplain Father Peter Hung Tran has last week celebrated 25 years of ministering the sacraments.
A full congregation – consisting of clergy, religious, family, college staff, students and friends – were present for Fr Tran's silver ordination anniversary celebrations held at the college's chapel on Tuesday 16 July.
"I never thought I would be able to get out of my hardships, never thought I'd get through the crashing waves that I had to experience living as a refugee who had fled from his country, or even fulfil my dream of becoming a priest let alone in this wonderful country – but everything is possible with God," Fr Tran expressed.
"God will never abandon you or me."
Perth Archbishop Timothy Costelloe SDB celebrated the Mass with concelebrants Auxiliary Bishop Donald Sproxton, Emeritus Archbishop Barry Hickey, and more than 30 clergymen from across the country who also joined in the celebrations.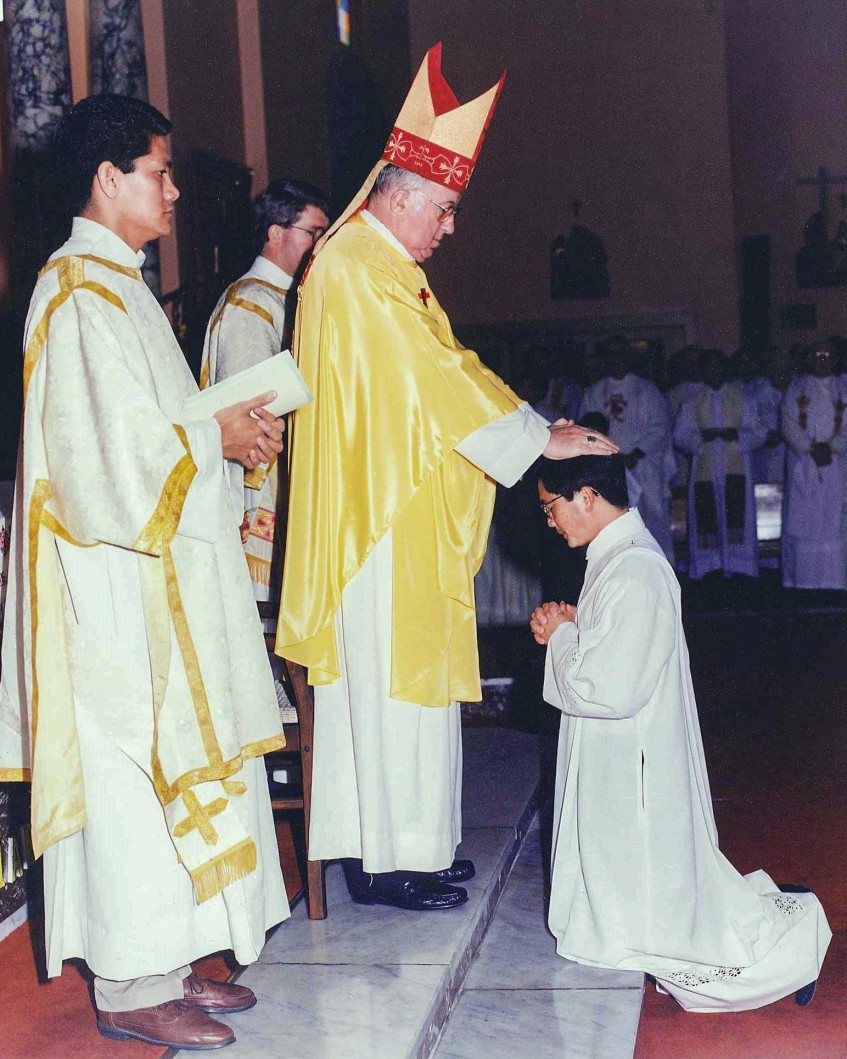 Bishop Peter Connor ordained Fr Tran in Melbourne back in 16 July 1994. Photo: Supplied.
In his welcome address, Archbishop Costelloe thanked Fr Tran and Fr John Cac Le for inviting him to be a part of an "important moment in their lives and their journey" as they reflect back over the past 25 years.
"Tonight we are celebrating the fact that these two men heard the Lord calling in the night, had the courage to say here I am Lord and have kept saying 'here I am Lord' every day since," Archbp Costelloe said.
"We celebrate the great gift of fidelity that these men have shown to the Lord, to His Church and to His people.
"We commit ourselves to celebrating with them, to thank God for them and to pray for them now and into the future, so that they will keep saying 'Here I am, Lord – I will go wherever you lead me'."
Born in Vietnam, Fr Tran recalled the hardships his family underwent during the reign of Communism from April 1975, including the intense persecution of faith.
His calling to priesthood in 1979 led him to join an underground seminary, but his vocation would be short-lived as 16 months later, Fr Tran was kidnapped by the Communist Party and forced to join their army.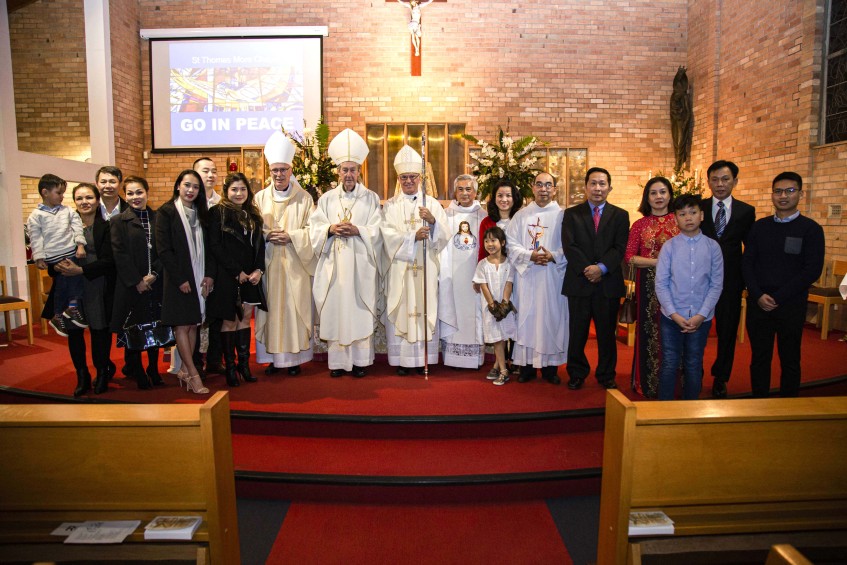 Frs Peter Hung Tran and John Cac Le stand with Perth Archbishop Timothy Costelloe, Perth Emeritus Archbishop Barry Hickey, Perth Auxiliary Bishop Don Sproxton and Fr Tran's family at the commencement of Mass that was held at the St Thomas More College Chapel on Tuesday 16 July. Photo: Jamie O'Brien.
Fr Tran told The eRecord that he eventually managed to escape the Communist Army Camp and fled to Malaysia where he lived a refugee in Pulau Bidong.
Fr Tran believes that it was by the grace of God that he managed to survive the boat ride, ending up in Perth where the late Archbishop William Foley accepted him as a candidate for the Archdiocese.
Although he was faced with huge obstacles on his road to priesthood, Fr Tran said his desire to "serve God as a priest remained strong".
After a year living in Perth, Fr Tran moved to Sydney where he joined the Redemptorist Order by the end of 1983 and started his formation with the Redemptorists in Sydney in February 1984.
Ten years later, he was ordained as a Redemptorist Priest in Melbourne on 16 July 1994.
"I moved back Perth in October 1994, left the Redemptorists and joined the Archdiocese of Perth in early 2012.
"I thank God for giving me this great opportunity to serve in the Archdiocese of Perth, where I first started my vocation to the priesthood," he added.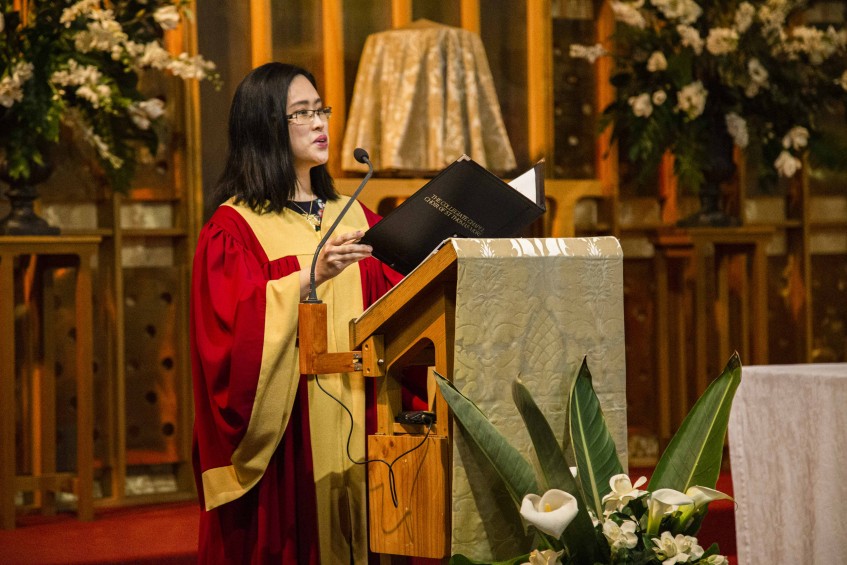 Father's Peter Hung Tran and John Cac Le celebrated 25 years of priesthood with a Mass followed by a dinner at the St Thomas More College Chapel on Tuesday 16 July. Photo: Jamie O'Brien.
Before the celebrations last week, Fr Tran reflected on his mission as a priest and shared what he believes is the most rewarding part of his ministry here in WA.
"From day one, my mission as a priest has been to share God's love with every person I meet and help them to be fully aware how much that God loves them and wants them to be saved and be with Him forever," Fr Tran cited.
"Being part of people's lives, their joy and sorrow, having the privilege to enter their hearts and souls, and journey with them as their companion in life.
"Seeing people find their joy and happiness in life, and discovering how wonderful God really is – these have been the reasons that make me proud of my faith and the best part of being a Catholic priest," Fr Tran concluded.