MARRIAGE DAY: Dymond couple credits faith as pillar of their love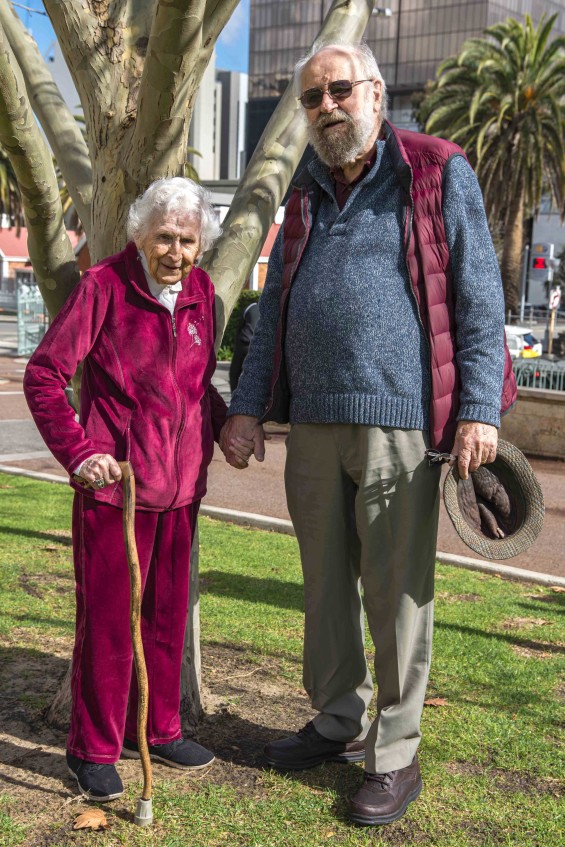 Peter and Veronica Dymond reflect back on their 60 years of marriage. Photo: Amanda Murthy.
By Amanda Murthy
Peter and Veronica Dymond candidly reflect back on their life together, sharing memories of some of their greatest joys, and how they overcame hurdles in life as they celebrate their 60th wedding anniversary this year.
The couple, now in their 80s, spoke with The eRecord to recollect their fondest moments.
"Being Catholic together has been a tremendous support in our relationship, praying, decision-making, community and involvement with the broader Church," Veronica said.
"It is far more fun to be together, even in times of disagreement and stress."
Their love story began at work, 10 miles outside the seaside town of St Anne's – a typical north-western English seaside town in 1957.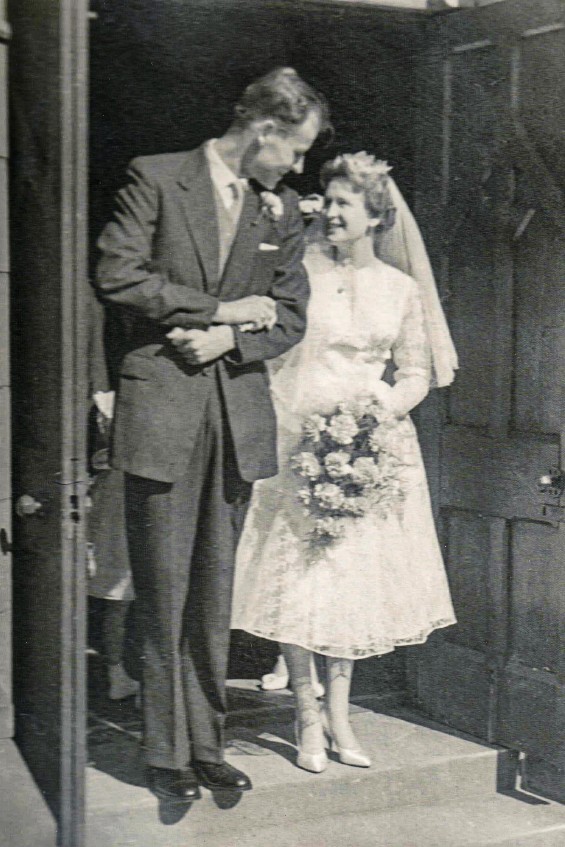 The couple at their wedding, which took place in England at the parish church of St Anne's on 29 August 1959. Photo: Peter Dymond.
Peter was an Electrical Engineer installing a new process plant at that establishment, while Veronica kept busy working at the technical library of the government factory for atomic research.
"Veronica lived in a flat and I was in digs working away from home having just left the Royal Air Force on National Service," Peter said.
"My chief asset was a small red two seater open top Austin seven car that was seen often flashing past the library window."
Peter said he will never forget how a friendly invitation by Veronica to their work year-end New Year's Eve dance proved to be a life-changing opportunity he could not miss.
"My Veronica, as I remember, leaned through the window of the library and asked if I was going to the work dance to celebrate New Year's Eve," Peter recalled.
"I had never been to [one] or danced in my life, I have two left feet so to speak but of course I said: 'Yes, do you want a lift?'. That was the start of our incredible life together."
The couple got married in the parish church of St Anne's in England on 29 August 1959, in a small ceremony attended by loved ones, an affair Veronica described as "simple but very memorable".
"We were not very well off at the time so we did not go away for our honeymoon, why would you when we lived in a seaside resort anyway?" she said.
Ten years later, after the birth of their four children – Richard, Helen, Mark and Andrew – the Dymonds decided to leave England and make Perth their new home.
"We moved at the perfect time when the engineering industry was at its peak, and our son – who was faced with health complications at the time – would benefit from the Australian weather. The move was one of the best things we did for the family," Veronica cited.
Peter recalled the couple's greatest challenge was balancing between his work which very often him away from the family for weeks at a time.
"The day to day decisions were often Veronica's responsibility as I was in parts of the country that were out of range of phones," Peter said.
"When I came home to where we lived in Kalamunda, I was rebuilding the house with Veronica and the children - it was a chaotic period but all working together really infused the family togetherness."
The Dymonds agreed that it was through their various roles with the parish community of Holy Family Church and the wider Church, that they were able to grow stronger in their faith and as a couple.
The Dymonds during their younger days when they were actively involved with the Marriage Encounter programme. Photo: Peter Dymond.
Their biggest involvement as a couple was in the Marriage Encounter programme, where they held the role of State Leaders and supported initial stages of the WA Pastoral and Matrimonial Renewal Centre and Antioch youth group, where Andrew was a member.
After they moved to St John the Baptist Church in Toodyay, they both kept busy, with Peter serving as an acolyte (until present), Parish Pastoral Council member, and past member of the Equestrian Order of the Holy Sepulchre of Jerusalem among others.
"Our growth in spirituality being involved with our local Church gave strength and joy to our marriage," Peter said.
"Sharing our love and life with other couples, during our times with Marriage Encounter brought us even closer.
"Recognising for the first time how living out our love for each other, had a great effect on other couples," he added.
"Having the house invaded by young teenage people full of the spirit and joy for each other during our time as Antioch 'parents'. These are some of the great memories that will last forever."
Both Peter and Veronica are excited for their upcoming anniversary celebrations with their four children, 11 grandchildren, three great-grandchildren, and a host of loved ones.
"Life is a journey and can be lonely at times, but hang in there. Place your spouse and family in God's hands as it is a unique journey that has the most spectacular, precious and unique events that will always be yours and nobody can ever take away," Peter concluded.
The 2019 Annual Marriage Day Mass this year will be held at St Mary's Cathedral on Saturday 10 August. All married couples and their families are encouraged to attend.