Aboriginal art competition themed on faith, creation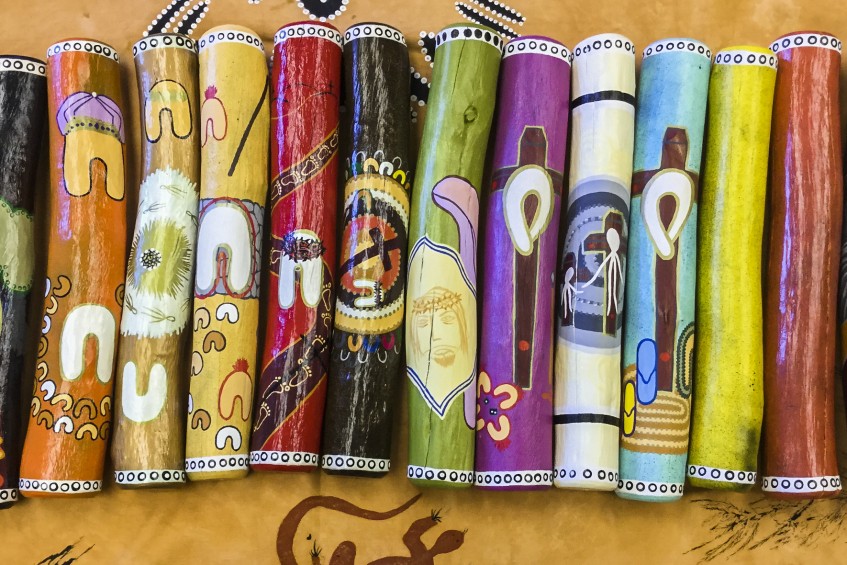 Prendiville Catholic College's Message Sticks: an example of Aboriginal and Christian art combining to tell the story of the Stations of the Cross. Photo: Supplied.
Schools and parish communities are being encouraged to take part in the 2019 Catholic Liturgical Art Competition, inspired by Aboriginal knowledge and the Catholic faith, set to take place in conjunction with the NAIDOC week celebrations in July this year.
The theme of the competition "Our Sacred Song Lines Upon This Earth", aims to represent the Catholic faith and Aboriginal culture's commitment to the stewardship of all creation.
The theme was chosen as both the Catholic faith and Aboriginal culture and spirituality both call people into a deep respect, relationship, and stewardship of the Earth.
St John Paul the II called the Church to an ecological conversion and Pope Francis in Laudato Si' has been reaffirming the importance of an integral ecology where we are in relationship with the Earth, each other and God.
In this encyclical, he encourages us to learn from our Indigenous brothers and sisters whom have a deep connection, understanding of the land and its spiritual significance.
This is of particular importance in Australia, where Aboriginal and Torres Strait Islanders have been caring for the land for over 60,000 years – arguably one of the longest relationships between an indigenous people and their native lands anywhere on Earth.
Vicky Burrows, Director of Aboriginal Catholic Ministry, said the competition was officially launched on 3 December 2018 with a workshop and information day conducted by a local Aboriginal artist.
Ms Burrows added that the competition would be judged in four categories, namely: Primary, Secondary, Group Entry, and Open Group.
Ms Burrows encouraged schools and parishes to support the program and start planning their competition entries now, ready to submit by June.
Winners will be announced during NAIDOC week (artwork may be made into an item for use by the Archdiocese) and the works will be exhibited at the Angelico Exhibition for Primary and Secondary Schools and Colleges in August 2019.
For more information, contact ACM Director Vicky Burrows via email at vicky.burrows@perthcatholic.org.au or CEWA Curriculum Coordinator Genevie Baker at genevie.baker@cewa.edu.au