EXCLUSIVE: New report highlights need for better support in addressing poverty and homelessness in Perth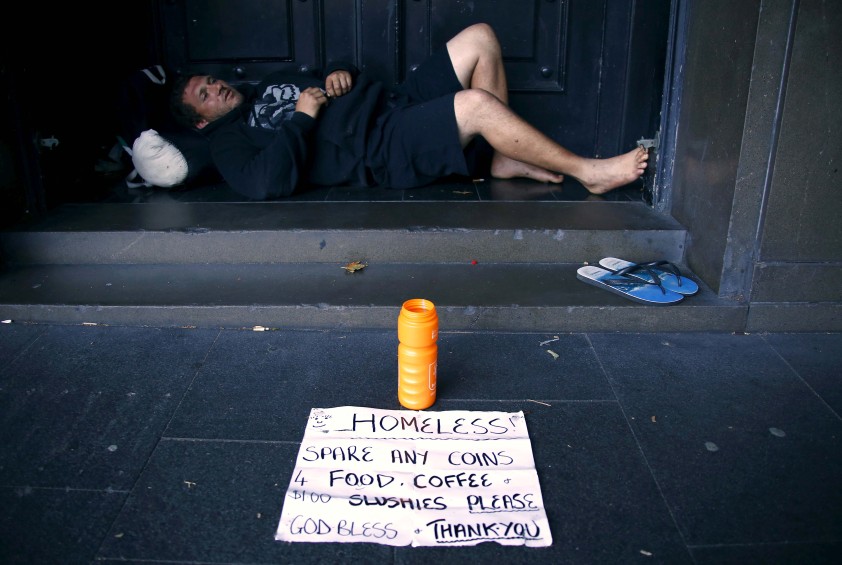 A man rests in the doorway of a building. Photo: David Gray/Reuters.
By Eric Martin
The number of people sleeping rough in Western Australia is on the increase, according to a new report by the University of Notre Dame Australia (UNDA).
The report, Poverty, Homelessness and Migrants in Western Australia, has been commissioned by the Catholic Archdiocese of Perth and is the first of a series of planned, annual research reports that will inform the provision of the Catholic Church's social outreach programs in Perth.
The report is an initiative of the Archdiocesan Plan as part of the Social Outreach priority, with the research data to be used to assist judgements in the areas of
assessing the need for new social outreach agencies/activities;
the capacity to close or scale back existing social outreach agencies/activities;
he need to avoid duplication of social outreach activities; and
the opportunity for the Archdiocese to partner with other Catholic agencies such as Catholic Homes to achieve our goals.
Dr Martin Drum, Director of Public Policy at UNDA, said the Archdiocese and Notre Dame are natural partners in research since "we have a common mission and purpose in many of the things we do".
"The report is the first output in what we expect to be a long term partnership between both parties," Dr Martin said.
"One of the major benefits of the report is that it outlines the prevalence of key social issues in the Perth community, and the areas where those problems have manifested themselves.
"In particular, the report should help agencies who address poverty, homelessness, and migrant issues, by highlighting where the gaps in service delivery currently are," Dr Martin explained.
"There is also important data on emerging groups of people in our community who are being impacted by these issues."
In 2016, the Census of Population and Housing stated that Australia's rate of homelessness has increased 4.6 per cent since 2011 and that more than 116,000 Australians are categorised as homeless, an estimated 9,000 of whom live in WA.
The study classifies homelessness according to three distinct levels of access to accommodation and basic resources, a definition it shares with the Australian Bureau of Statistics (ABS):
Primary homelessness: being without conventional accommodation; living on the streets, sleeping in parks, squatting in derelict buildings, living in improvised dwellings (i.e. sheds, garages or cabins), and using cars for temporary shelter.
Secondary homelessness: moving frequently from one form of temporary shelter to another, such as emergency or transitional accommodation or supported accommodation. This also includes people living "temporarily" with friends and those staying in boarding houses for less than three months.
Tertiary homelessness: living in boarding houses on a medium to long-term basis.
Residents of private boarding houses are classified as "homeless" because their accommodation is not self-contained, boarding houses do not provide individualised space for social activities, bathroom and kitchen facilities are shared and they do not benefit from the security of a lease agreement.
Compared with other states and territories, WA had a below average overall homelessness rate, falling by 11 per cent from 2011 to 2016, yet the harshest form of homelessness, "sleeping rough" is increasing compared to other states and territories, rising three per cent over the same period to 1083 people (or 13 per cent of all people sleeping rough nationally).
Aboriginal and Torres Strait Islanders were three per cent of the Australian population, yet account for 20 per cent of the homeless population; and in WA, where Aboriginals make up 3.7 per cent of the population, 29.1 per cent of the state's homeless are Indigenous.
Conversely, the study found that WA had the lowest rate of non-Indigenous homelessness compared with other states and territories.
Men make up 60 per cent of the states' homeless population and WA had the lowest rate of homelessness for young people aged 12 to 24 and people aged 55 and over compared with the rest of Australia.
Homelessness in older age is largely driven by a combination of low income, lack of access to social housing, high rents, and an absence of retirement savings and wealth.
Persons 65 years and over who find themselves in this situation are now more likely to be homeless for six months or more.
Gary is a mature aged man who has been living on the streets of Perth for at least six years and has seen many changes take place in the City's homeless population over that same period.
"I was in Melbourne for a bit, but you know, the gangs over there, Perth's good. I'm not really sure how long I've been homeless but at least six years in Perth and it's the usual issues at night time – drugs and alcohol seem to be coming through more," Gary said.
"There seems to be more people about and they're spreading out to the outer suburbs, like Kelmscott, it's nice out there.
"There's support; a homeless person can access things like the Catholic Coffee Van, but it would be great to see some sort of addiction programmes to help with alcohol and cigarettes especially – there's a lot of problems with addiction. Once your money starts disappearing on that, well, there's nothing left for a roof."
One of the major factors considered when looking at groups who are vulnerable to homelessness is the Poverty line, where in Australia, it is estimated in relative terms:
Inclusive of housing costs, the Henderson Poverty Line (HDL) line is at:
$974.14 net per week for a family comprising two adults, one of whom is working, and two dependent children; and
$518.63 net per week for a single person.
The research states that couples with two children have been below the poverty line since 2004, a two-parent family with two children receives $100 per week below the minimum funds they are supposed to live on which is over $5000 below the poverty line each year.
A single person on full Centrelink benefits, including rent assistance, will be $82 per week short of the minimum funds they needs, or more than $4000 short over the course of one year.
The income gap between the median household income and Centrelink payments for single Australians in 2017 is almost triple the gap that existed 2001 and in WA, the minimum wage is just over 40 per cent of the average weekly earnings, while Newstart is just 15.6 per cent.
Obviously, with this continual shortfall, the threat of homelessness soon looms.
Another aspect investigated was the effect that income had on the percentage of the existing rental market that is available to families near the poverty line: families where both parents were receiving the minimum wage and the Family Tax Benefit Part A were able to find 5817 affordable rental properties, or 46.8 per cent of those being advertised.
This reduces to 18 per cent of properties if only one parent is earning the minimum wage.
A single parent of two children on the minimum wage and receiving the Family Tax Benefit, has even less options, with 764 affordable rentals or only 6.1 per cent of those advertised.
A single person on the minimum wage would only be able access one per cent of rentals (including boarding houses or renting a room in a share house) and a single person on Newstart is even worse off, being unable to find any properties at all WACOSS documented that it is estimated that there are around 59,000 Western Australians unable to afford market housing, another 73,000 require rent assistance and that by the end of 2017, there were 16,516 families on the public housing waitlist, with 1590 on the priority waitlist.
On average, applicants waited 139 weeks to be housed (or around 2.7 years).
Preventative and early intervention homelessness programs for children and young teenagers are important in reducing risk factors and breaking the developmental cycle of homelessness, a view supported by Gary out on the streets:
"Parents should stay together, stay off drugs, don't drink alcohol and quit the cigarettes – it's always the same kind of issues causing this and people just can't seem to stop," Gary said.