Archbishop Costelloe speaks of 'Diversity in Communities' at Joondalup city event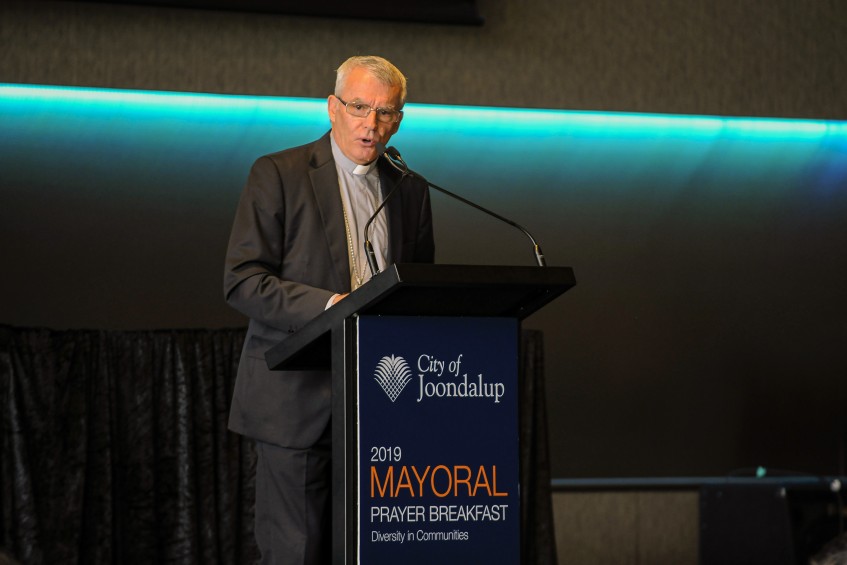 Perth Archbishop Timothy Costelloe SDB was in Joondalup on 30 October to talk about diversity, tolerance and respect at the Joondalup 2019 Mayoral Breakfast, held in the Lakeview Ballroom of Joondalup Resort. Photo: Chris Kershaw.
By Amanda Murthy
Archbishop Timothy Costelloe SDB addressed more than 150 local high school students and key stakeholders at the City of Joondalup's 2019 Mayoral Prayer Breakfast on Wednesday 30 October.
The Perth Archbishop was invited by Joondalup Mayor Albert Jacob to speak at the event themed "Diversity in Communities", held in the Lakeview Ballroom of Joondalup Resort.
Revealing that almost 40 per cent of the people of the City of Joondalup were born overseas, Archbishop Costelloe explored the topics of tolerance and respect in a multi-culture and multi-faith society – citing that although the nature of the community was something to be "proud of and grateful" for, this was something they should "never take for granted or become complacent about".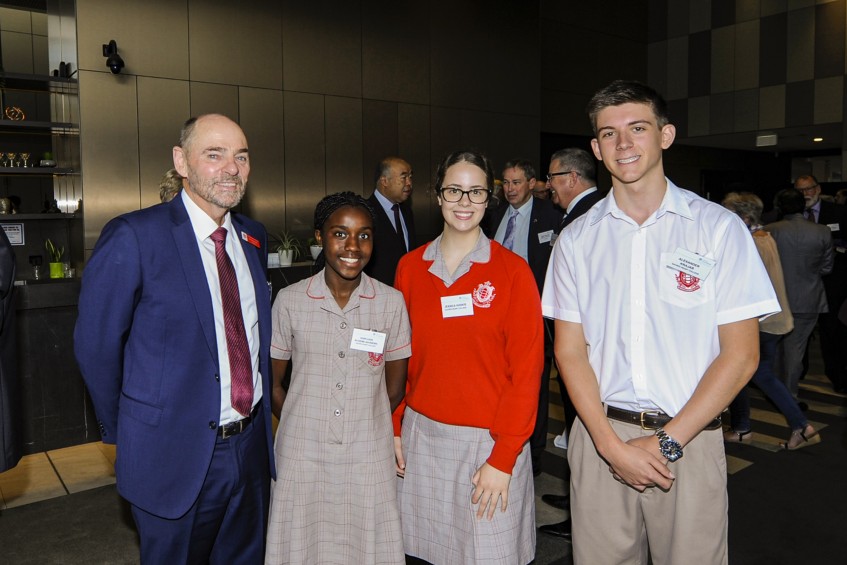 Sacred Heart College Principal Peter Bothe and students Dorcasse Bugeme-Akonkwa, Jessica Haskis, and Alex Krajcar. Photo: Chris Kershaw.
"Multi-culturalism brings enormous richness to our society but its success in my view depends on the willingness of all of us to genuinely make room for each other," Archbishop Costelloe stated.
"Learning to be together, celebrating together, acknowledging the richness and beauty of our various traditions and, without ignoring our differences, in a sense going beyond them, or beneath them, to discover all that we have in common. This is the pathway which respect for each other would invite us to travel.
"It is good that we tolerate each other – that we 'live and let live' as the saying goes – but it is better if we respect each other and allow ourselves to be enriched by each other; this is true of religions, and of cultures, and of what I might call 'world views'," Archbishop Costelloe continued.
"The concept of a 'world view' refers to the deepest convictions we, as individuals and communities, cherish about what it means to be a human person in relationship with self, with others, with the world around us and with God."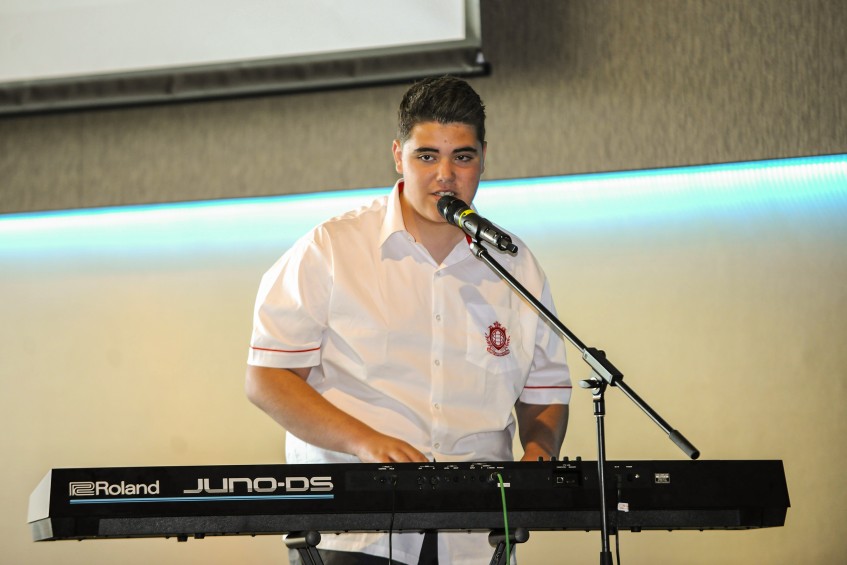 Sacred Heart College band member and The Voice Australia grand finalist Jordan Anthony. Photo: Chris Kershaw.
Drawing from his own experience as a teacher, Archbishop Costelloe spoke about the freedom of practising religious beliefs in the context of education.
"Catholic schools, and they are not alone here, adopt a different world view and therefore continue to advocate for the right to determine the ethos, the atmosphere, the context, of their school precisely because they are grounded in the conviction that the "God question" matters, and that belief in God changes everything," he explained.
Archbishop Costelloe expressed that it is the task of the Church to propose endlessly, but never to impose.
"In a multi-cultural and multi-faith environment, a mature society will enable and encourage the expression of a variety of 'world views', as long as they are proposed for reflection, discussion and consideration rather than imposed by any kind of intimidation or coercion," he added.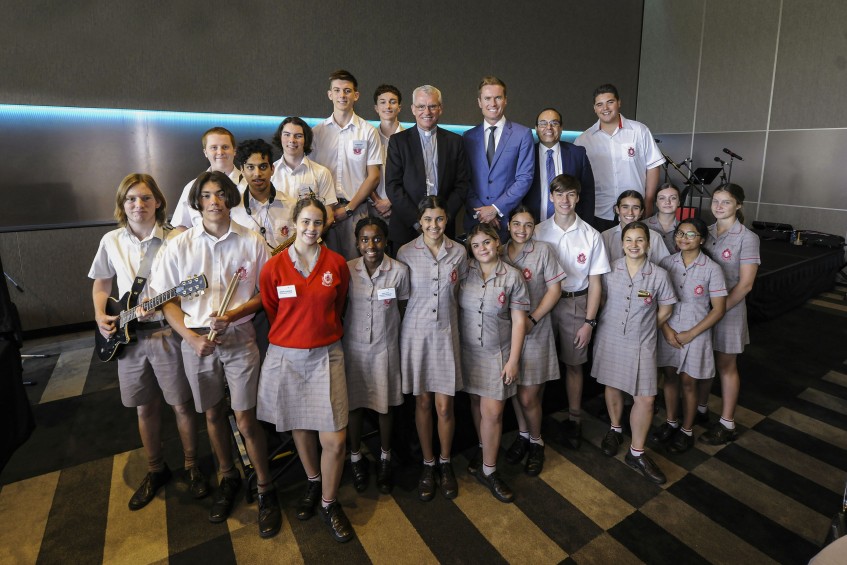 Perth Archbishop Timothy Costelloe, Mayor Albert Jacob, and the Sacred Heart College Contemporary Band and Singers at the Joondalup 2019 Mayoral Breakfast on 30 October. Photo: Chris Kershaw.
Mayor Albert Jacob said "Diversity in Communities" was a particularly apt theme for a City like Joondalup where more than 10 per cent of the city's population come from non-English speaking backgrounds and more than 30 different religious organisations are based within its boundaries.
"It was pleasing to have another big turnout for this special annual event where we come together as one to pray for our City and the more than 160,000 people who call Joondalup home," he said.
"Building healthy communities requires collaborations and partnerships. Families, school communities, civic leaders and our churches all have important roles to play.
"Faith is vitally important in a community like ours and never has the work of our Churches have been so important," the Mayor concluded.
The breakfast raised more than $2000 for Grandparents Rearing Grandchildren; a non-profit charity, offering support services to grandparents who are raising their grandchildren on a full-time basis.