New Director a step towards a participatory Church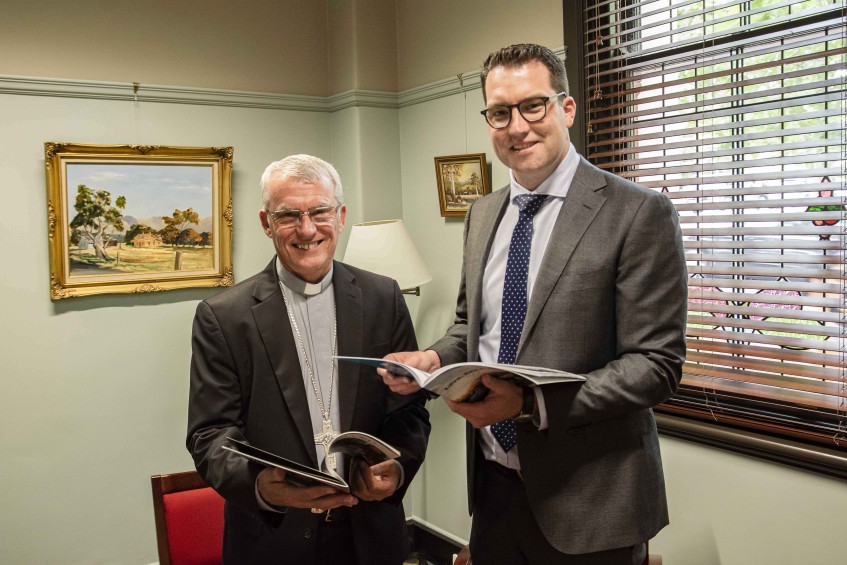 Archbishop Timothy Costelloe SDB and Daniel Lynch. Photo: Jamie O'Brien.
By Amanda Murthy
Archbishop Timothy Costelloe SDB has named Daniel Lynch, former Deputy Principal (Mission and Identity) at Newman College, as the first Director of the Office of the Archbishop.
Archbishop Costelloe expressed in his recent announcement that the appointment of Mr Lynch is a step forward to further strengthen the support which the Office of the Archbishop and Griver House generally, are able to offer the Archdiocese of Perth "during these challenging times".
"Daniel comes with a strong background in theology, education, governance and change-management – he is a man of faith, commitment and energy," Archbishop Costelloe stated.
"….[the appointment of a Director of the Office of the Archbishop], will also make it possible for me to spend more time on the road visiting our parishes, our agencies and our Catholic schools.
"Furthermore, because of my national responsibilities in the Bishops' Conference, including the oversight of the Plenary Council, Daniel's presence in the office will ensure that matters of concern can be dealt with appropriately and efficiently, and always according to the Spirit of our faith," Archbishop Costelloe added.
Born-and-bred in Sydney, Mr Lynch has always been highly influenced by the Marist tradition, having received his formal education from the Marist Brothers at Marist College North Shore, Sydney.
At the age of 18, Mr Lynch confirmed his calling to become a teacher, after experiencing a 'life-changing' international immersion to the Marist Brothers School in Phnom Penh in Cambodia.
His loyalty to the Marist way of life, led him to take on teaching roles as a secondary school teacher, and he subsequently was appointed to both middle and senior leadership teams in Marist Schools across Sydney, Canberra, and WA.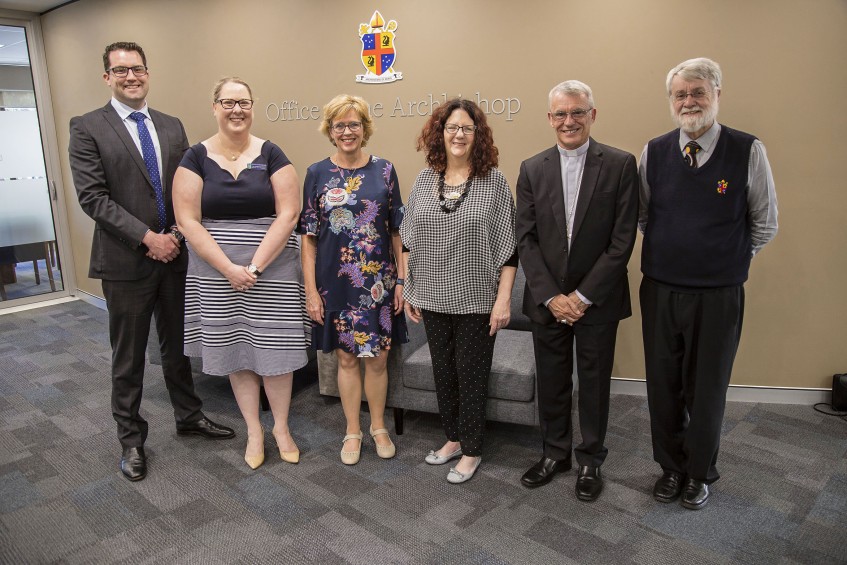 From left: Daniel Lynch, Director of the Archbishop's Office; Miranda Dempsey, Emmanuel College Assistant Deputy Principal Faith Formation; Liz Beale, St John of God Health Care, Director of Mission Integration; Bernadette Brady, Catholic Homes Executive Manager Mission; together with Archbishop Tim Costelloe SBD and Dr Terry Wilson, Vicar for Social Outreach. Photo: Jamie O'Brien.
Mr Lynch has completed a Bachelor of Education with Honours and a Master of Educational Leadership and Administration, both at the University of Sydney.
He proceeded to gain a Master of Theology from the University of Newcastle and is graduate of the Australian Institute of Company of Directors – all this, while working full-time in Catholic Education.
Today, he sits on the Board of Catholic Homes, a significant contributor to aged care, providing home care, residential living and retirement living, serving many from the dioceses of Perth and Bunbury.
With an extensive and impressive set of credentials, the 32-year old still holds his most successful achievement as being husband to Katie and father to 18-month-old daughter Sophia. The couple – who have been active members of St Joseph's Church, Subiaco Parish – are expecting their second child in March 2020.
In an exclusive interview with The Record, Mr Lynch spoke about how his mission "to evangelise through Catholic Education in the Marist tradition" was a journey that opened up doors to allow him to further serve the wider Catholic Church here in Perth.
"The Marist Brothers have five characteristics they follow and I love all of them but the three that drew and attracted me to pursue Catholic Education and my ministry in Marist Schools are 'Love of Work,' 'Family Spirit,' and 'In the Way of Mary,'" he said.
"While education is a wonderful ministry, and the evangelisation of young people in the context of the school is a privileged position, I regard my appointment to the role of Director of the as a calling from an ongoing discernment of how I can serve the wider Church.
"Pursuing my Masters in Theology was my wider commitment in service in ministry in the Church and by the grace of God, this has ultimately led me to this new role as the Director of the Office of the Archbishop.
"I did not knock on the Archbishop's door and ask 'how can I serve', it happened in another way," he explained.
Mr Lynch added that he considers this role as an expression of his faith journey, by being able to live a life of ministry and service within the Archdiocese of Perth – particularly in service to the Archbishop, who oversees priests and the people of the Archdiocese of Perth.
When asked about what he hopes to achieve in his role, Mr Lynch affirmed that the Archdiocese was in fact on the right track, commending Archbishop Costelloe for carving a vision that enables the Church in Perth to continue to grow and encourage participation from all of its community.
"My role, is very a good example of a clear a statement by the Archbishop Costelloe who from time and time again manages to demonstrate his commitment to co responsible, lay leadership within the Church, by encouraging participation on different levels of decision making, different levels of leadership and ultimately, co responsibility for the vitality and mission of the Church here in Perth," Mr Lynch stated.
Naturally, Mr Lynch said he is looking forward to the upcoming Australian Catholic Youth Festival (ACYF) held in Perth from 8 to 10 December.
"Having previously experienced other Catholic festivals like World Youth Day myself, I regard ACYF as a once in a generational opportunity for the Church in Perth to celebrate its uniqueness but also to draw strength and solidarity from the national expression of a future focused Church where young people will be its leaders and visionary," he concluded.