RED WEDNESDAY 2019: Perth's Cathedral floodlit red in solidarity for persecuted Christians
By Matthew Lau
"If they persecuted me, they will also persecute you." – John 15:20
Saint Mary's Cathedral is participating as one of thousands of buildings lit up in red this week as part of a yearly global movement to highlight and pray for those oppressed and persecuted because of their faith.
Red Wednesday is an initiative of the international pontifical foundation Aid to the Church in Need (ACN), a Catholic charity dedicated to the support of suffering and persecuted Christians.
Commencing on Wednesday 20 November, events are taking place across four continents, beginning in Australia with the lighting of seven Cathedrals.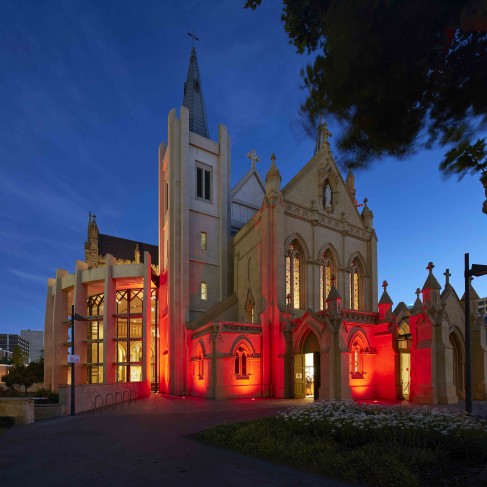 St Mary's Cathedral, Perth WA, is one of thousands of churches, monuments and buildings floodlit red this week as a unified call for religious freedom around the world. Photo: Ron Tan.
St Mary's Cathedral Dean Rev Dr Sean Fernandez explained to The Record why the Perth Cathedral is being floodlit red in commemoration of all those persecuted for their love of Christ.
"It is a sign of our solidarity with our brothers and sisters all over the world for whom persecution and death is an everyday reality," Fr Fernandez lamented.
"Just this month, gunmen shot dead an Armenian Catholic priest, Fr Hovsep Bedoyan, and his father, Abraham Bedoyan, as they were traveling in a car in north-eastern Syria. A third man, a deacon was wounded in the attack.
"I hope that the unusual sight of the red Cathedral will help raise public awareness of the persecution of Christians and indeed of other religious minorities."
About 300 million Christians around the world live in an environment where they are violently persecuted, discriminated and prevented from freely practicing their faith.
Cardinal Joseph Coutts, Archbishop of Karachi, opened his foreword in ACN's 2017-19 edition of Persecuted and Forgotten? with the following:
"It is an established fact that the most persecuted religion in the world today is Christianity, even though many people are not aware of this. For many years, ACN, with branches in many countries, has been working to make the voice of these voiceless Christians heard. Equally important is ACN's campaign of prayer and support for suffering Christians throughout the world," Cardinal Coutts wrote.
On 27 November, when thousands of buildings in London, Amsterdam, Lisbon, Prague and Washington DC will join the Red Wednesday campaign as a unified call for religious freedom around the world. Photo: Ron Tan.
The 2019 Red Wednesday, which in many parts of the world has been extended into a "Red Week", aims to raise awareness of the persecution of Christians worldwide. Research has shown that Christianity is the world's most widely targeted faith group.
Cathedrals, churches and public buildings in 15 countries will light up in red to raise a strong voice in support of those suffering discrimination who are unable to speak freely, and who look to their brothers and sisters in Christ to speak up on their behalf.
Across the United Kingdom, 120 buildings were floodlit in red yesterday, including 13 cathedrals. In the Philippines, more than 2050 parish churches in 68 dioceses are participating.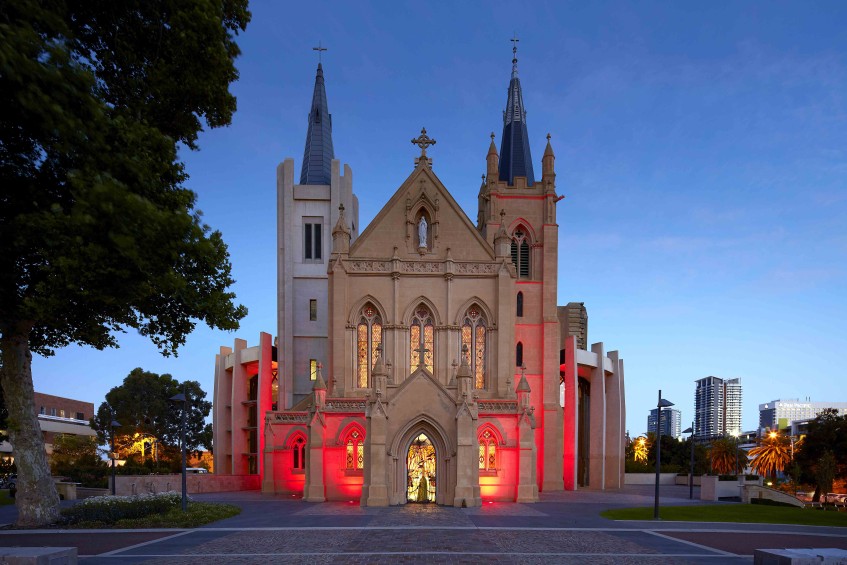 ACN supports more than 5000 projects in about 140 countries each year, helping Christians live out their faith wherever they are persecuted, oppressed, or in pastoral need. Photo: Ron Tan.
This year, for the first time, the initiative has spread to Budapest, where the Chain Bridge and the Saint Gellért Statue (St Gellert was the first martyr in Hungary) was lit scarlet.
The Colosseum in Rome, the Westminster Abbey in London, Christ the Redeemer in Rio Janeiro, the Sagrada Familia in Barcelona, and many more landmarks joined the initiative in recent years.
The 2019 edition of ACN's biennial report on Christian persecution – Persecuted and Forgotten? – can be viewed at: www.aidtochurch.org/reports
For more information about Red Wednesday events taking place in Australia and around the world, visit: www.redwednesday.org