John XXIII College congratulated for exemplifying Jesus in action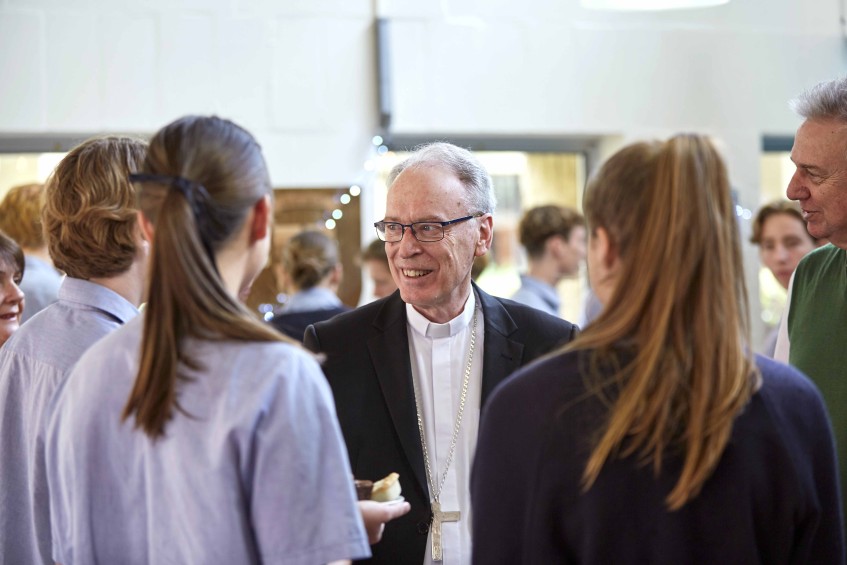 Perth Auxiliary Bishop Don Sproxton engaging with students of John XXIII College. He visited the college to present their 2018 Archbishop LifeLink Spirit Award. Photo: Ron Tan.
By Amanda Murthy
Promoting the "Spirit of Catholic Faith in action", John XXIII College was chosen as one of two 2018 Archbishop LifeLink Spirit Award recipients.
The award is presented in recognition for the fundraising efforts and promotion of the work of the 11 agencies supported by LifeLink.
These agencies include The Shopfront, Catholic Ministry for the Deaf and Hard of Hearing, Centacare Employment and Training, Centrecare Inc, Djooraminda, Emmanuel Centre, Emmaus Community, IdentityWA, Daydawn Advocacy Centre, Samaritan Projects and Catholic Outreach.
Perth Auxiliary Bishop Donald Sproxton, Chair of LifeLink, made a special visit to the Mount Claremont College to personally congratulate the students on their "significant contributions" in raising funds, spreading awareness of and support for the efforts of the Church.
"These agencies that you have helped contribute to, support around 35 thousand people each year and they exists as there are very important needs for people," Bishop Sproxton said.
"For example, one of the agencies supports people – who can't get employment – to be trained in order to increase their skill set so that they can get a job.
"Often they could be refugees and they really need the help with English but also with the skills that are needed in this country to do that job.
"Even just training them or guiding them on how to do an interview so that they have that opportunity in the working world.
"These are just a couple of things we do through the LifeLink initiative – And as you know we go through the parishes, and through our schools and colleges," he added.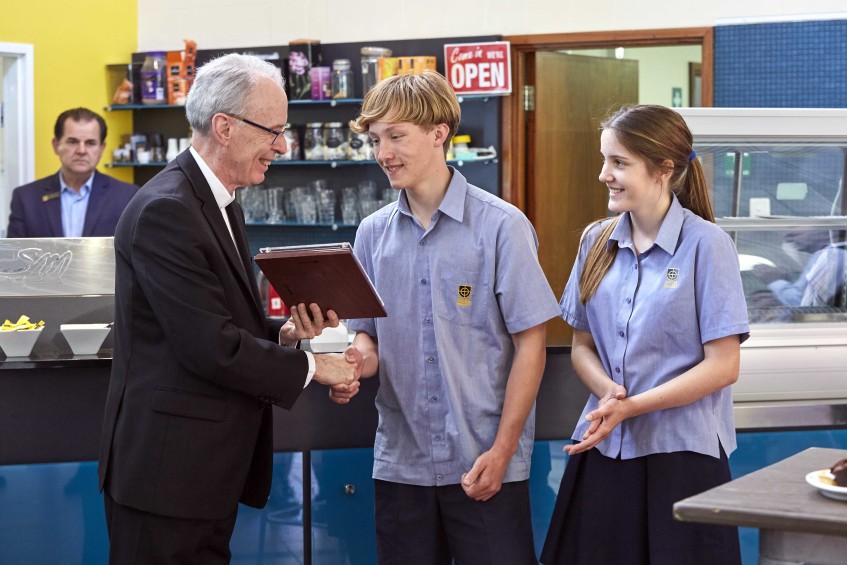 Bishop Sproxton presenting the 2018 Archbishop LifeLink Spirit Award to the John XXIII College Faith and Mission Captain's Ashley Smith and Jack Court on 25 October. Photo: Ron Tan.
Bishop Sproxton took time to engage with the students present, as they shared stories of the numerous opportunities they took part in support of LifeLink throughout the year.
In welcoming Bishop Sproxton to the College for the occasion, John XXIII College Principal Robert Henderson conveyed his heartiest congratulations to all the students who dedicated their time and genuine efforts to organise and participate in the LifeLink initiatives held throughout the year.
Speaking to The Record, at the event, Mr Henderson expressed the college's care for the community.
"We (the college) are thrilled to be a part of the wider Catholic Church in Western Australia, and we believe LifeLink has so many great causes and initiatives," Mr Henderson stated.
"Our college motto is 'Seek Justice' and the more we can provide our young people to fully engage in the wider Church the better.
"Our students are very keen to participant in worthwhile causes that are going to give tangible and real benefits to people in Western Australia and beyond their boarders, so thank you for this special award and look forward to continue our work to help the community in need," he added.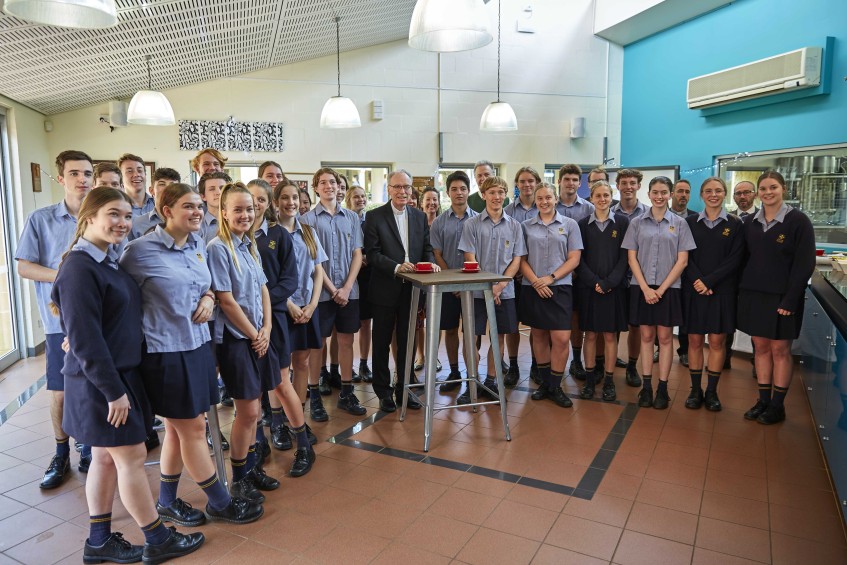 Some of the John XXIII College student representatives with Bishop Sproxton at the presentation ceremony for the 2018 Archbishop LifeLink Spirit Award. Photo: Ron Tan.
Incoming Faith and Mission Captains, Ashley Smith and Jack Court, expressed the College's passion in always wanting to do more for the less fortunate in the community.
"We have been carrying out a couple of activities. First - our 'comfy day'. The idea is that we come dressed in comfortable clothing to raise funds to provide comfort for others. We also spent numerous days carrying out the '1000 meal challenge', where we provide food for 1000 disadvantaged people.
Hopefully in the future we will continue these initiatives and come up with even more fresh ideas to raise funds to support LifeLink" said Ashley.
Jack said that being given the opportunity by the College to travel to India on pilgrimage recently was an unforgettable experience, one that inspired him to want to do more for the community.
"I was able to go on a pilgrimage to India recently and experience the culture and learn about the great work the Church does to support and help the disadvantaged. This trip inspired me in a huge way to come back to Perth and help my community, and to be the best person I can be through initiatives like LifeLink Day.
I am very happy to be a part of this initiative; we are very proud for our College being presented with the Archbishop's Spirit Award and we hope to keep helping people in need through the many avenues available, whether through LifeLink or beyond that" said Jack.