Cathedral celebrates Our Lady's birthday with songs of praise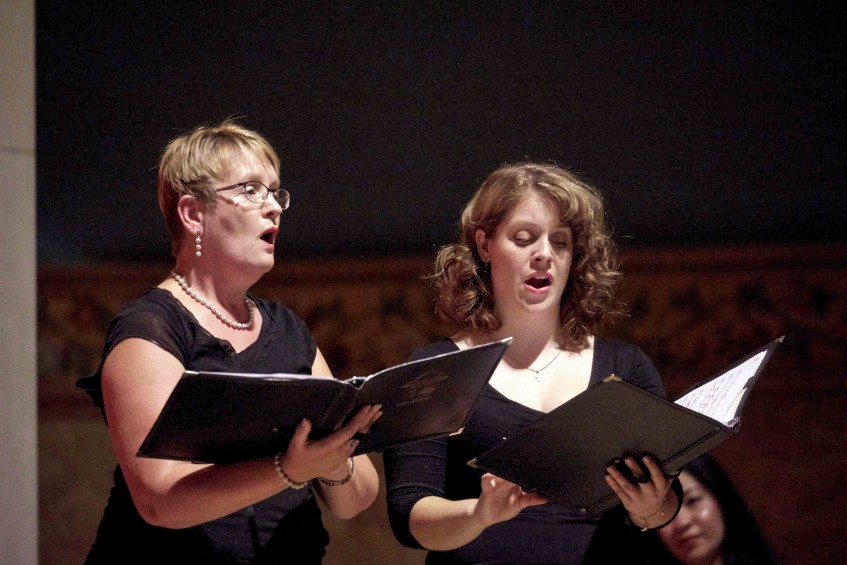 Soloists Emma Oorschot and Catherine Campbell led in the Ave Maria recital held at St Marys Cathedral on Sunday 8 September from 2:15pm. Photo: Jacinta Jakovcevic.
By Amanda Murthy
Dedicated to Our Lady under the title of her Immaculate Conception, the choir of St Marys Cathedral, paid homage to Mother Mary with a series of musical dedications from 31 August, to 8 September.
The final day included a special "Ave Maria recital" held in conjunction with the Blessed Virgin Mary's Birthday celebrations and her significant presence in human history.
St Marys Cathedral Director of Music, Jacinta Jakovcevic, said the first recital of this kind was held 10 years ago at Trinity College Chapel, during the time of the Cathedral's restoration.
"With this special event, we celebrate Our Lady's dawning in our history as Mother of the Church, with a recital dedicated especially to her," Ms Jakovcevic explained.
"We call it the 'Ave Maria' recital and each year it features Marian pieces in its program.
"With its very title, we recall the words with which the Archangel Gabriel saluted her at the Annunciation – a moment that forever changed our history," she added.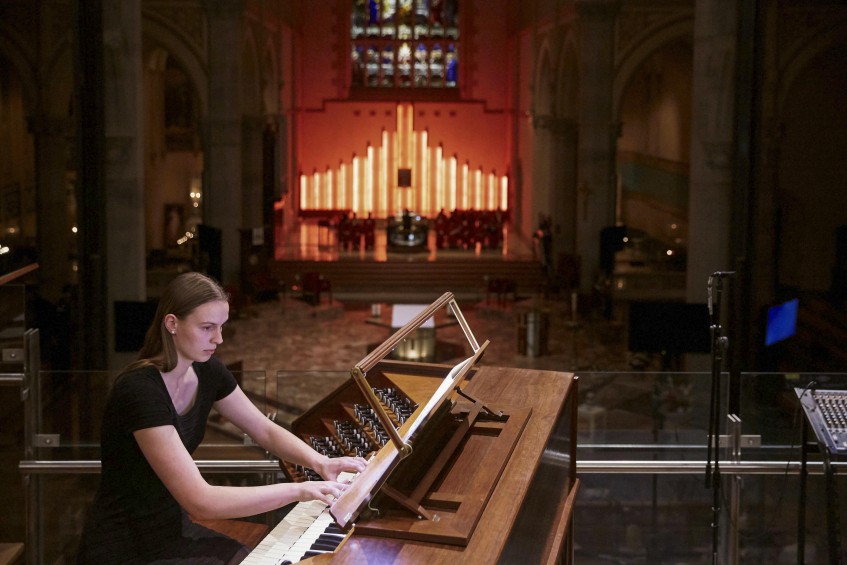 The Ave Maria recital was a free event by the St Marys Cathedral choir held at St Marys Cathedral on Sunday 8 September from 2:15pm. Photo: Jacinta Jakovcevic.
Ms Jakovcevic stated that the recital, a free event for all who attended, was a great way to lead-up to the celebrations of Our Lady's Immaculate Conception that falls in December, citing that it could often be clouded by the many other events and activities held in Perth, especially with Christmas around the corner.
"This year we were proud to feature as our soloists – St Marys Cathedral Cantors Emma Oorschot and Catherine Campbell who led in the various Marian pieces, ending with Schubert's beloved 'Ave Maria' – a setting of the Hail Mary," Ms Jakovcevic said.
"We presented it with both pipe organs playing from either end of the Cathedral and our soloists sang back and forth to each other from both ends of the Cathedral – it made for an impressive stereophonic effect.
"Another great feature of this recital was that all five of us organists play (myself and our three Assistant organists) and this was an exciting opportunity to take both our pipe organs through their paces and play some exciting solos – adding some fun duets too.
"All of these topped off with our young organ scholar Morgan May, who performed with us at the recital as well," she added.
Ms Jakovcevic added that the Cathedral choir hopes to continue to celebrate the Mother of the Church, inspired by her manifestation that paved the way for the incarnation of the Son of Man.