The French respond to Francis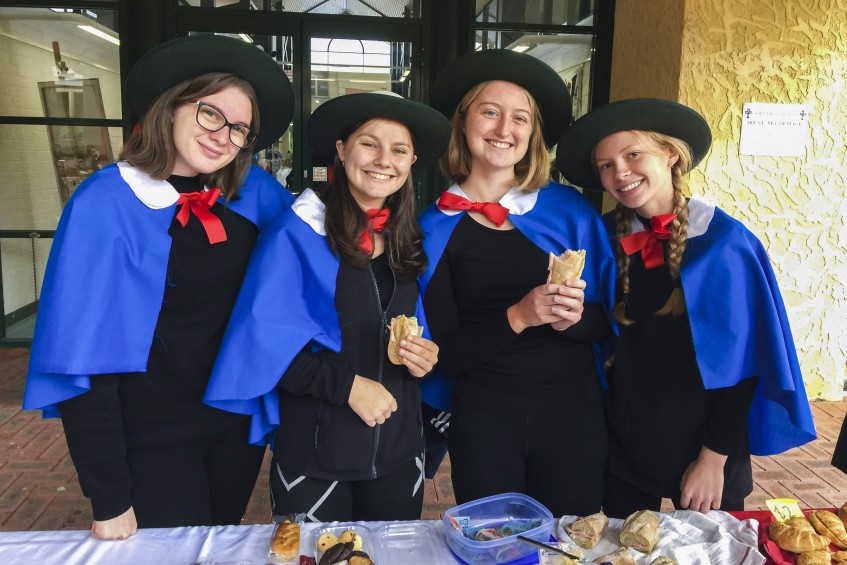 Santa Maria College French students fundraising for Catholic Mission during Languages' Cultural Day. Photo: Supplied.
By Eric Martin
Perth's Catholic francophone community is responding to Pope Francis' call to missionary discipleship by engaging with global child poverty issues, spearheaded by the efforts of the French language department at Santa Maria College, who have organised a workshop in French on the migrant experience and global poverty.
Francophone countries include the 29 nations where French is spoken as one of the official languages, which occurred primarily as a direct result of colonial expansion during the previous centuries of the 'Age of Exploration.'
These include many African nations such as the Democratic Republic of the Congo (with a population of over 77 million people), Equatorial Guinea, Ivory Coast, Niger, Rwanda, Senegal and Chad – just to name a few – countries that may be familiar to Australian audiences from their appearance on the news due to war and political upheaval.
On the other side of the globe, French Polynesia, which has a population of 267,000, is the most populous of all of the Nations where French is the official language.
In fact, there are currently more than 300,000,000 speakers of French worldwide, making it the fifth most spoken language globally.
Unsurprisingly, given the concentration of French speakers in Africa and other economically emerging regions, many Francophone countries still experience alarming rates of child poverty.
The aim of the Workshop on the migrant experience and global poverty was to raise awareness about the important work of the Catholic Church, through Catholic Mission projects, to alleviate the suffering of these children in impoverished francophone countries around the world.
The workshop involved French studies students and staff from other Catholic, Anglican and Baptist schools with key information presented by Judith Nyamuli, the Schools Engagement Coordinator for Catholic Mission.
Judith hopes these students will strengthen the relationship they have with the missionaries and children involved in these projects.
"We hope that such engagement will give renewed and practical meaning and purpose to their French language studies by the opportunity it provides to make our world a better and kinder place for others," she said.
"They were initiated by Iona Presentation College and John XXIII College last year and in response to this year's series of workshops, students studying French at Santa Maria College took the lead and held a French cuisine food stall (pictured) for their Languages' Cultural Day during Language Week in August."
"Who would have thought that studying French, speaking French and eating French food could make such a difference and provide much hope and joy to children living in poverty around the world?"
Judith is hopeful that other schools will follow the lead that the French Department and their students at Santa Maria College have taken through their awareness raising and fundraising initiative.
For more information about Catholic Mission's projects for vulnerable children and families in impoverished francophone countries, contact Francis, the diocesan director for Catholic Mission in Perth at director.cm@perthcatholic.org.au, or call 9422 7933.