'For a just future' creates global appreciation for refugees, asylum seekers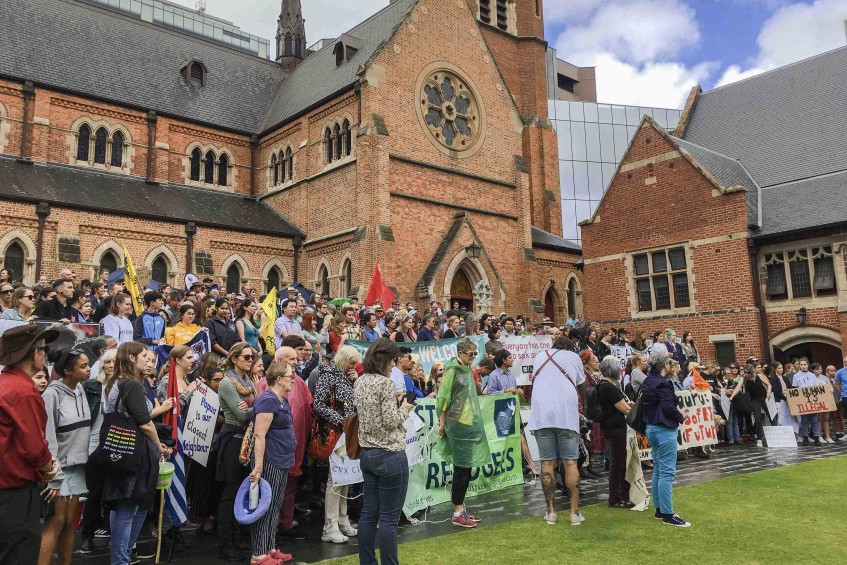 The 2019 Palm Sunday Walk for Justice for Refugees held in Perth was moved to an online platform this year, with focus on the theme: "For a Just Future". Photo: JEDO.
By Amanda Murthy
More than 40 Australian agencies united on Palm Sunday, 5 April to host a two-hour online event championing justice and dignity for refugees and people seeking asylum. The theme for this year's event was "For a Just Future".
Hosted on social media platform Facebook from 1pm to 3pm, the event provided a rare perspective on the theme, with the agencies hopeful to put an end to the limbo of temporary visas, and offshore processing and mandatory detention. The agencies also called for the rights to permanent protection and fair processing, family reunion for all refugees and asylum seekers.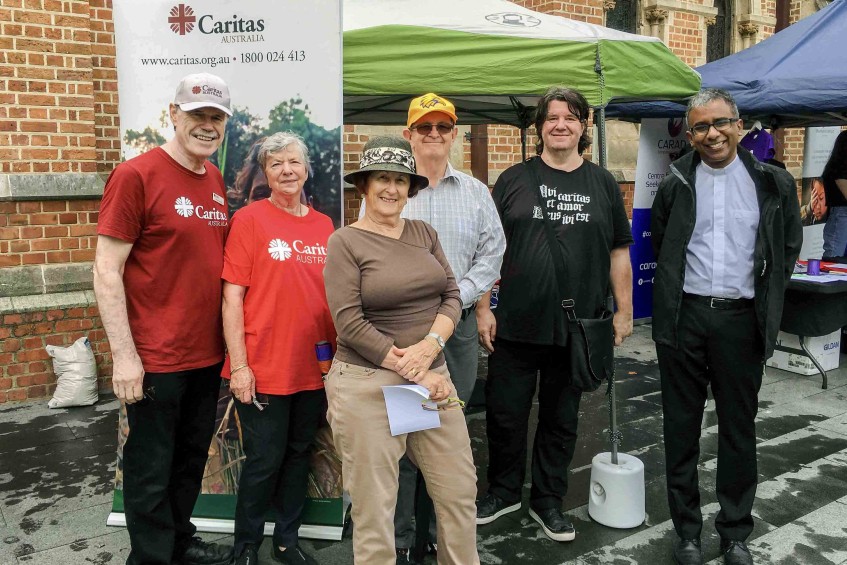 Some of the Caritas Australia members who participated in the 2019 Palm Sunday Walk for Justice for Refugees held in Perth standing with St Mary's Cathedral Dean Rev Dr Sean Fernandez. Photo: JEDO.
Archdiocesan agencies Justice Ecology and Development Office (JEDO) and the Western Australian Catholic Migrant and Refugee Office (WACMRO), Catholic Mission, Caritas Australia and the Presentation Sisters, were among the agencies, organisations and religious orders endorsing the cause, along with other Christian and non-Christian agencies.
JEDO Director Carol Mitchell, said that despite the cancellation of the original event because of COVID-19 social distancing measures, she was deeply inspired by the positive response of the many participants present and topics discussed.
"Given the required change to an online event this year, those who could get involved or support the 2020 Palm Sunday message 'For a Just Future' was broadened beyond State and national borders to our international community, attracting more than 4500 to the event," Mrs Mitchell stated.
"This was a great opportunity, under very trying times, to demonstrate that we can be a welcoming, hospitable and compassionate community that recognises our inter-connectedness as one human family.
"To do what is right, just and 'welcome the stranger'," she added.
The event was emceed by representatives from the Justice for Refugees WA Network Father Chris Bedding and Esther Longhurst, and included a Welcome to Country by Mitchell Garlett, and an opening performance by Perth musician Sam Nafie who delivered a song titled Survivor.
Viewers then listened to some of the challenges of the Safe Haven Enterprise Visa – defined as one of two types of temporary protection visas available to those claiming asylum, who travel by boat. This is part of the Australian Government's current policy, that people who come by boat and claim asylum should not be given permanent protection.
Other presenters included presentations from comedian and refugee activist Tom Ballard, CARAD-Centre for Asylum Seekers, Refugees and Detainees Incorporated Jo Josephs, The National Refugee-led Advisory and Advocacy Group Joseph Youhanna, and two people who anonymously shared about their personal struggles and experiences as temporary visa holders.
Human rights activist Shamindan Kanapathi, who has been detained on Manus Island and in Port Moresby since 2013, spoke of the "little hope he has of resettlement, especially in the context of the current crisis".
"Our only wish is to see our families, we are human beings, just like you," he stated during his session.
When reflecting upon the on-line event, Mrs Mitchell reaffirmed Pope Francis' words at the 2018 World Day of Migrants and Refugees: "our shared response may be articulated by four verbs: to welcome, to protect, to promote and to integrate".
"Reaching out and supporting refugees is key to our Catholic social teaching and thinking."