COVID-19: Perth Catholics encouraged to get enriched with faith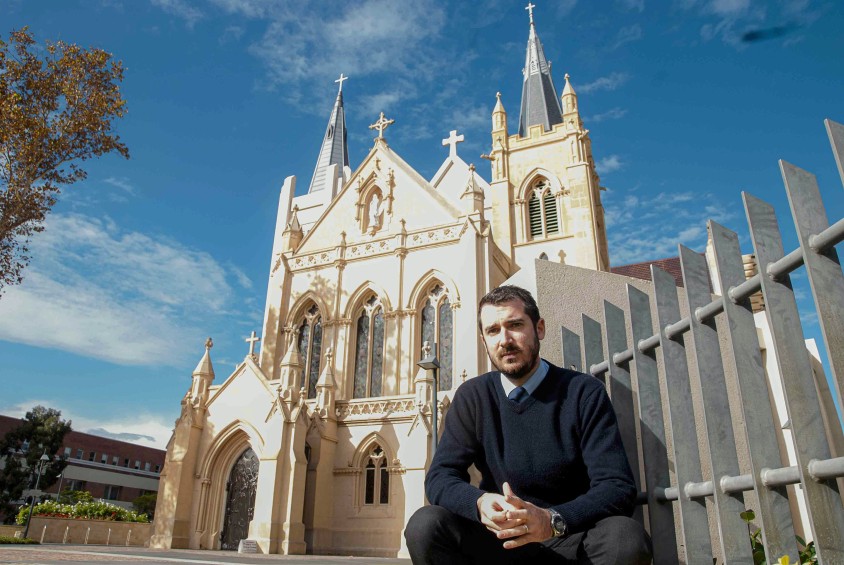 Dr Marco Ceccarelli, Director of the Centre for Faith Enrichment says that even though Churches are closed, quarantine provides a genuine opportunity for Catholics to learn about their faith. Photo: Jamie O'Brien.
By Eric Martin
Despite churches across the city being closed, the Centre for Faith Enrichment (CFE) remains operational in an online teaching capacity, providing a unique opportunity for Catholics to use this quarantine time to build their faith through education and understanding.
"Now is the time to explore the wonderful richness of our Catholic tradition," Dr Marco Ceccarelli, Director of CFE, said.
"Despite the COVID-19 situation we have made a real effort to prioritise remaining operational, so that people can continue to receive faith formation: we want to offer people a variety of formation options that range from study of scripture, Church History, spirituality and other specific topics of interest, such as John Paul II's Theology of the Body."
Dr Margaret Scharf OP will be running the first in a four-part adult faith foundation program, which will cover the four topics of Catholic tradition: what is Church, what is the liturgy, what are the Sacraments, what is Scripture and what is the call to holiness?
CFE's Catholic Social Teaching section will be exploring the Australian context of social teaching with assistance from the West Australian Catholic Migrant and Refugee Office (WACMRO) and the Catholic Institute, highlighting the person of the refugee.
"We are offering a variety of faith formation initiatives that help people understand more about their faith," Dr Marco said.
"It's one thing is to have a tradition of being Catholic: we may have grown up in the Church, we attend Church and we might be at different stages and in different communities; what the CFE offers is an adult-faith education experience where you can have your questions answered about why we do what we do.
"This is an opportunity for people to really connect with their faith through the time for personal study and reflection: our courses are live and interactive and we have daytime and evening options, there's something for everyone at whatever stage of the day you are free," he explained.
"Particularly now, when we find ourselves in isolation, what better time to seek some encouragement and some comfort from a course that explains what the Church is. Rather than watching Netflix, why not take an intellectually and spiritually stimulating adult-faith formation course."
All courses are live and interactive, which requires you to be in front of your computer (or dial in via a toll-free number) at the established time. Register for the course/event and CFE will send you information on how to connect.
"Our courses are very affordable and most of the prices are suggested donations, so at this time, if someone wants to take the course without payment, they are more than welcome to – it's about building faith."
"We are here to help any of you who may need assistance with online tools, so please don't hesitate to contact us on 9241 5220 or via email," Dr Marco said.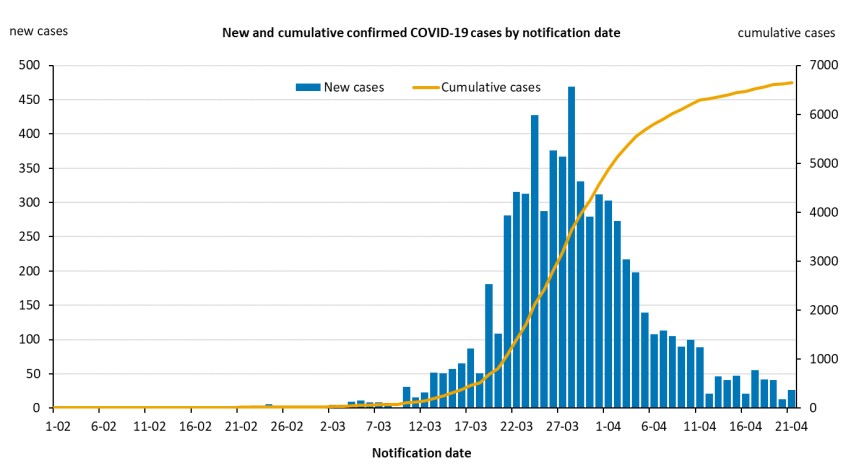 New cases of COVID-19 in Australia, as well as a cumulative total of all Australian cases to date. Source: Department of Health.
This exciting rollout of resources comes as this week, Western Australia saw the number of cases of people with COVID-19 almost imperceptibly rise to 546, with the WA Department of Health reporting no new cases in the last 24 hours and Premier Mark McGowan messaging his Facebook followers, "Another brilliant result. Thank you for your efforts WA – please, keep it up."
As at 6am Wednesday 22 April, there were 22 cases reported nationally, a significant decrease compared to this time last week, bringing the Australian total to 6,647 (247 more than this time last week).
According to the Department of Health, of the 6,647 confirmed cases in Australia, 74 have died and 4,291 have been reported as recovered from COVID-19. More than 444,000 tests have been conducted across Australia
There are currently 26 confirmed COVID-19 patients in Perth metropolitan hospitals (down from 32 this time last week), with just five in ICU.
The number of recovered cases in WA is now 443 and to date, 29,566 Western Australians have tested negative for COVID-19, with 4,947 of these from regional WA.