Gloria proves wellbeing and community support are key to long and meaningful life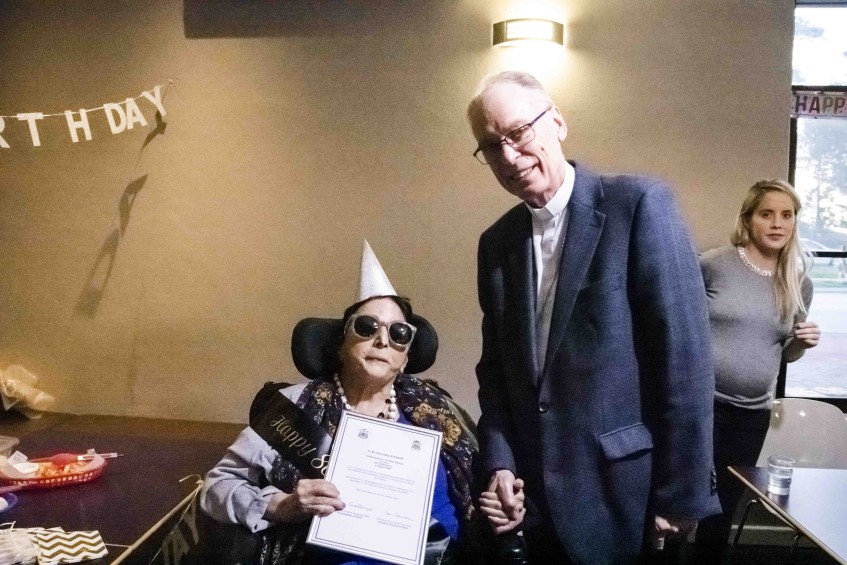 Auxiliary Bishop Don Sproxton with Gloria. Photo: Amanda Murthy.
By Amanda Murthy
Donning a personalised sash with the words "Happy 80th Birthday, Gloria" and a bright blue dress upon the request of the birthday girl, Identitywa senior resident Gloria May Stewart is living proof that with the right spiritual wellbeing and community support systems, a person of disability can live a full and meaningful life.
This was evident with more than 50 staff and peers gathering at Belvidere's Bar and Bistro in Belmont on Saturday 1 August for an early birthday celebration (Gloria's actual birthday is on 4 August) with all her favourite people.
Present for the celebrations organised by Identitywa was the Archdiocesan agency's Chief Executive Marina Re, staff, representatives from Personal Advocacy Service with whom Gloria has been actively involved with for the past 20 years, her sister Sandra Kerr, sister-in-law Pam Stewart, as well as her fellow housemates Joanne, Joe, Linda, Charlie, Debra and Glenice.
Gloria with her fellow housemates Joanne, Joe, Linda, Charlie, Debra and Glenice from Identitywa's Morrison St home at her 80th birthday celebration on 1 August. Photo: Amanda Murthy.
The highlight of Gloria's day - as she later mentioned in her speech - was the attendance of Perth Auxiliary Bishop Don Sproxton, who represented the Archdiocese of Perth to personally congratulate Gloria and present her with a plaque to commemorate the special occasion.
"Thank you very much for coming for my birthday party - this is the best day of my life," Gloria acclaimed.
"So many of my favourite people are here and they are so nice to me.
"Having Bishop Don here is the best surprise, and this is the best day of my life!" she added.
"Can't wait to celebrate with family on my actual birthday, I am so happy!"
Born with cerebral palsy and a hearing impairment that eventually caused her visual impairment, Gloria is known for her fun personality, infectious laugh, genuine conversations, devotion to the Catholic faith, and ability to enjoy the beauty of life.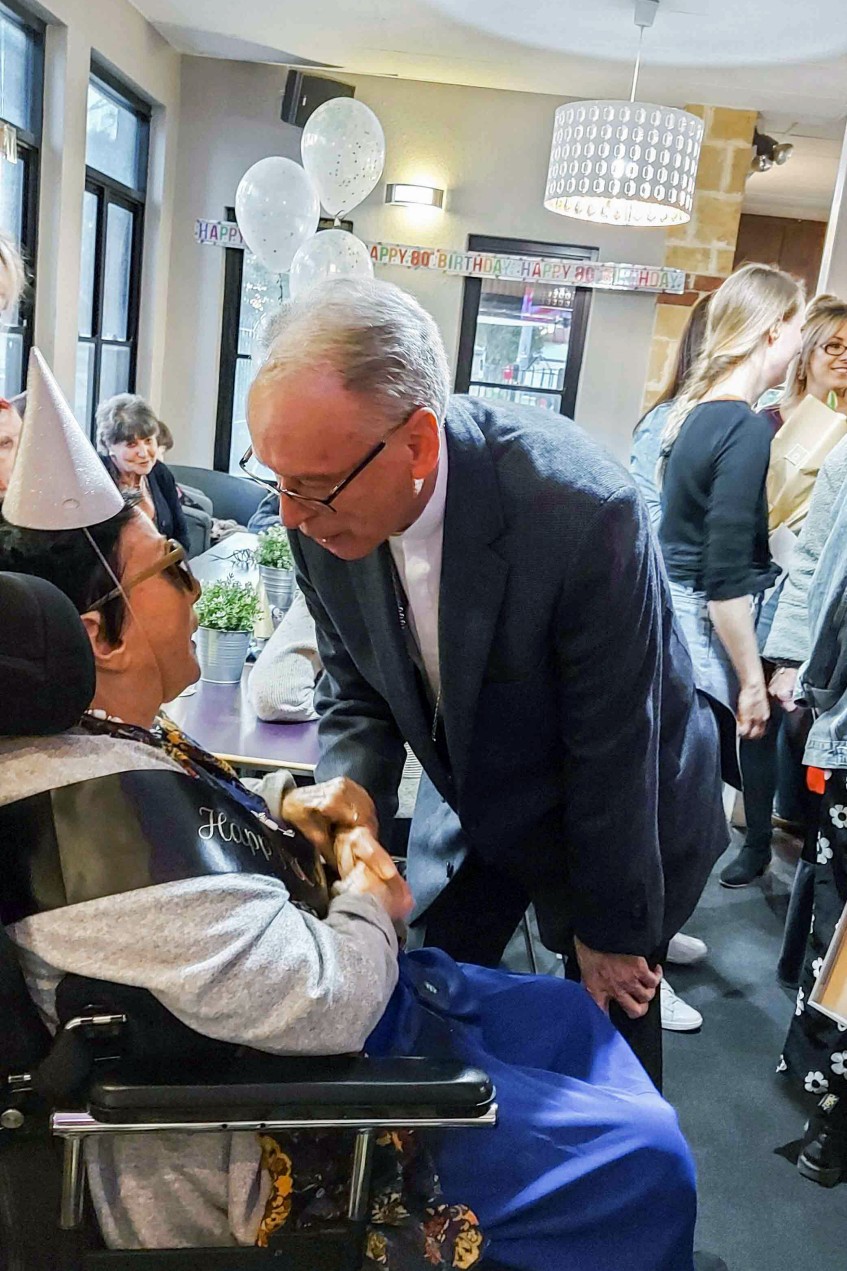 Her younger sister Sandra thanked the staff of Identitywa and all who have provided Gloria with the best care and for their dedication.
"Gloria is full of enthusiasm, you give her an opportunity and she will take it and make the best of it, overcoming any obstacle that comes her way – that's no wonder she has survived this long," Mrs Kerr said.
"Her love for adventure is a great example and have made the best memories in my life.
"When Gloria turned 60, we went for a ride on a Harley Davidson and being Gloria, she requested to go faster!" she added.
"Another special memory was when we flew to South Australia to visit my brother 10 years ago when Gloria was still able to travel and made some beautiful memories I will always cherish."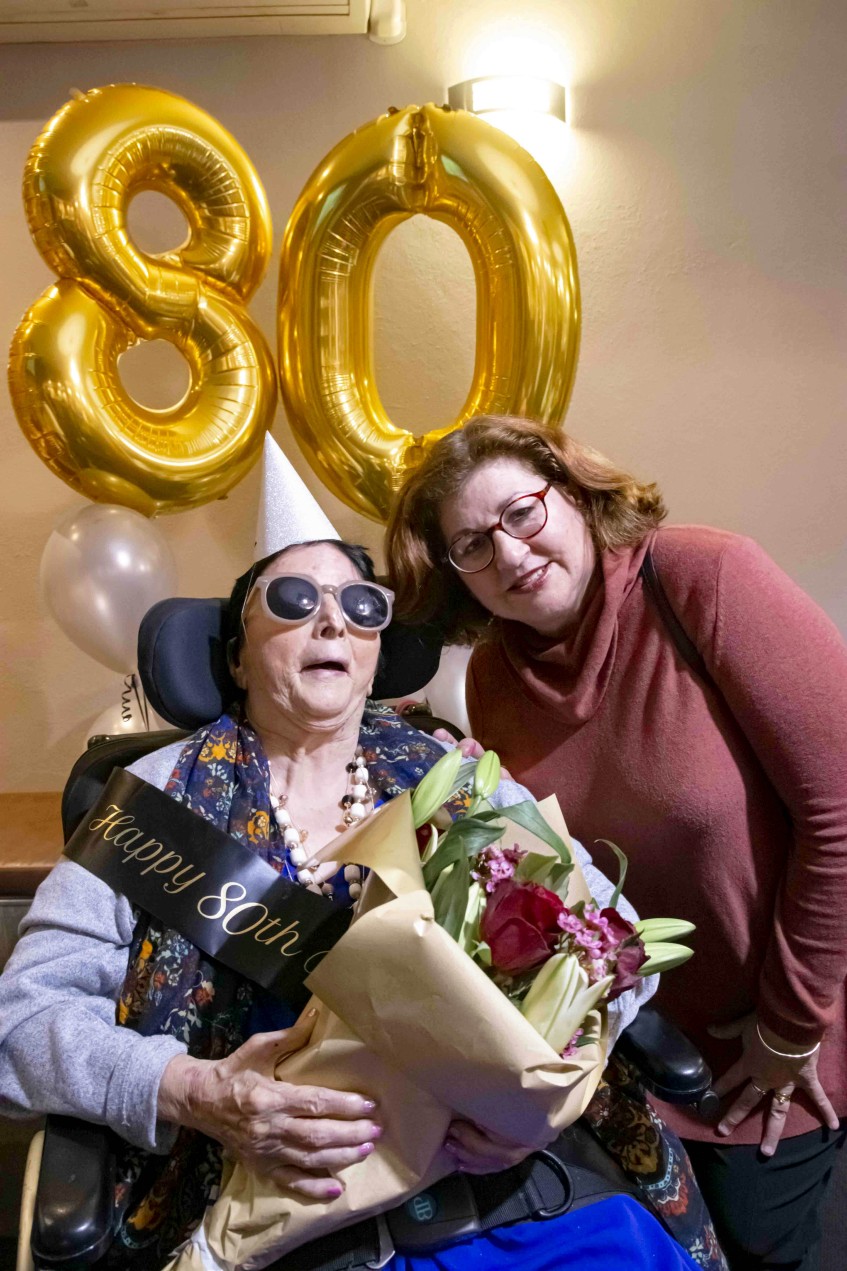 Identitywa Chief Executive Marina Re congratulated Gloria and thanked her for always bringing joy, laughter and love to staff and fellow residents at the Morrison St home where she has been living for the past four years.
Identitywa House Senior Mattie Cameron echoed similar sentiments, adding that Gloria's zest for life and her relationship with the young group of staff who are predominantly in their late-20s to early-30s contributes to the great dynamic that exists.
"There is often a huge misconception that people with disability do not live a long, full life, but then we have Gloria, who is one of the many people, who has proved otherwise – she is honestly the most joyous, positive, intelligent, warm-hearted human being I've met," Ms Cameron expressed.
"I think having a young group of staff around her has impacted her bubbly energy that we are lucky to be around, but in return, she is so generous with sharing her vast experiences, building relationships with everyone she meets and this is why the relationship compliments so well."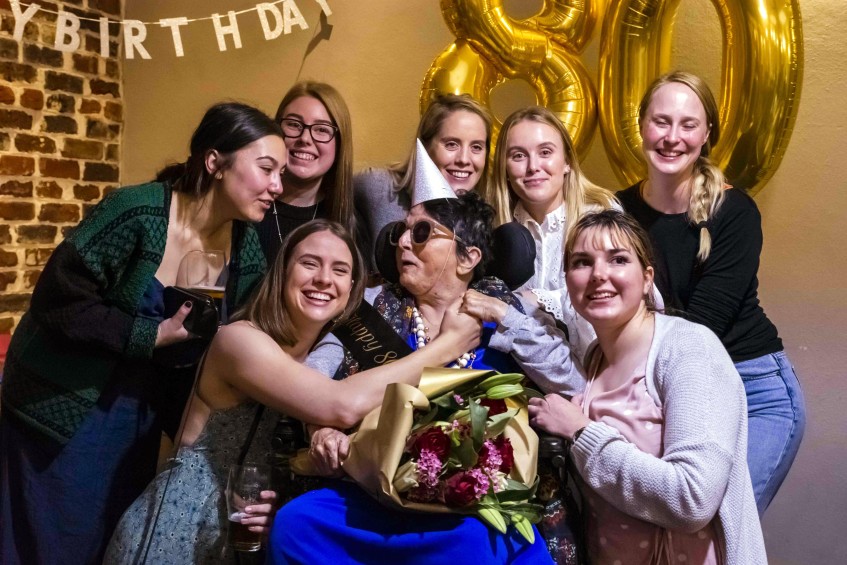 Identitywa senior resident Gloria May Stewart at her early birthday celebration for her 80th birthday on 1 August at Belvidere's Bar and Bistro in Belmont. Photo: Amanda Murthy.
Speech Therapist Michelle Searle, who is currently teaching Gloria tactile AUSLAN, regarded Gloria as a "people-person who would always go out of her way to make people feel special".
"I think I've got more from Gloria in this relationship," Ms Searle said.
"I love her willingness to share stories, she recalls when my birthday is and goes out of her way to get me a card - she has always been a delight to work with.
"Despite her disabilities, she lives a full, joyful life, more than many of us without disabilities do.
"My hope is that she will continue to build relationships and live a great life of joy," she added.
Identitywa Support worker Mairead Farrell, who has worked with Gloria for the past two years, offered a tribute of praise and gratitude, specially thanking Gloria for encouraging her to stop and appreciate the little things in life.
"This woman has 100 per cent changed my perception on life," Ms Farrell said.
"For example, we will drive by a lake, and I'll explain the scenario and Gloria's face would just light up. Her interest to know every detail of the scenario and her appreciation for the things she cannot physically see, makes me want to appreciate and cherish all the simple things that I could easily take for granted.
"I think conversations and relationships are what keeps her going and in return just being around someone like Gloria keeps me going.
"I honestly wish that Gloria could be in my life forever because she really is such a special person and we all love her dearly – happy birthday, beautiful," she added.