Cottesloe Mosman Park welcomes new cross in time for Lent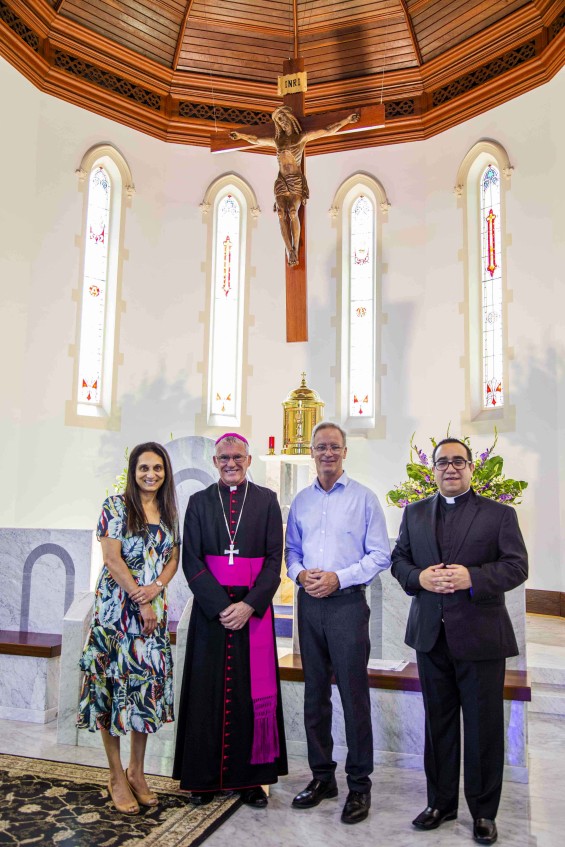 Perth Archbishop Timothy Costelloe SDB (second from left) standing with parishioners Hortense and Andrew Pearce, and Cottesloe/Mosman Park Parish Priest Fr Marcelo Parra Gonzalez after Mass at the St Mary Star of the Sea Church on 16 February. Photo: Jamie O'Brien.
By Amanda Murthy and Jamie O'Brien
St Mary Star of the Sea Church has recently welcomed the installation of a new cross from Ecuador.
The Cottesloe/Mosman Park Parish community last Sunday welcomed Archbishop Timothy Costelloe SDB to celebrate the 10am Mass and blessing of the 2.8x1.8m cross.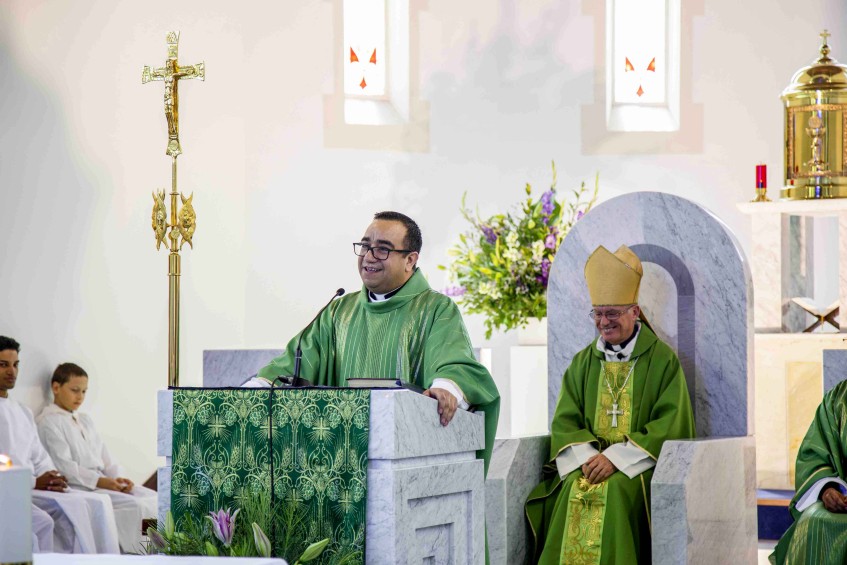 Cottesloe/Mosman Park Parish Priest Fr Gonzalez speaking at the end of Mass on 16 February. Photo: Jamie O'Brien.
Joining the Archbishop of Perth on 16 February as concelebrants were Cottesloe Mosman Park Parish Priest Fr Marcelo Parra Gonzalez, Assistant Parish Priest Fr Rodrigo da Costa Ponte and newly appointed Episcopal Vicar for Education and Faith Formation, Fr Vincent Glynn.
Speaking about the new cross at the conclusion of the Mass, Fr Marcelo thanked all those who had contributed to bringing the task at hand to fruition.
Fr Marcelo also made special mention of Kelmscott parishioners Andrew and Hortense Pearce, as well as Cottesloe Mosman Park parishioners Peter and Natasha Colli, who assisted with the building of the wood of the cross and its complete installation.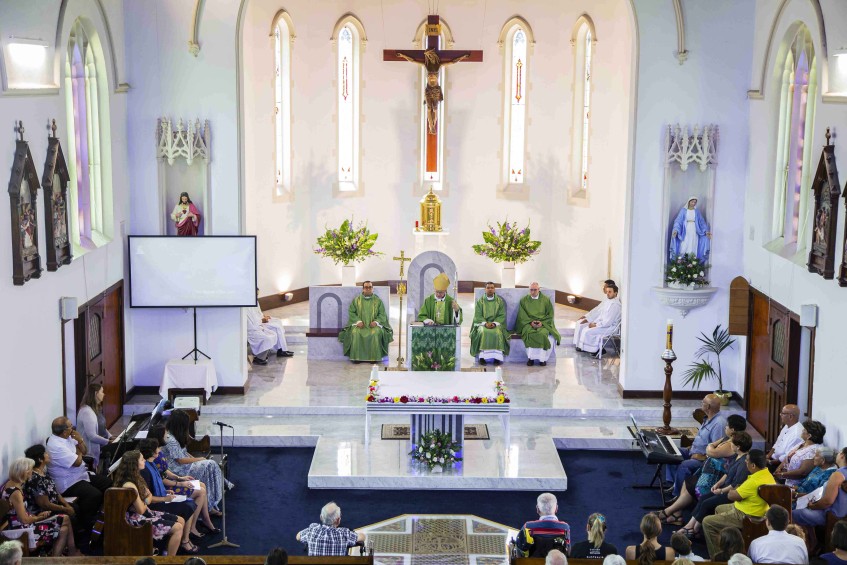 Saint Mary Star of the Sea parishioners listen to the homily delivered by Archbishop Costelloe during Mass on 16 February. Photo: Jamie O'Brien.
In his homily for the occasion, Archbishop Costelloe spoke about what it truly means to belong to the Church and a community.
The Archbishop recounted the challenge that Jesus had put out to his followers: "You must be perfect as your Heavenly Father is perfect".
"These words of Jesus, which seem to present us with an impossible task, have become more and more important to me as time goes by," Archbishop Costelloe explained.
"None of us are perfect, I certainly am not, and none of us is likely to find ourselves perfect at the end of our lives when God calls us home to Him.
"But what Jesus is saying to us, I suspect, is that we should recognise what God is asking of us, acknowledge the high ideals to which God is calling us, and never allow ourselves to believe that we should give up on those ideals or turn our backs on them, simply because they sometimes seem to be so far from our grasp," Archbishop Costelloe added.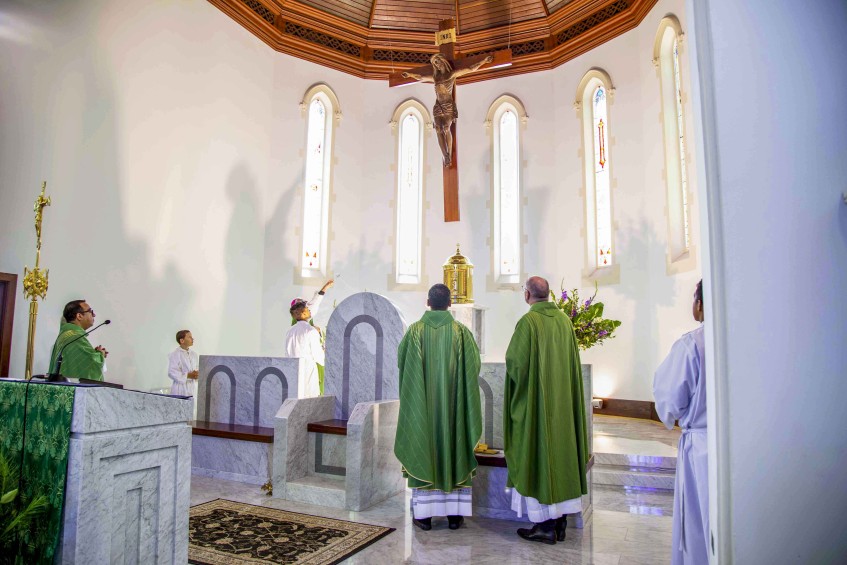 Archbishop Costelloe blessing the new crucifix and cross during Mass at the St Mary Star of the Sea Church in Peppermint Grove on 16 February. Photo: Jamie O'Brien.
Acknowledging that times are tough, and it can be difficult to live lives of fidelity and trusting faith, Archbishop Costelloe shared some of the ways that the Catholic community can actively work towards being a community of faith.
"Firstly, we need to be open to all that God is asking of us no matter how difficult it may seem, we need to pray for the humility to acknowledge our own weakness, frailty and sinfulness and turn to God for help knowing that we are helpless to save ourselves," Archbishop Costelloe cited.
"We need to invite God, and allow God, to form in us a merciful and compassionate heart based on our realisation that I am no better, no more perfect, than anyone else, and that we are all in need of the support, compassion and forgiveness of each other.
Archbishop Costelloe emphasised that it is the support and guidance that comes from being part of the Church that is greatly needed, in order to keep walking in the footsteps of Jesus our Good Shepherd.
"In this way we can ensure that we do not get led astray by other leaders, no matter how charismatic they may be - For us as Christians, it is the voice of Jesus to which we listen and the way of Jesus which we follow," Archbishop Costelloe concluded.