Set apart to be a community that belongs to God: Mirrabooka St Gerard's Church celebrates 50th anniversary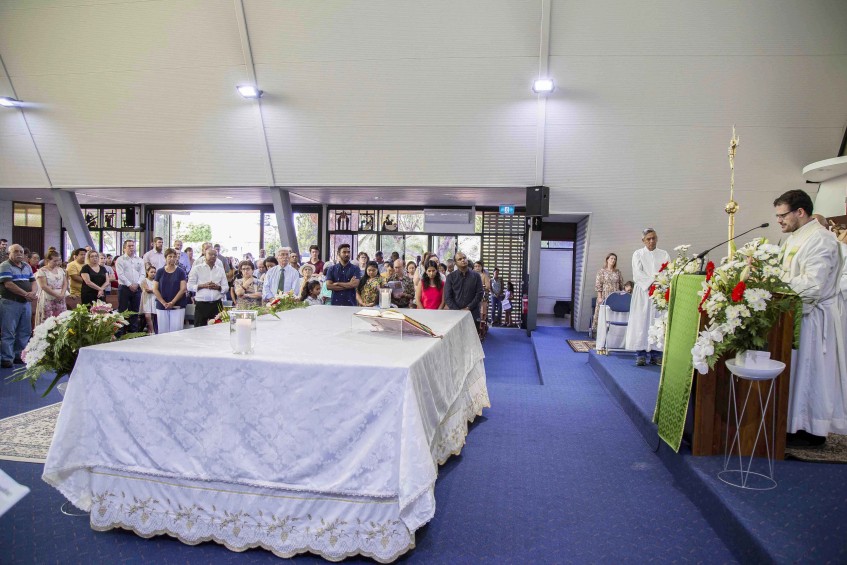 Mirrabooka Parish Priest Fr Giosue Marini proclaims the Gospel at the Mass of the 50th anniversary of St Gerard's Church on Sunday 23 February 2020. Photo: Jamie O'Brien
By Jamie O'Brien
We are set apart to be a people who will show, in a special way, the presence of God, Perth Auxiliary Bishop Don Sproxton has last weekend told more than 650 parishioners of Mirrabooka.
Bishop Sproxton, who celebrated the Mass at St Gerard's Church on Sunday 23 February 2020 for the 50th anniversary, was joined by concelebrants, Parish Priest Fr Giouse Marini, Assistant Fr David Adan Ramirez, Episcopal Vicar for Education and Faith Formation, Fr Vincent Glynn, Redemptoris Mater Seminary Rector Fr Michael Moore SM, and retired priest Fr John Hogan for the occasion.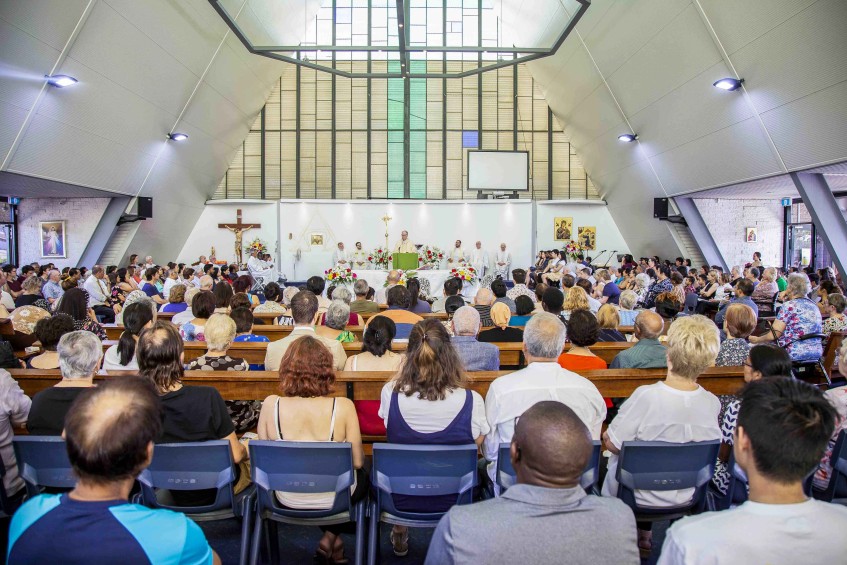 Auxiliary Bishop Don Sproxton speaks to more than 650 people who came together for 50th anniversary of St Gerard's Church, Mirrabooka Parish on Sunday 23 February. Bishop Sproxton was Parish Priest at Mirrabooka from 1993 until 2002. Photo: Jamie O'Brien
"I said at the beginning of the Mass, that we are celebrating our faith above all, that we are giving thanks to God for our faith," Bishop Don explained.
"Our faith teaches us that we have been set apart, we are a Catholic community and we have been set apart, not to be elite, but to be a community that belongs to God and at the same time is meant to present God in a special way to the world," he said.
As part of the 50th anniversary, the parish community came together for three different occasions, including the Mass on Sunday 23 February. The first occasion, on Thursday evening 21 February, included a speech by new Episcopal Vicar for Education and Faith Formation, Fr Vincent Glynn, who was growing up in the area at the time the Church opened on 22 February 1970.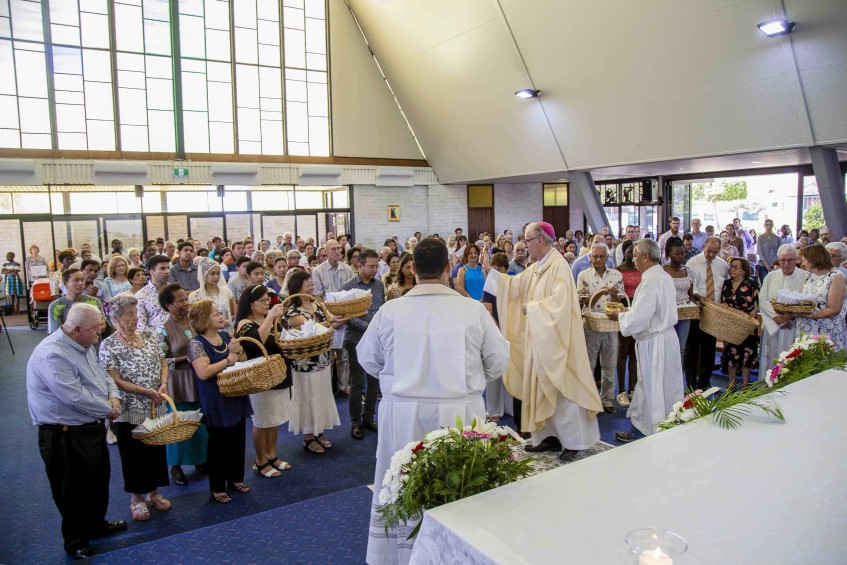 Bishop Sproxton blesses the gifts containing the rosary beads and instructional booklet during the Mass for the 50th anniversary of St Gerard's Church Mirrabooka on Sunday 23 February 2020. Photo: Jamie O'Brien
Speaking about his experiences, Fr Glynn said his memories of the early days of the parish which began in 1965, were mostly of the young families of migrants from Ireland, England, Scotland and Italy coming together around the parish priest Fr Peter Quinn (Bishop Quinn) and Mercy Sisters Brigid and Paul (Sr Mary O'Connor) to form a new Catholic community in what was in those an outer suburb of Perth and surrounded by bush.
"It was a place where faith was given, nourished and supported by the involvement of parents and children in the day to day life and building up of the new Catholic community. It was a faith community that sowed the seeds of his vocation to the priesthood," Fr Glynn said.
"The Church is present in this suburb of Mirrabooka which is the indigenous word for the stars that form the Southern Cross. The A Frame stained glass windows have the Southern Cross looking down over the congregation that gathers in this Church.
"These stars guided many explorers and sailors in their journeys. I would hope that this church and parish community would continue to be a guide for all those searching for Christ in their life and a refuge for all those who may have lost their way in life." Fr Glynn said.
"This unique church of St Gerard Majella, which is the home of a Catholic community, is a place where Christ can be encountered in the Word of God, in the celebration of the Eucharist and in the community gathered together singing and praying" he said.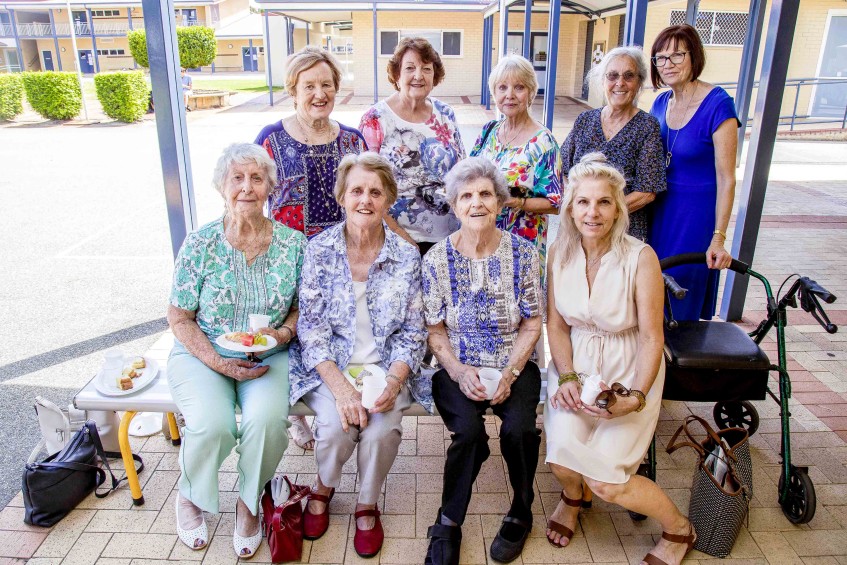 Mirrabooka parishioners past and present, back row, Helen Bass, Elaine Thompson, Camille Bradley, Aurela Bosco and Frances Mullen (nee Hillis) and front row, Merle Miller, Maureen Glynn (mother of Fr Vincent Glynn), Nan Hillis and Elanora Panaia (nee Bosco), came together to celebrate the 50th anniversary of St Gerard's Church and parish on Sunday 23 February. Photo: Jamie O'Brien.
Miriam Romiti, who came to the parish in 1988, also recalled her experiences of the parish and Church to The Record.
Miriam, who was the first paid Parish Secretary, worked for nearly 12 years with several parish priests – including Fr Geoff Aldous, Bishop Don Sproxton, Fr Steve Durkin, Fr Minh Thuy Nguyen and Fr Chien Nguyen.
"When we first came here it was a time of many young families," Miriam recalled.
"Of course these children grew up and moved on, but the parish is still filled with young families from many countries around the world. If you have a group of six parishioners, at least four nationalities are represented. Gatherings make for a very generous and flavoursome experience."
The second occasion, on Friday 22 February, showcased the parish's Post Confirmation Program. The program works with youth across the northern suburbs with the aim of creating a supportive healthy environment for young people as they pass through years characterised by many physical, psychological and emotional changes.
Nineteen-year-old Alex Nolan, who is a teaching student at Curtin University, spoke about his experience of being in the program. Alex, who completed five years in the program in 2018, said the many lessons he learnt during his participation in the program, continue to guide and direct his life today.
"The PCP program showed me a way of life that the world does not provide," Alex said. "We learnt about the commandments, we shared meals together, we received the sacraments together, but most importantly, we came closer to God."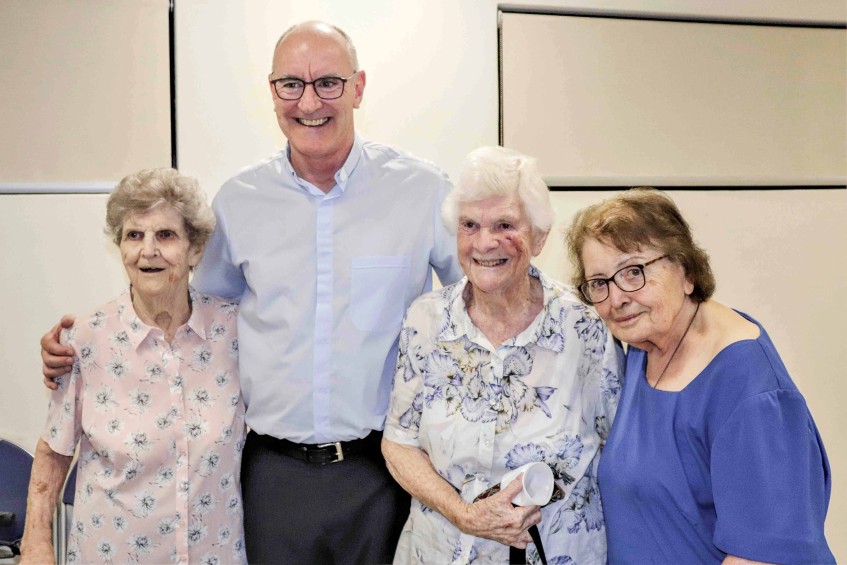 Fr Vincent Glynn (second from left) with past and present parishioners Nan Hillis, Sr Mary O'Connor and Mrs Ardua Santarelli. Photo: Miriam Romiti.
"It is because of this that I am able to go through my day-to-day life and draw upon the many lessons that helped me to appreciate and understand the presence of God in my life.
"I am a firm believer in the importance of youth being provided with solid faith formation – education in any specific area is great – but what we need is direction and guidance on what God, the scriptures, the teachings of the Church mean and how we can apply them to our day-to-day life," he explained.
Parish Priest Fr Giosue Marini, who first came to the Parish as Assistant in 2007, said the occasion was a great honour for all those who have served and contributed to the parish community in some way.
"Over the past 50 years, the Church of St Gerard Majella has been a place of God's presence in the community," he said.
"I pray on this significant anniversary, that St Gerard Majella Church and the Parish of Mirrabooka will continue to be a visible sign of God's presence in the community," he said.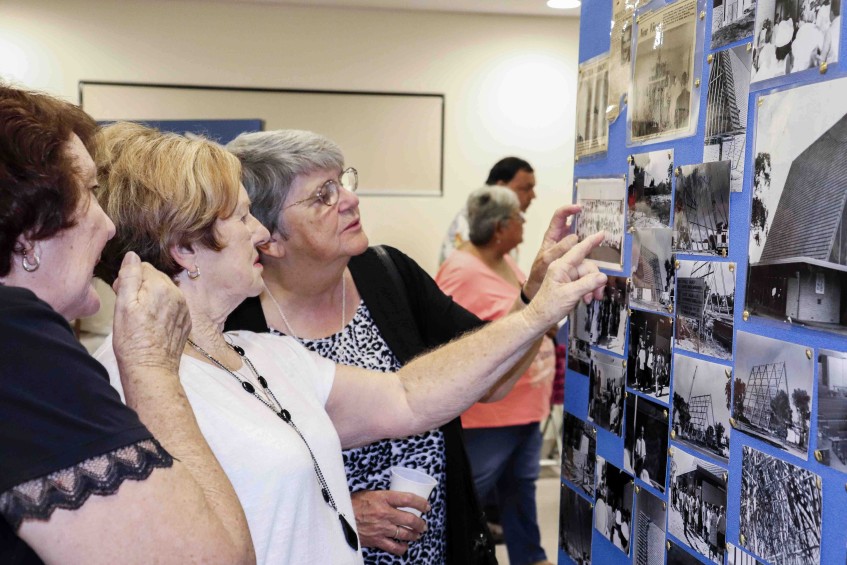 Parishioners look at photos on display for the 50th anniversary of St Gerard's Church Mirrabooka. Photo: Miriam Romiti.
Continuing his homily for the occasion, Bishop Sproxton, who served as Parish Priest at Mirrabooka from 1993 until his Episcopal Ordination in 2002, spoke about his own experiences of growing up in the area.
"The first time I remember seeing this Church, my family was living in Dianella. And we would come up into the hills here - which was all bush - and sometimes we would venture a little bit further west and we saw this Church being built.
"And it was obviously the tallest, most impressive building in this area, and I think it remains so today. Because it is so recognisable. Many people who have never lived here, but have been to this part of Perth, will say, 'Oh yes, I know that Church.'
"It is a very important and visible sign of the community, of us, who have lived here and created such a marvellous community in the Archdiocese of Perth," Bishop Sproxton explained.
As part of the 50th anniversary, parishioners were given a gift from himself and Assistant Priest Fr David Adan-Ramirez, containing a specially designed instructional rosary booklet and beads.
"I hope that you will be able to remember this occasion, and continue to pray that this Parish may always be a sign of God's love to all," Fr Giosue said.
Watch the homily of Bishop Sproxton by Clicking Here