$1.8m grant for new rare disease treatment trial offers hope to thousands of sufferers worldwide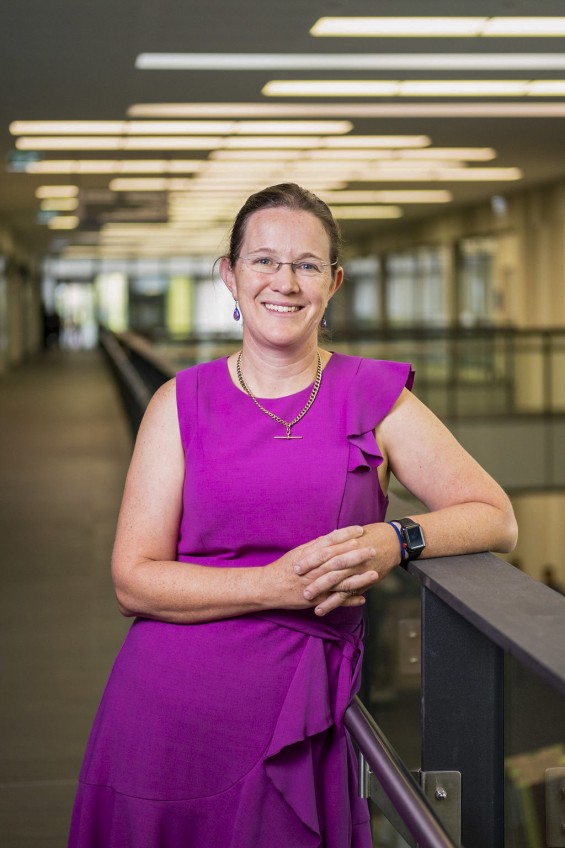 UNDA School of Medicine's Professor Needham called the approval of the joint $1.8m grant a "landmark day for Inclusion Body Myositis patients around the world" and emphasised the collaborative global approach being taken to bring hope back to IBM patients. Photo: Josh Wells.
A global research team led by The University of Notre Dame Australia School of Medicine's Professor Merrilee Needham, is investigating the use of a re-purposed drug (Sirolimus) in the treatment of the rare disease, Inclusion Body Myositis (IBM).
IBM is a progressive inflammatory muscle disease that affects about 1250 Australians – and there are currently no disease-modifying treatments for IBM.
In collaboration with Perron Institute, Fiona Stanley Hospital, and Murdoch University, the new clinical trial will investigate the effectiveness of a re-purposed drug - Sirolimus (Rapamycin) - in treating the disease.
Over 88 weeks, participants' outcomes will be assessed using the IBM Functional Rating Scale.
IBM is a muscle-wasting disease, leading to weakness in the arms and legs, weakened grip, issues with swallowing, and often results in patients requiring full-time care and assistance for all daily activities.
More than 60 per cent of those diagnosed lose independent mobility within seven-to-10 years of symptom onset, and as the disease usually manifests in middle to late life, the impact of this disease is significant for both patients and their families.
The gradual loss of muscle strength and mobility patients experience while retaining cognitive function invokes significant uncertainty and anxiety, with this disease robbing people of independence and control.
There are currently no disease-modifying treatments for IBM, meaning the current clinical management of the disease is just supportive. This includes physiotherapy, exercise programs and pain management, which can offer some respite and purpose for patients, but the progressive nature of the disease means their eventual decline is an inevitability.
Additionally, the lack of awareness of this disease contributes to a sense of helplessness in patients. When there is no perceivable chance of future improvement, hope rests in finding a treatment that will change this natural history. This is the role of research and clinical trials.
As a patient impact statement from the Myositis Association Australia (MAA) put it: "An effective treatment for IBM would, above all, offer us some future hope, which is non-existing at present".
In response to the challenge of seeking a treatment for this rare, under-recognised disease, Prof Needham and a global team of experts recently received a MRFF grant to evaluate the clinical effectiveness of an immunosuppressant drug, Sirolimus.
"This study will be led from Australia to allow access for as many Australian IBM patients as possible, and we are so delighted to offer our patients a trial of a potential treatment, and more importantly, hope for their future," Prof Needham stated.
Currently primarily used to prevent organ rejection in post-kidney transplant patients, the team hypothesise that Sirolimus will stabilise or slow disease progression over an 88-week trial period. Sirolimus has been previously piloted in a small IBM cohort in France, with promising results. Photo: Sourced.
The previously conducted pilot study from Paris has demonstrated the stabilising effect of Sirolimus on IBM patients, an encouraging result that has lent support to this larger trial which will hopefully confirm and validate these findings, offering conclusive data and potentially leading to international practice change and a first treatment for IBM.
MAA and its members have been working tirelessly to help source funding for IBM clinical trials, including submitting a patient-led "Targetted Call for Research" application to NHMRC in late-2019.
President Christine Lowe said MAA was "thrilled" to learn of the successful grant.
"IBM is a disheartening and insidious condition. Its relentless progression, causing loss of mobility, dignity and social connection presents a daily struggle. The lack of any effective treatment is a major unmet need and sadness for patients and families," Mrs Lowe said.
"MAA is thrilled to learn of this wonderful grant. We're a group of volunteer patients and we all have Myositis. We support those affected by Myositis and also work to raise awareness. Encouraging funding for Australian research is important to us.
Mrs Lowe praised the project team and highlighted how much of an impact this study is already having on the morale of IBM patients in Australia.